2022 Cyberthreat Defense Report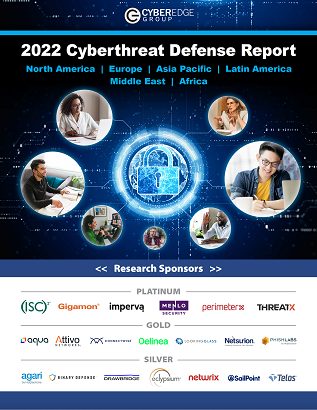 Interested in strengthening your cybersecurity strategy?
Each year, CyberEdge provides a comprehensive view of IT security across industry verticals and geographical regions in its Cyberthreat Defense Report (CDR). Based on input from 1,200 IT security professionals in 17 countries and 19 industries, the 2022 CDR can help you benchmark your organization's security posture, operating budget, product investments and best practices against your peers to inform your cybersecurity strategy. 
Key insights from this year's report include:  
85% of organizations suffered a successful cyberattack last year. 
A record 71% of organizations were compromised by ransomware last year.
A record 63% of ransomware victims paid ransom last year, encouraging cybercriminals to increase their attacks.
Malware, account takeover attacks and ransomware are the most feared threats.
Among web and mobile attacks, those focused on harvesting personally identifiable information (PII) and account takeover are most prevalent and concerning.
The typical enterprise IT security budget increased by nearly 5% this year.
CyberEdge 2022 Cyberthreat Defense Report is sponsored in part by Netwrix