Netwrix Auditor for
SharePoint
Complete visibility into SharePoint changes
and data access
Microsoft SharePoint Auditing Software
Netwrix Auditor for SharePoint delivers security intelligence about what's going on in your SharePoint environment. Keep track of changes made to farm configuration, groups, permissions and user content, as well as document reads, to mitigate the risk of data leaks, maintain SharePoint availability and streamline IT compliance.
Gives you valuable information about every change across your SharePoint platform: who made each change, when and where it was made, and exactly what was changed, with the before and after values.
Reports on who viewed which documents and lists on your SharePoint sites and when each read event occurred, so you can make sure that corporate data is accessed only by authorized personnel and improve your SharePoint document auditing.
Keeps you current on the changes and access events you deem most critical, whether it's massive removal of data from a SharePoint library or unauthorized changes to farm configuration.
Streamlined compliance reporting
Contains sets of out-of-the-box reports mapped to PCI DSS, HIPAA, SOX, FISMA/NIST, GDPR and many other regulatory compliance standards. Prove to auditors that you perform regular SharePoint security audit and that your internal controls are aligned with security best practices.
Makes it easy to quickly determine the root cause of an issue or investigate a security incident. Quickly find out who made unwarranted modifications in central administration or accidentally removed an important document from SharePoint.
Detailed reports and overview dashboards
Includes and multiple predefined reports and high-level dashboards that offer drill-down, filtering, sorting and exporting capabilities. Subscribe to them to have this information emailed to you on schedule.
Provides a single view of all anomalous activity alerts triggered by an individual across your whole IT infrastructure. Detect malicious insiders and compromised accounts in a timely manner, so you can respond before it's too late.
Simplifies SharePoint security monitoring by pinpointing subtle indicators of threats that might jeopardize the security of your SharePoint, such as suspicious activity outside of business hours or the creation of potentially harmful files on your SharePoint sites.
Non-intrusive architecture
Performs the collection of SharePoint audit data without the use of any intrusive services, so it doesn't degrade SharePoint Server performance or cause any downtime.
Streamline SharePoint security audits and prove
regulatory compliance
SharePoint admins often have to spend numerous hours crawling through the audit logs in an attempt to dig out the root cause of a security incident, investigate what change caused downtime or get the evidence of their company's compliance with security best practices. Oftentimes, they are also asked to prepare audit log reports for management. Most SharePoint auditing tools can't address all these needs. Netwrix Auditor can.
Respond to security incidents faster with advanced
change
auditing and alerting
Changes to Farm Administrators group settings, site collections, lists, permissions and content often go unnoticed until the organization discovers a breach, fails a compliance audit or experiences downtime. Netwrix Auditor provides comprehensive SharePoint change auditing and reporting along with customizable alerts, so you can detect critical changes and respond in a timely manner.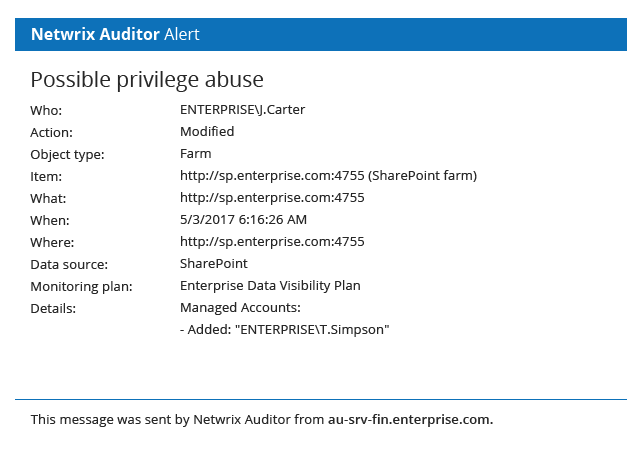 Slash incident investigation and
response time
Instead of sifting through cryptic audit log data, use Netwrix Auditor's Interactive Search any time you need to quickly determine who has done what with your sites, lists, libraries, content types, list items, library items or SharePoint permissions. Configure custom reports based on your findings to stay aware of similar incidents in the future.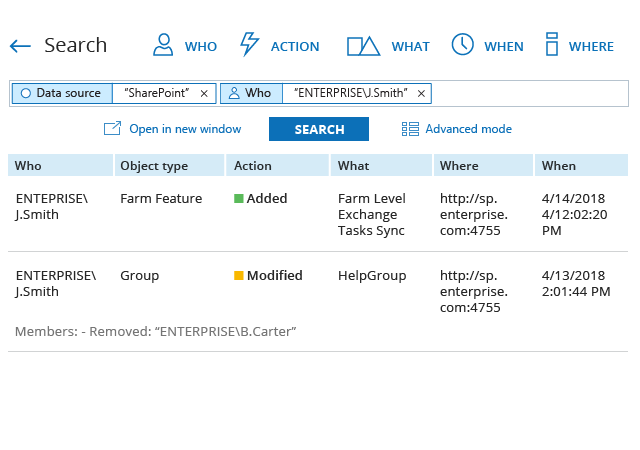 Audit access attempts and changes to sensitive data
to minimize the risk
of a data leak
Visibility into changes and access events on SharePoint can help you detect unauthorized or suspicious actions that could lead to a data leak. Analyze which users view files that they shouldn't have access to and track changes to permissions over your SharePoint environment, so you can ensure that corporate data is not touched by unauthorized personnel.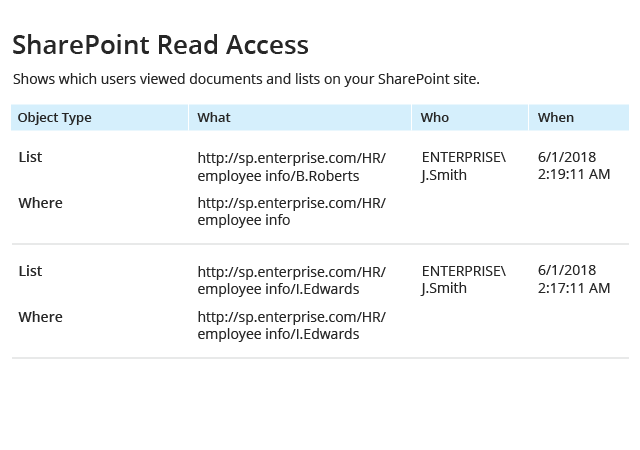 Streamline compliance with comprehensive SharePoint
site auditing
and reporting
Easily prove your compliance with the requirements of a large number of standards, including PCI DSS, HIPAA, GLBA and GDPR, using out-of-the-box compliance reports. Use the Interactive Search to quickly sort through the audit trail whenever you need to respond to ad hoc questions from auditors.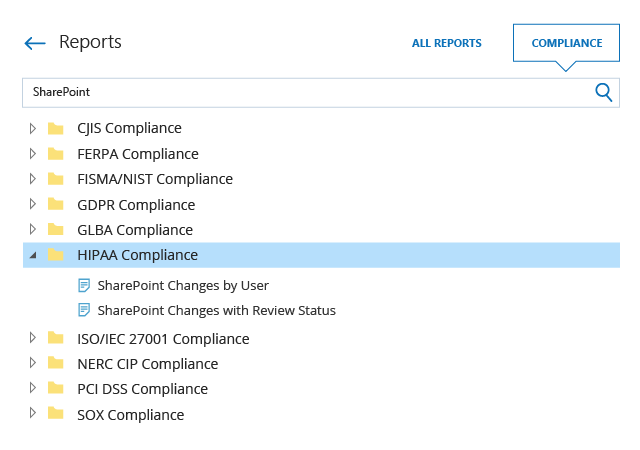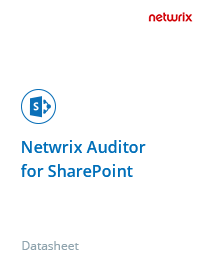 Learn more about how Netwrix Auditor for SharePoint helps organizations just like yours simplify SharePoint auditing and streamline regulatory compliance.
Download Datasheet (.pdf)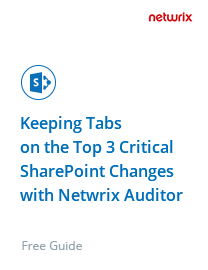 See how you can enhance the security of your SharePoint by keeping tabs on the top 3 critical SharePoint changes with this powerful SharePoint auditing tool from Netwrix.
Download Free Guide (.pdf)
Find out more about why organizations, from small businesses to enterprises, choose Netwrix Auditor as their security
audit tool
"Whether we need a full user activity summary or want to investigate a particular event, Netwrix Auditor will quickly provide the results in easy-to-read format, while before it was like looking for a needle in a haystack."

Jeremy George, System Administrator,
Johnson County, Kansas
Tracking SharePoint Configuration, Permissions and Content Changes
with Netwrix Auditor
Microsoft SharePoint helps organizations improve their effectiveness by streamlining both data access and data management. Staying on top of changes to SharePoint site collections, configuration, security settings, document libraries and list items is crucial to the security of sensitive content and the continuity of business operations. Netwrix Auditor for SharePoint tracks changes and read access events to detect suspicious activity, and enables you to easily view detailed information about any action, including the creation, deletion or modification of critical SharePoint content. This pervasive visibility into SharePoint activity helps you minimize the risk of data compromise and operational setbacks.
Complete SharePoint Monitoring with Netwrix Auditor
for SharePoint
Netwrix Auditor for SharePoint complements Microsoft SharePoint monitoring by detecting, preserving and reporting on all changes to the configuration of SharePoint farms, permissions, user content and other resources, as well as all read access events. It provides extensive details, so you can easily determine who viewed which data, who changed what, when and where each event happened, and the before and after values for each change. The solution provides easy-to-read predefined reports and dashboards, along with report subscriptions, interactive search through audit data and a cost-effective two-tiered (SQL Server database + file-based) storage.
Reporting Changes to SharePoint Infrastructure and SharePoint Management
with Netwrix
Continuous auditing and reporting of SharePoint changes is essential for maintaining the proper levels of security and availability. Netwrix Auditor for SharePoint offers extensive reporting capabilities for continuous SharePoint change management: predefined reports and dashboards with filtering, grouping, sorting, exporting, email subscriptions, drill-down, Web access, granular permissions and the ability to search through audit data and create custom reports on any SharePoint changes. These features help organizations detect issues that negatively impact security and business continuity and quickly remediate those problems.
Monitoring Changes to SharePoint Permissions to Minimize the
Risk of a Breach
Proper SharePoint governance requires controlling user access to each site and its contents. Whenever any change is made to permissions — whether permissions to sites, lists or data were modified, or a new member was added to a SharePoint group — you need to be alerted, because improper changes can threaten your data security. For efficient permissions management, you need visibility into permissions and how they change. Netwrix Auditor for SharePoint delivers actionable intelligence, including SharePoint permissions reports that you can view at any time to determine which users gained access to your sites and whether their permissions are appropriate.
Exceeding the Native SharePoint Audit Log with
Netwrix Auditor
Does your organization rely on SharePoint to store and manage critical information? If so, to ensure data security and system availability, you need to keep a close eye on all access events as well as all changes to configuration, list items, library documents, permissions and more. To view audit log data, you can configure the native SharePoint audit log in Site Collection Administration. However, SharePoint audit log reports come in a hard-to-read Excel format and don't enable you easily identify and scrutinize suspicious activity. Netwrix Auditor for SharePoint, on the other hand, delivers actionable intelligence enriched with valuable insights, so you can quickly spot abnormal actions and drill down to investigate them, thereby minimizing the risk of attacks or insider misuse going undetected.
Passing HIPAA Audits with Less Effort and Expense
with Netwrix Auditor
More and more healthcare organizations are using SharePoint to streamline their business processes and organize their data. However, they must ensure that their SharePoint environments meet HIPAA and HITECH Act compliance requirements for storing and processing patient electronic protected health information (ePHI). Netwrix Auditor for SharePoint enables you to make and keep your SharePoint HIPAA compliant. The solution addresses HITECH and HIPAA security requirements by helping you validate that your critical assets are secure and mitigating the risk of a breach with notifications on insider and outside threats — while also slashing audit preparation time and costs.
Streamlined SharePoint Reporting that Goes Beyond What Native Tools
Have to Offer
Does manually generating reports with native tools in order to monitor activity on your Microsoft SharePoint sites take up way too much of your precious time? Stress no more, because the SharePoint reporting tool from Netwrix delivers insightful, easy-to-read reports on everything that is happening across your SharePoint Server, from changes to user data and permissions to read access events and more. Critical details help you spot aberrant activity faster, so you can quickly remediate threats that jeopardize data security and system availability. Plus, automated delivery of reports on the schedule you set slashes your report preparation time.
Efficient SharePoint Reporting to Shield Your
Sensitive Assets
Do you have peace of mind when it comes to security of your SharePoint data? Misuse or exfiltration of sensitive data, whether it's business-related data or personal information belonging to your employees or your customers, can result in a costly breach and harm your organization's reputation. Therefore, ensuring SharePoint data security and compliance is essential. Netwrix Auditor for SharePoint delivers easy-to-read, detailed SharePoint reports so you can stay on top of what's going on across your SharePoint sites and spot unauthorized attempts to access your sensitive assets before it's too late.
Maintaining SharePoint Compliance
with Netwrix Auditor
While Microsoft SharePoint fuels collaboration and content sharing across your organization, you should always keep in mind that some of this content might be highly sensitive. To minimize the risk of a breach and prove your compliance with regulations such as PCI DSS, HIPAA and GLBA, you need to have efficient records management, data loss prevention (DLP) and data access governance strategies in place. Netwrix Auditor for SharePoint helps you streamline SharePoint compliance by delivering reliable compliance features, such as predefined compliance reports, report subscriptions and full-featured interactive search. Now you can slash audit preparation time by 50% and address any auditor's question within minutes while shielding your critical information from outsider and insider threats.
Ensure the Security of Your SharePoint Environment by Staying on Top of
Suspicious Activity
Securing the sensitive data stored in Microsoft SharePoint Server is an important task for IT teams. To strengthen the security of your SharePoint site collections, you need to be able to quickly spot, investigate and remediate any suspicious change to your farms, web applications, sites, lists, list items and documents — especially SharePoint permissions changes. While native audit log reports can provide you with some information about changes to your site collections, they do not deliver any capabilities to help you spot malicious activity in its early stages or get to the root cause of an incident. Netwrix Auditor, on the other hand, enables you to stay on top of suspicious activity easily. Prebuilt and custom SharePoint security reports and other features enable you to quickly spot problems and determine the root cause, so you can respond promptly and prevent similar incidents from happening in the future.