Netwrix Account
Lockout Examiner
Free account lockout investigation tool that will help you
get users back to work
in a flash.
"I absolutely love this product! It's such a great asset for resolving
our account lockout problems."
How much time do you spend investigating account lockout issues in
Active Directory?
With Netwrix Account Lockout Examiner, you can identify the root cause of an AD account lockout in a single click. Investigating why an account keeps locking out has never
been so easy.
Easily identify root causes of lockouts
Tired of spending hours manually crawling through tons of cryptic log entries to investigate lockout reasons? Now, in a single click, you can get to the root of the problem, whether it's improperly mapped network drives, services or scheduled tasks running under stale credentials, or an outdated password saved on a
mobile device.
Minimize troubleshooting time
Slash troubleshooting time by 90% with easy root cause investigation. Find even the most complex lockout reasons in minutes so you know exactly what needs to be fixed. Unlock user accounts faster and get coworkers back online in time to meet their next important commitment.
Reduce the pressure on your help desk
Ensure service desk pros have all the lockout details they need at their fingertips. Empower them to quickly troubleshoot and resolve user issues, and minimize business downtime whenever a service account from a critical app or a domain controller gets
locked out.
Use the right Active Directory tool to investigate
user account lockouts faster
Unlike other cumbersome Active Directory account lockout tools, our free software enables IT administrators and help desk staff identify lockout root causes in a single keystroke. You can now see what makes the same account lock out repeatedly without having to dig into cryptic event logs — just enter the username and click the button! Use the actionable intelligence to quickly fix the root cause, and finally be able to focus on your core responsibilities instead of being constantly interrupted by the same annoying
user issues.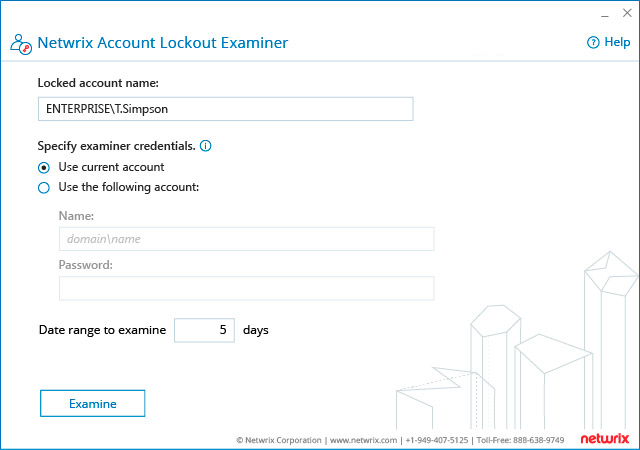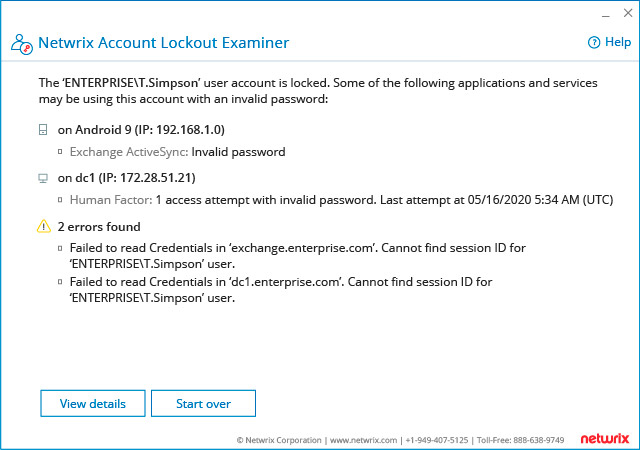 Maximizing the efficiency of help desk staff in more than 40,000 networks
Netwrix Account Lockout Examiner helps RXR Realty respond to issues faster and minimize business downtime.
A global integrated energy and chemicals company uses Netwrix Account Lockout Examiner to solve repetitive help desk
tasks faster.
System Requirements
Netwrix Account Lockout Examiner is easy to deploy, and it doesn't have to be installed on help desk computers or user desktops. Below you can find a summary of the minimum system requirements.
Software
Operating System:
Other required component:
"I am very happy with the tool and it´s working very smoothly in our environment. It´s helping us resolve account lockouts and reach required security and
compliance levels."