Introducing Netwrix Auditor 8.0
Detect Data Security Threats —
On Premises and in the Cloud
Сomplete visibility into hybrid cloud IT infrastructures
to protect your data at rest regardless of its location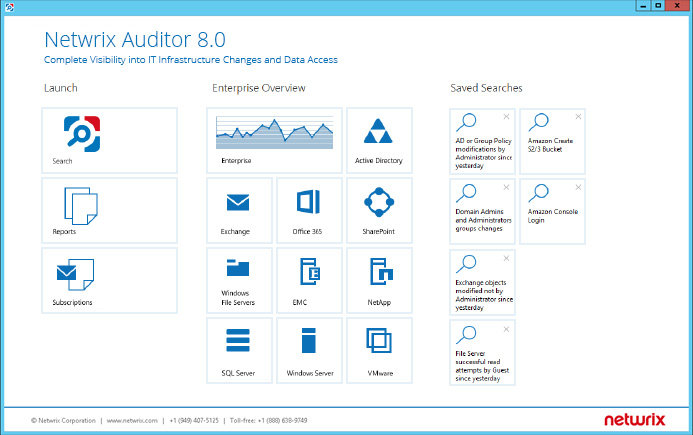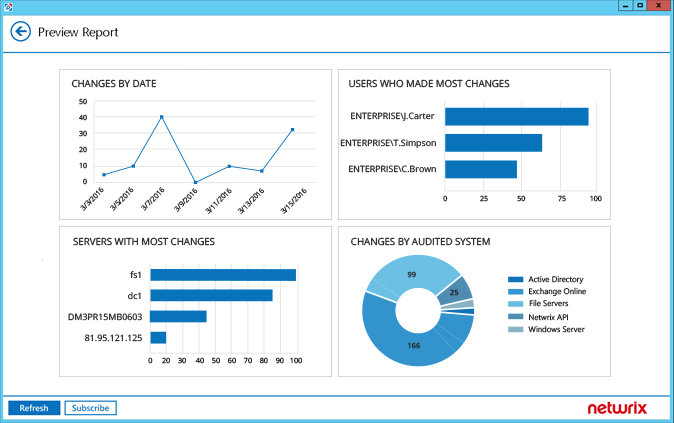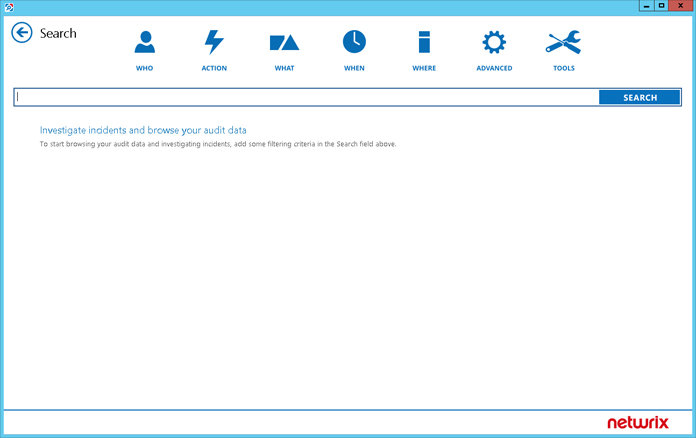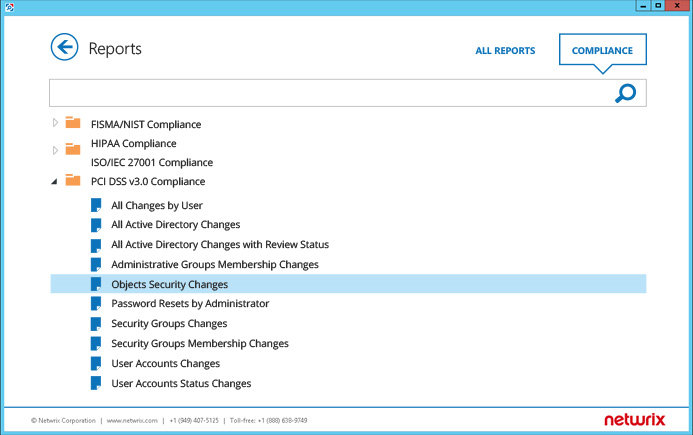 Who's making unauthorized changes to my
on-premises and cloud IT systems?
See who made a change, when it was made,
and what was changed, including the before
and after values.
Is my hybrid cloud environment secure
and ready for compliance audits?
Monitor what's going on in your hybrid cloud IT
infrastructure and prove to auditors that required
security policies are being followed.
Who has access to my data at rest
and who's actually accessing it?
Find out who can access cardholder data, medical
records or financial statements on your file
servers, storage appliances and SharePoint sites —
and who has actually accessed any of that data.
Netwrix Auditor is a
visibility and governance platform
that enables control over changes, configurations and access in hybrid cloud IT environments. The unified IT
audit platform
provides security analytics for detecting anomalies in user behavior and investigating threat patterns before a data breach occurs.
Ditch Change Auditing and Upgrade to Complete Visibility
Unlike other vendors, Netwrix focuses exclusively on providing complete visibility into hybrid cloud IT environments. The sharp focus enables us to offer much more robust functionality than legacy change auditing tools. Netwrix Auditor has become synonymous with visibility for IT administrators, IT managers and C-level executives. Over 150,000 IT departments worldwide have already chosen Netwrix Auditor over change auditing software.
"Netwrix Auditor provides me with accurate visibility regarding what changed when. I really like the low system overhead of the Netwrix product and how easy it was to get it up and running."
Why Choose Netwrix Auditor?
Provides clear, actionable information about every change and data access attempt, without the noise associated with native auditing tools.
Is a truly integrated solution, in contrast to standalone change auditing tools from other vendors that are hard to integrate.
Operates in agentless mode so it never degrades performance or causes downtime.
Includes first-class, U.S.-based customer support with a satisfaction rate of 97%.
Supports the broadest variety of audited systems — all from a single platform.
Is easy to install and configure, with no professional services required.
Delivering visibility for security and compliance is our core competency
A singular focus on IT auditing has earned Netwrix more than 70 awards. Leading industry analysts, publications and IT pros just like you recognize us for innovative technology, strategic vision, customer support and rapid growth.

Netwrix Auditor is a solution that will help us grow our business and will be an additional differentiator in our managed services field. We do believe that it will be a revenue generator for our company and provide higher security for our clients.
Daniel Schultheiss, Director of Information Technology, CSO, INTERDEV
"I'd like to compliment your team on the support service they supply with Netwrix Auditor. Anytime I logged a call I always received a swift response and feel a real willingness to support the customer. I think a few companies could take a leaf out of your book. I will continue to use your products and will gladly recommend them to any potential customers."
- John Dolan, Dublin Bay Power
Independent reviews by industry experts prove that these free auditing tools are useful for IT pros. You can audit Active Directory, file servers and VMware; manage passwords and troubleshoot account lockouts; and keep track of server disk space — all for free.