Minimize the Risk from Admin Activity with Privileged Access Management Software
A whopping 74% of data breaches start with privileged credential abuse. Stop leaving privileges available for attackers to compromise and insiders to misuse. Instead, discover standing privileged accounts and replace them with temporary, on-demand access.
Gain confidence by discovering privileges across your systems
Rapid technology advancements and high user expectations mean that new systems and applications are constantly being added to IT ecosystems — and new privileged accounts are being created all the time to manage them. Indeed, there are often so many privileged accounts that today's overburdened IT security teams lose track of them. But how can you ensure the security of privileged accounts you don't know about?
Eliminate privilege sprawl
Know where your risks are by identifying privileged accounts across your entire environment. Shrink your attack surface with continuous discovery and removal of unmanaged privileges.
Gain visibility into shared privileged accounts
Identify shared accounts that have access to important systems and data so you can eliminate this gap in accountability and security without sacrificing convenience for users.
Prove your competence to internal and external auditors
Avoid audit findings by easily proving that you know about all the privileged accounts in your IT ecosystem and have removed any that are unneeded and secured the rest.
Slash your attack surface area by removing standing privileges
Because privileged accounts are so powerful, a single misuse or compromise can lead to a data breach or costly business disruption. Even if you keep privileged credentials in a vault, the accounts still exist and can be compromised by attackers or misused by their owners. In addition, common administrative activities leave behind artifacts that attackers can exploit and malware can use to propagate. How do you know that privileged activity is not putting your organization at risk? With the Netwrix platform, you can protect your organization with strong governance and access control.
Remove standing privileges to reduce risks
Reduce privileged access security risks by replacing standing privileged accounts with on-demand accounts that have just enough access to do the task at hand and are deleted automatically afterward. Alternatively, elevate access for an existing account to empower the user to perform a required task and revoke the change automatically once the session is over.
Secure local Administrator rights
Shut down a common attack vector but still enable users to perform specific operations that require elevated privileges by replacing all-or-nothing local Administrator rights with granular privilege elevation and delegation. Enhance the protection of local Administrator accounts you've established through LAPS with strong authentication, forced password rotation and just-in-time access.
Minimize your attack surface area by cleaning up privileged access artifacts
Mitigate the risk of Pass-the-Hash, Golden Ticket and related attacks with automatic purging of Kerberos tickets after each privileged session. Avoid unsanctioned privileged remote access by automatically disabling RDP on the server as soon as an administrative task is completed.
Protect service and built-in accounts
Since service and built-in admin accounts have access to your critical systems and apps, they are an attractive target for attackers. Protect them by rotating their passwords from one place; receive an alert if the process is disrupted so you can pause the process and roll back any unwanted changes before your users even notice a problem.
Advance toward Zero Trust to help your organization qualify for cybersecurity insurance
Validate the identity of users in accordance with Zero Trust principles by enforcing contextual multifactor authentication (MFA) for privileged sessions using granular policies tuned to specific activities and resources. Improve your chances of qualifying for cybersecurity insurance and reduce your premiums by demonstrating your control over privileged activity.
Minimize the impact of security incidents involving privileged activity
Gaining access to a privileged account drastically amplifies an attacker's ability to cause damage and cover their tracks. Reduce your risk by detecting and responding to suspicious privileged activity faster.
Enhance admin accountability with session monitoring
Gain visibility into exactly what privileged users are doing across your IT environment with privileged activity monitoring capabilities. Enhance accountability by looking over their shoulders for activity that increases security risks, either maliciously or by mistake.
Speed threat detection
Spot suspicious activity that might be a sign of compromise or misuse, such as attempts to elevate privileges, access sensitive data or modify security configurations. Streamline threat detection by correlating this data with information from other systems.
Reduce mean time to respond
Minimize damage and disruption by quickly investigating incidents related to privileged activity. Further enhance your security by automatically blocking privileged activity that threatens the security of your IT environment.
Improve control over vendors and contractors who work remotely
Closely monitor the activity of third-party user accounts and applications that connect remotely to your systems and applications, even if their activity doesn't produce any logs, to ensure full accountability. Get notified anytime a vendor does something outside of their approved scope, since their unauthorized actions could put your data at risk.
Support investigations and compliance with a full audit trail and video recording
Have reliable proof handy for investigations with the ability to record and play back privileged sessions. Be prepared for tricky questions from auditors with an easy-to-pull audit trail of all admin activity, from the initial request for privileged access and who approved it, through all actions taken (including changes to files or local groups), to account deletion afterward. Store the record of privileged activity efficiently and securely for future investigations and audits, or forward the logs to your SIEM for long-term storage and compliance.
Improve team performance while enhancing security
It is a common perception that privileged access management is hard and costly. But it doesn't have to be! Improve security without overburdening your team with a solution that is easy to deploy and maintain and that slips seamlessly into your current workflows.
Save time on privilege management
Manage all privileged activity in one place and reclaim all the time you currently spend jumping from system to system and checking your spreadsheets, notes and reminders to make sure there is no unnecessary privilege and that privileged credentials are updated.
Reduce adoption overhead
Empower your team to keep working the way they are used to, but more securely, by enabling them to launch privileged sessions right from their tool of choice, such as RDP/SHH clients. If you use the Microsoft LAPS password management solution to manage local Administrator accounts in Active Directory, you don't need to abandon the process you've built — simply make it more secure by integrating it with the Netwrix PAM solution.
Make gradual improvements instead of having to rip and replace
Advance toward zero standing privilege with minimal disruption to your IT processes. Eliminate the standing accounts used for certain tasks in favor of on-demand privileges, while securing the privileged accounts that remain using stronger vault-based credential management and check-out processes. Use Netwrix Privilege Secure's built-in vault or integrate the solution with your current vault using its Bring Your Own Vault® (BYOV®) connectors — the choice is yours.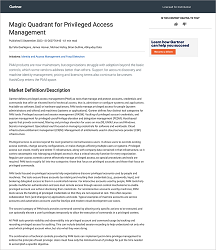 Netwrix named a Visionary in the 2023 Gartner® Magic Quadrant™ for Privileged Access Management
Netwrix PAM Solution
Find out how Netwrix privileged access management software can help you secure privileged access in your organization.
The Evolution of PAM - Why Netwrix Privilege Secure is the most innovative approach
Take a look at how PAM has evolved over the years and see what's in store for the future.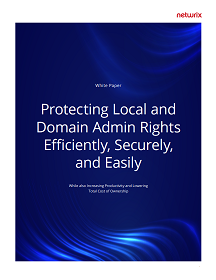 Protecting Local and Domain Admin Rights Efficiently, Securely, and Easily
Find out how Netwrix Privilege Secure and Netwrix PolicyPak deliver just-in-time identity and privilege orchestration that overcomes the challenges of traditional Privileged Access Management Solutions, including weak security, opportunistic lateral movement, and high cost of ownership.
See how Netwrix helps organizations improve the security of privileged access
EDUCATION
Eastern Carver County Schools maintains least-privilege access for IT admins to secure the data of its 9,300 students.
Read the story
ENTERTAINMENT
Grand Lake Casino enforces accountability for privileged users, including third-party contractors.
Read the story
Explore the Netwrix products that can help you protect privileged accounts to improve cybersecurity