Netwrix Support
Although Netwrix products are easy to install, configure and use, we realize you might need help at times. To ensure your success, we offer a variety of support options, including responsive and knowledgeable customer support with a solid 97%
satisfaction rate.
Our support options range from a free community
forum to custom professional services
Evaluation
Receive Standard Support services free of charge while you evaluate trial versions of Netwrix products.
Standard Support
Get 24/5 software support services via email, phone or web, with fast response times.
Professional Services
Entrust deployment, integrations or taxonomy development to our
Professional Services
team and get maximum ROI.
Contacting Netwrix Support
United States: +1.888.638.9749
United Kingdom: +44 (0) 203 588 3023
Canada: +1.201.490.8840
India: +91-124-4318803
France: +33 9 75 18 11 19
All other international: +1.201.490.8840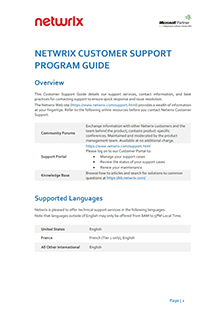 "Customer support is the best that we have experienced among
our IT vendors. The support team is always very professional
and knowledgeable, and they have excellent communication skills."
Michael Nedbal, VP of Operations,
Makai Ocean Engineering Inc.