Data Access Governance
Software to Lean On
All too often, organizations get serious about controlling access to their data only after they experience a data breach. But there's no reason to wait. The Netwrix Auditor platform enables strong data access governance (DAG) across your file servers, as well as collaboration systems like SharePoint and SharePoint Online, by giving you deep insight into your unstructured data, including information about possible security gaps, effective permissions and data access patterns. With Netwrix Auditor, you can ensure that you have all the proper access security controls in place to prevent breaches.
Jump-start your DAG program by mitigating major
IT risks that endanger your sensitive data
Remediating gaps in your data security is critical to data breach prevention. Start broad and see if there is data
on your file servers that has access rights assigned in violation of access management best practices. Then get tactical
and focus on identifying and classifying your sensitive data. With Netwrix Auditor, you can proactively harden your
security controls and ensure the effectiveness of your other DAG practices, including assigning access rights in
accordance with the least-privilege principle and maintaining strict control over data access.
Gain a bird's-eye view of IT risks associated with unstructured
data governance
Quickly detect all data on your file servers with access rights that were assigned directly instead of through group membership.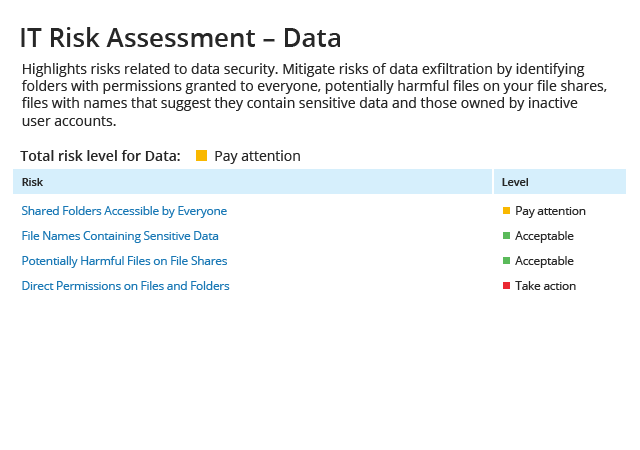 Discover and mitigate sensitive data outside of a secure dedicated location
Understand where exactly your sensitive data is kept and how much of this data is stored outside of a secure dedicated location. This clarity will help you prioritize your data access governance efforts and spending.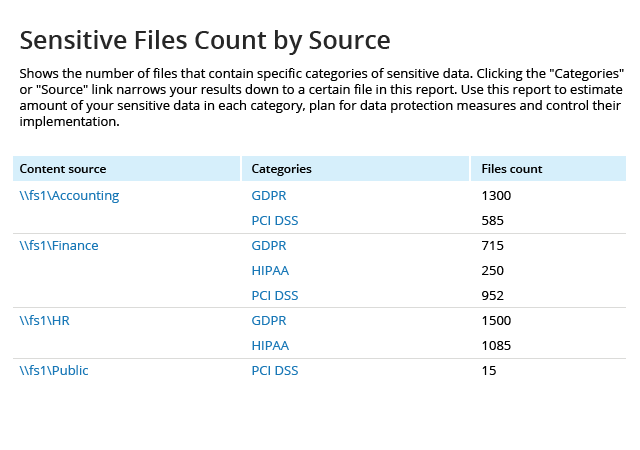 Easily discover which sensitive data is at risk
Identify sensitive information that is accessible by groups of users that shouldn't have access to it at all, for example, the "Everyone" group.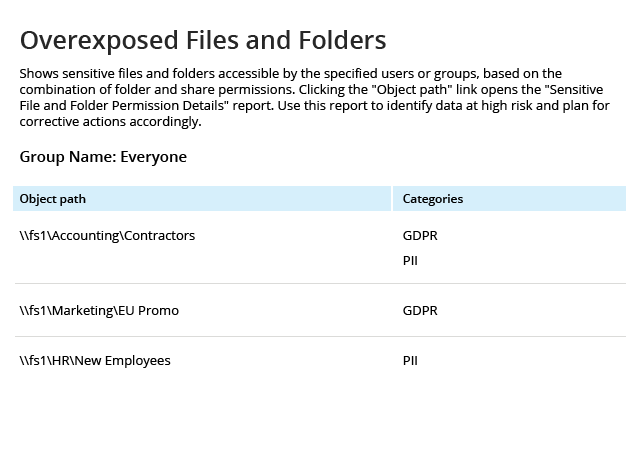 Enable effective access governance by staying
in control of data access rights
Ensure that only eligible users have access to sensitive files and folders by regularly reviewing effective permissions
and involving data owners to verify that those permissions are appropriate. Monitor changes to access rights on file servers
and SharePoint sites, as well as changes to sharing and security in SharePoint Online, to ensure that each change is authorized
and won't jeopardize your data security efforts.
Know who has access to what
Regularly validate that all access rights to sensitive data align with applicable data protection regulations, HR job descriptions and employee roles in the company, and involve data owners in privilege attestation by subscribing them to the appropriate reports. Revoke all excessive or otherwise inappropriate access rights.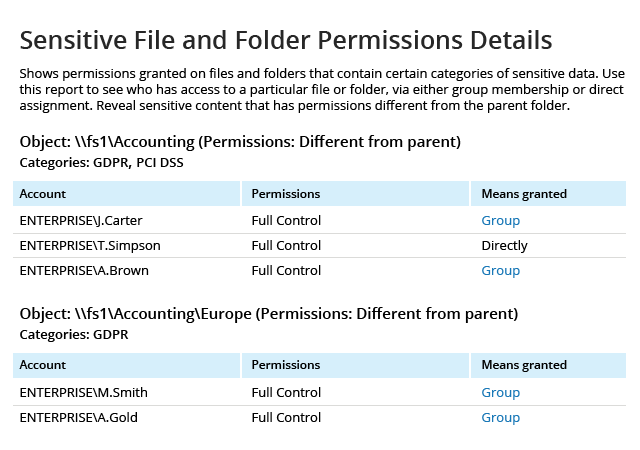 Keep an eye on privilege escalation events
Continuously monitor which access rights are modified, who made the change, and when and where it happened, so you can stay on top of privilege escalation across
your file servers.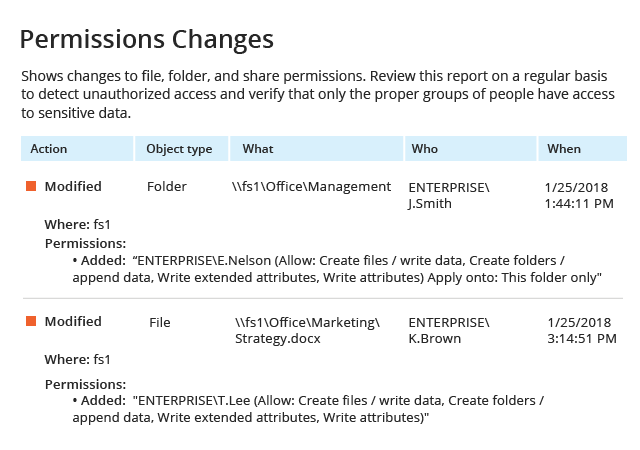 Be on the watch for unauthorized changes
to SharePoint permissions
Business-critical information is often stored on SharePoint sites. To ensure compliance with internal data access governance policies and external regulations, keep an eye on all changes to SharePoint permissions.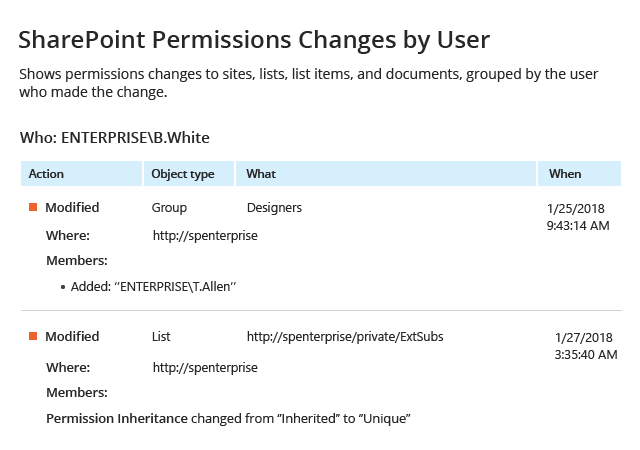 Extend your DAG practices to data
in the cloud
If you've embraced cloud solutions, you cannot afford to ignore unstructured data stored in your SharePoint Online. Ensure that all sharing and security changes have proper authorization in line with your access
governance processes.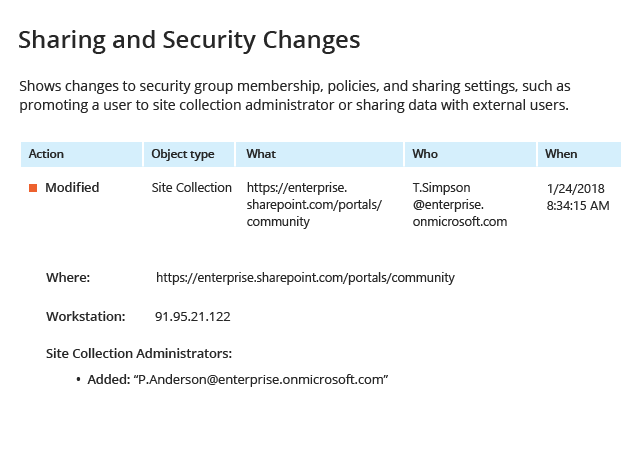 Ensure your data access governance policies are followed
by keeping data access events under control
Having access management processes written on paper is different from exercising access control across
your network. Get the power to promptly detect and investigate attempts to access your unstructured data
on file servers, SharePoint, SharePoint Online and OneDrive for Business that fall out of compliance with
your access management policies.
Spot suspicious spikes in data access attempts
at a glance
Get consolidated statistics about data usage patterns across your file servers, SharePoint and Office 365. Quickly spot activity spikes that could be a sign of malicious activity, and drill down to see
the critical details.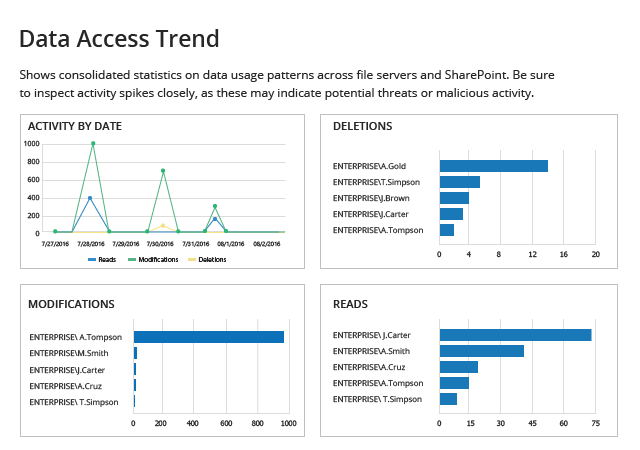 Control all access attempts to sensitive data
Know exactly who is trying to access sensitive files and folders on your file shares. Pay close attention to failed access events, which can indicate outside attackers or malicious insiders trying to lay their hands on your sensitive data.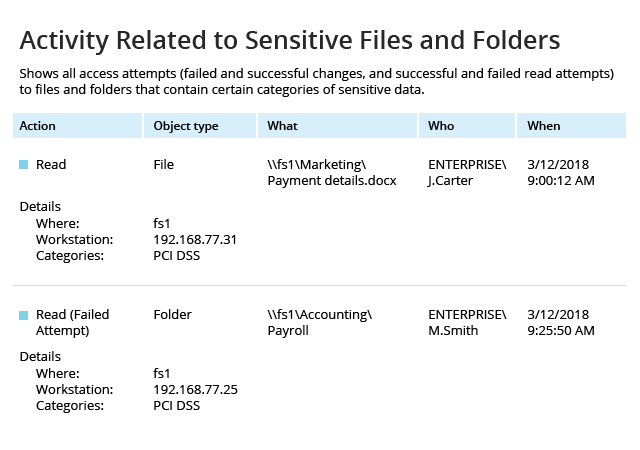 Keep a close watch on all users with extensive data
access rights
It's wise to keep privileged users and other users with broad data access rights under close surveillance. Netwrix Auditor's video recording technology delivers complete visibility into how these users exercise their access rights across various IT systems and applications — even if their activity
produces no logs.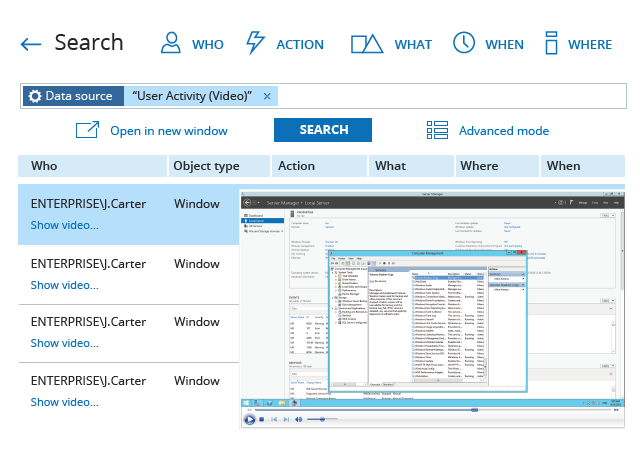 Want to learn more about how to enhance data security
and strengthen data management practices?
Find out how to identify both data owners and the primary users of data, and control the growth of unstructured data. And explore how you can use the Data Discovery and Classification capability of Netwrix Auditor to improve data access governance, secure sensitive data and prove compliance.
File Analysis
Learn how you can identify actual and potential data owners and control unstructured data growth by using file analysis technology.
Learn more
Data Discovery and
Classification
Find out how you can locate critical data and secure it in accordance with its value or sensitivity.
Learn more