About ISO/IEC 27001
The purpose of the ISO/IEC 27001 standard is to ensure adequate security controls are set up to protect information assets.
ISO/IEC 27001 is an international standard that specifies compliance requirements for establishing, implementing, maintaining and continuously improving an information security management system (ISMS). ISMS is designed to help manage IT-related risks and protect the confidentiality, integrity and availability
of information.
ISO/IEC 27001 is a voluntary standard and applicable to organizations across all industries. Getting certified against it means adopting best practices in establishing an effective ISMS and demonstrating to your stakeholders a commitment to maintain a high level of
information security.
Capabilities of Netwrix Auditor
Using Netwrix Auditor to ensure a successful ISO/IEC 27001 certification process and maintain an
effective ISMS
To set up a compliant ISMS, organizations need to undertake joint administrative, technical and physical initiatives. Netwrix Auditor assists in continuous compliance with ISO/IEC 27001 standard and strengthens the ability to protect your IT environment against cyberattacks and insider
security threats.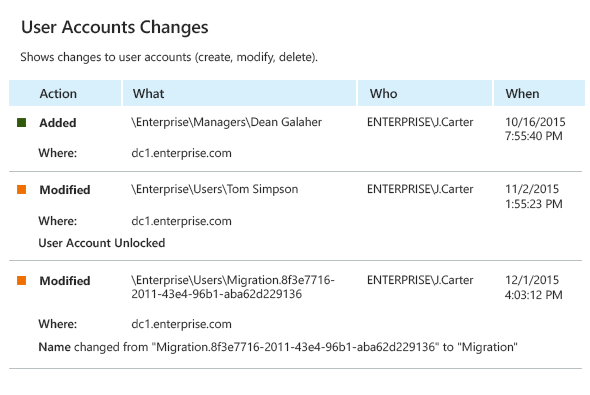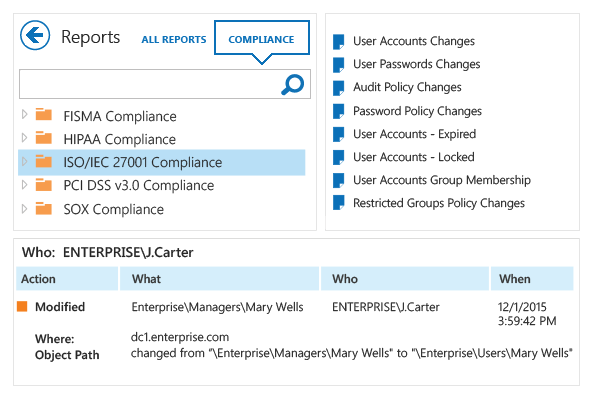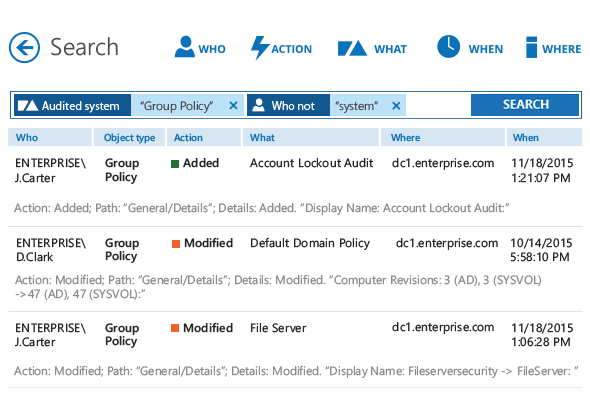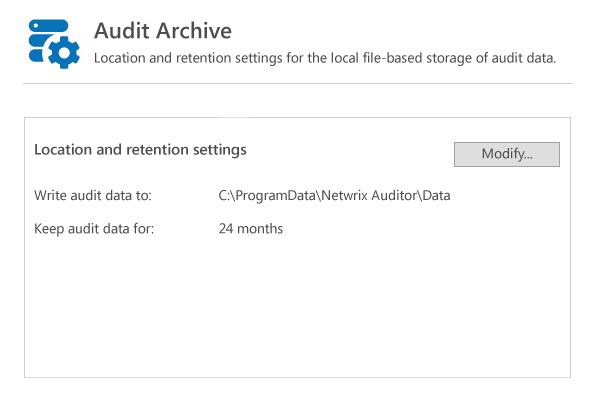 See which ISO/IEC 27001 requirements Netwrix Auditor helps you meet
While ISO/IEC 27001 defines compliance requirements for an ISMS, it does not provide specific guidelines for setting up information security controls. However, Annex A provides a list of security controls that could be set up within an ISMS. These controls are derived from ISO/IEC 27002, which contains 14 sections with a total
of 114 controls.
Netwrix Auditor assists with fulfilling security controls in the following sections:
A 13:
Communication security
A 16:
Information security incident management
A 17:
Information security aspects of business continuity management
A 6:
Organization of information security
A 7:
Human resource security
A 12:
Operations security
A 14:
System acquisition, development and maintenance
A 15:
Supplier relationships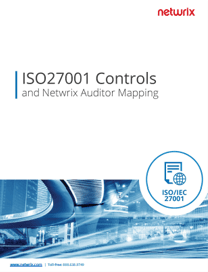 Organizations choose Netwrix Auditor to help them become — and remain — ISO/IEC 27001 certified
"We needed to pass compliance audits with a very limited budget, so we found Netwrix Auditor for Active Directory, which met all our requirements. On top of everything, it is a very easy solution to install and use. When you have to meet compliance regulations and establish IT auditing, I would recommend you take a close look at what Netwrix
can offer."
Philippe Mermuys, Information Security Officer,
Allianz Benelux
Hill Wallack
Law Practice
Fort
Investment Management
Harper Macleod
Law Practice
Robinson Bradshaw & Hinson
Legal Services