Active Directory Auditing Software
Netwrix Auditor for Active Directory enables complete visibility of Active Directory and Group Policy by providing actionable audit data about all changes and allowing to compare system configurations at present versus any moment in the past.
Who changed What, When and
Where information
Makes it easy to identify when a specific change was made, who made it and what exactly was changed with before
and after values.
Snapshots of current and past
AD configurations
Allows comparison between Active Directory and Group Policy configurations made at present and at any time
in the past.
Detailed audit reports
and dashboards
Includes a set of predefined audit reports with ability to filter, sort, export the audit data and subscribe
to reports via email.
Inactive user tracking and password
expiration alerting
Automates deactivation of inactive user accounts and reminds AD users to change their passwords
before they expire.
Agentless or non-intrusive agent-based
modes of operation
Doesn't require the installation of agents even if the agent-based mode is enabled, the lightweight non-intrusive agents do not modify or tamper operating system functions and thus significantly reduce
the risk of system outages.
AD compliance reports for PCI, HIPAA, SOX, FISMA
and ISO
Provides out-of-the-box reports that are mapped toward regulatory compliance standards, including PCI DSS 3.0, HIPAA, SOX, FISMA/NIST800-53
and ISO/IEC 27001.
Change roll-back and object
restore capability
Allows to revert changes to a previous state without any downtime or having to
restore from backup.
Real-time alerts
Notifies IT staff about critical Active Directory changes and helps proactively detect unauthorized
or malicious modifications.
Active Directory change auditing is a requirement for maintaining network security and sustaining compliance. Netwrix Auditor for Active Directory automates Active Directory change tracking and reporting tasks, mitigates the risk of privilege abuse and helps organizations comply with internal security policies and government or industry regulations.
"Netwrix Auditor helps us with Active Directory reporting on attributes that have changed and allows us to quickly respond to the events that have the potential of taking us
out of compliance."
Ofer Amrami, Director, Infrastructure and Operations,
American Career College
Enable continuous Active Directory auditing and prove that its configurations are under control
Enable continuous Active Directory auditing and prove that its configurations are under control
Quickly find answers to questions from both internal and external auditors like
who effected privilege elevation
and
what was changed in the enterprise domain admins group
a year ago. The actionable audit data can be stored in a two-tiered (file-based + SQL database) AuditArchive™ for more
than 10 years.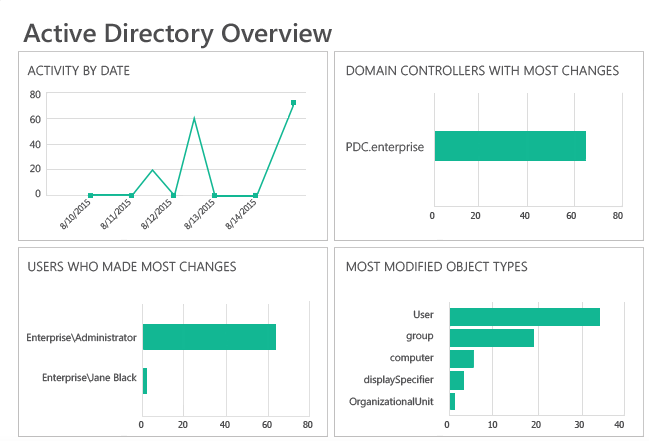 Prepare audit reports and troubleshoot unwanted Active Directory changes faster
Netwrix Active Directory auditing software overcomes the limitations of native auditing tools and allows IT administrators to significantly decrease the time they spend on gathering and delivering information about changes to AD objects, Group Policy configurations, directory partitions and delivering this information to key stakeholders. Unwanted changes can be easily rolled back to the previous state without causing major disruptions in the business operations.
Detect and investigate unauthorized changes made by privileged users before a breach occurs
Use predefined change and configuration auditing reports, real-time alerts and dashboards to identify suspicious changes that might introduce security risks. Whenever you detect a change that does not match your corporate security policy, you can use interactive search to investigate why it happened and take actions to prevent similar incidents from occurring in the future.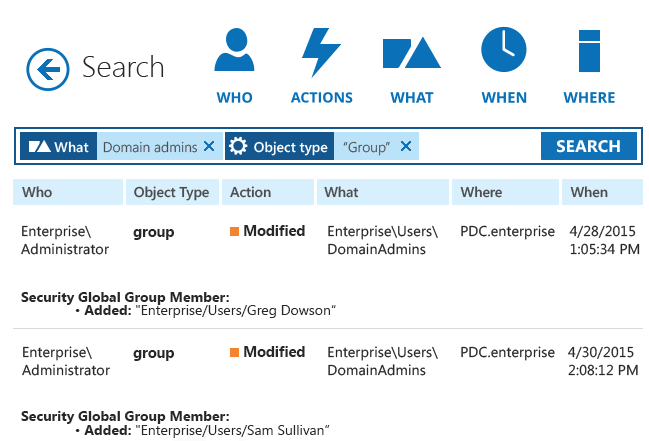 "When we implemented Netwrix Auditor we got a very easy-to-use solution to tell us the who, what, when and where details for all Active Directory changes, easily saving us hours of investigative work tracking down who made a specific change."
Jeff Salisbury, Director, Global IT Operations,
Belkin International, Inc.
Free guide:
Keeping tabs on the 5 most important Active Directory changes with Netwrix Auditor
Datasheet:
Complete visibility of IT infrastructure with Netwrix Auditor
Built for IT environments of all sizes, Netwrix Auditor architecture supports the growth of your organization
160,000 IT departments worldwide rely on Netwrix to secure IT infrastructure, prove compliance and increase operational efficiency