Add-on for Amazon Web Services
Get complete visibility into what's going on in your Amazon Web Services (AWS) environment. Simply integrate AWS with Netwrix Auditor through the RESTful API with this free add-on.
Maximize Visibility into What's Going
on in Your
AWS Environment
Bring complete visibility into all changes made in your AWS environment with actionable audit data that includes who-what-when-where details. Quickly produce audit reports highlighting what's happening in AWS for security
and compliance purposes.
Investigate Security Incidents
and Prevent Breaches
Keep an eye on security changes in your AWS environment with the Google-like search and multiple search filters that speed up detection of suspicious activities and enable you to determine the root cause before
a data breach occurs.
Document and Securely Store Audit Trails
for Later Review
Keep your audit data archived and at your fingertips for years in the two-tiered storage. You can instantly access it the next time there is a security investigation or auditors require
a periodic check.
Step-by-Step Instructions for Integration
To integrate Netwrix Auditor with AWS, simply take the following steps:

INTEGRATION STEPS
Prepare for the integration by ensuring that:

Netwrix Auditor is installed, and its Audit Database is configured and contains audit data.
The execution policy for PowerShell scripts is set to Unrestricted.
The AWS SDK for .NET is installed on your computer.

Get the script running:

Right-click the script and select Edit. The Windows PowerShell ISE will start.
If you don't use the default port (9699), update the port number.
Provide the mandatory AWS connection parameters (an endpoint for your region, an AWS access key ID and an AWS secret access key), and save your changes.
Run the script and wait for it to execute.

See the results:

Start the Netwrix Auditor Client and navigate to Search.
Apply filters to narrow your search to the systems audited by Netwrix API only.
Click Search and review the audit data for your AWS.
Want more help getting started
with the add-on?
Read the Quick-Start Guide.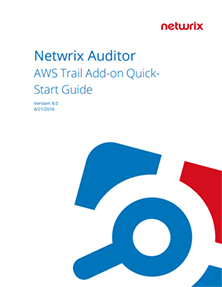 Review detailed instructions for installing

the Add-on

for Amazon Web Services.

Learn how to configure

it properly.

Start getting complete visibility into changes and data access throughout

your AWS environment.