Add-on for Generic Linux Syslog
Gain complete visibility into activity in your Linux environment. Simply integrate your Linux-based systems with Netwrix Auditor via the RESTful API with
this free add-on.
Maximize visibility into your
Linux environment
Enhance your control over what's happening across your entire Linux-based environment with a single-pane view of Linux system logs, including detailed information on events, such as failed attempts to start an SSH session or run
an SU command.
Detect and investigate threats
to your Linux infrastructure
Stay alert to behavior patterns you consider risky, such as multiple authentication failures, to enable quick and efficient response. Investigate these incidents further with the Google-like interactive search so you can safeguard your critical assets in
the future.
Retain a complete audit trail for later
review and compliance checks
Store your syslog records for years in the two-tiered storage and ensure easy access to this information in case you need to investigate a security incident or pass
an audit check.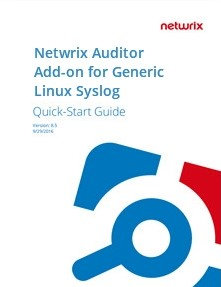 Review detailed instructions for installing the Add-on for Generic Linux Syslog.
Learn how to configure the add-on properly.
Start getting insights about what's happening across your Linux-based systems through Netwrix Auditor intelligence.