Add-on for Hyper-V SCVMM
Know what's happening in your Hyper-V environment, harden the security posture of your virtual infrastructure, prevent performance issues and prove IT compliance. Integrate Microsoft System Center Virtual Machine Manager (SCVMM) with Netwrix Auditor using this free add-on built with our
RESTful API.
Watch your privileged
users closely
Enforce individual accountability by knowing who is doing what. Quickly spot unusual activity to avoid
security incidents.
Detect critical changes in your
Hyper-V environment
Slash incident detection time and quickly spot any suspicious changes to your
SCVMM configurations.
See the full picture across
all your systems
Improve threat detection and uncover even sophisticated attacks by tracking all events
in your environment.
Find out how Netwrix Auditor Add-on for Hyper-V SCVMM helps you detect security threats and
ensure system uptime
Keep privileged
users accountable
Know exactly what each administrator is doing and detect abnormal behavior so you can prevent data breaches, avoid performance issues and enforce
individual accountability.
Promptly spot suspicious changes
Make sure your configurations always match your known good baseline by spotting all critical changes, whether it's malicious activity or
just human error.
Get complete visibility across
your infrastructure
Get the full picture of all activity across all your critical systems and correlate even slight violations so you can spot threat patterns in time to prevent downtime and
security incidents.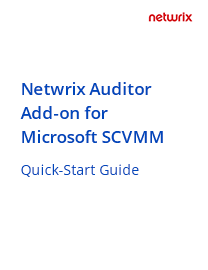 Review detailed instructions for installing the add-on.
Learn how to configure it properly.