Evaluate Netwrix Auditor
without deploying anything
in your environment
Netwrix Auditor TestDrive is a web-based virtual environment where you can try the latest version of Netwrix Auditor without having to download and install the product. Filled with sample data to reproduce nearly any usage scenario, the self-contained, pre-configured TestDrive environment will give you a good understanding of the capabilities of the
Netwrix Auditor platform.
Review the Start page
to see
what the product
has to offer.
View the alerts
provided out of the box,
or play around and create your own
custom alerts.
Try the Google-like Interactive Search
to quickly find answers from data collected
across the entire
IT infrastructure.
Review any predefined dashboard
or report
, and try out the export
and
subscription capabilities.
Check out sample activity summaries
and alerts in
Microsoft Outlook.
From this image, you can explore the capabilities
of all Netwrix Auditor applications: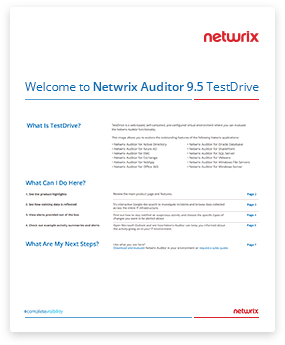 Don't know where to start?
This short guide will walk you through the online
evaluation process.