Hardening Azure AD Security
Netwrix Auditor for Azure AD maximizes visibility into user actions in your cloud-based Active Directory, enabling you to quickly detect and investigate incidents that threaten your security or business continuity. This application tracks and reports on security and configuration changes, and enables Azure AD access control by reporting on both successful and failed sign-ins to your cloud directory service.
Enables you to easily create custom alerts on threat patterns — for instance, failed sign-ins or illicit changes to roles — so you can
prevent security breaches.
Valuable insights about user actions
Helps you stay informed about user actions in your Azure AD tenant by delivering important details, such as what exactly changed, who made each change, where each change originated and when it happened, in
easy-to-read format.
Advanced reporting capabilities
Simplifies Azure AD security reporting with thoughtfully laid-out scheduled and on-demand audit reports and overview dashboards that offer useful filtering, sorting
and exporting options.
Tracking of all sign-in attempts
Facilitates Azure AD access control for security and compliance by tracking and reporting on user sign-in attempts, both successful and failed, in your cloud
Active Directory.
Enables security investigations by simplifying audit trail searches; simply provide your specific search criteria and quickly find the exact piece of
information you need.
Azure AD security and compliance reporting
Enables you to pass your IT security audit checks with much less effort by offering out-of-the-box compliance reports mapped to the requirements of PCI DSS, HIPAA, SOX, GLBA, FISMA/NIST, CJIS,
GDPR and more.
"We use Netwrix Auditor to audit every system of our infrastructure. Previously, I used five separate solutions from other vendors for monitoring Active Directory, MS Exchange, logs and firewall log analyzers. I have replaced all of them with
Netwrix Auditor."
Andrew Ledford, Chief Information Officer,
BankCard Central
Mitigate information security threats when hosting Active Directory in Azure
Mitigate information security threats when hosting Active Directory in Azure
Ensure the integrity and security of your organization's cloud directory service with visibility into user activity in your Azure AD deployment. Easily track successful and failed sign-in attempts and critical changes to Azure AD users, groups, roles, contacts, applications, devices, licenses and more. Monitor your AD's pulse and review important security metrics using Overview dashboards, or get deeper insights by drilling down into graphs and jumping to detailed
audit reports.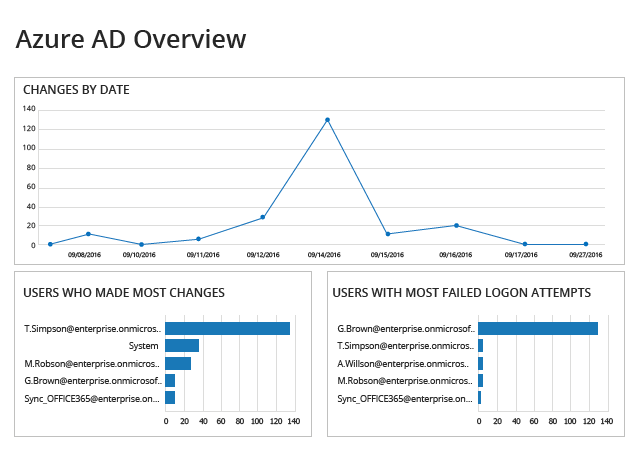 Gain visibility into user and administrator activity in Azure AD and ensure your audit trail is safely retained for years
Detect and mitigate threats to your sensitive data by keeping abreast of critical Azure AD configuration changes with easy-to-read reports. Establish full accountability of your privileged Azure AD users with the actionable intelligence the reports provide. Be more productive with report subscriptions that automate delivery of reports to the email addresses or shared folders you specify. Safely retain your audit trail for many years, and ensure easy, any-time access to audit intelligence with a reliable and cost-effective two-tiered (file-based + SQL database)
AuditArchive™ storage.
Investigate security or operational incidents and address auditor's requests with Interactive Search
Be ready when external auditors ask you to show all modifications to Azure AD multi-factor authentication settings and role changes over the past year. Quickly find and eliminate the root cause of a web application access failure. With the advanced search capabilities of
Interactive Search
, you can supply search criteria and use built-in filters to quickly retrieve a particular audit trail record you need or establish the broader context of an incident with traces from across
multiple IT systems.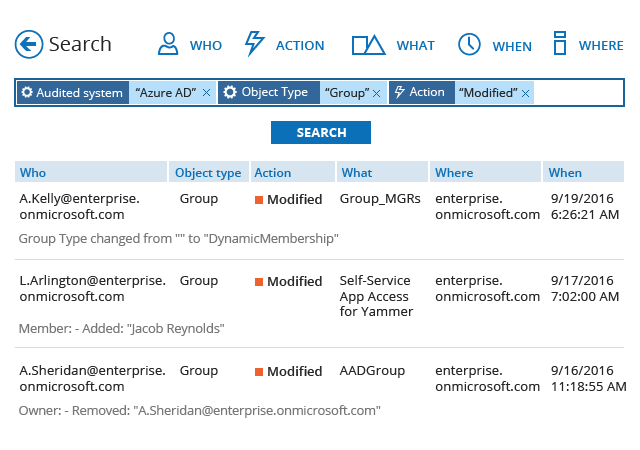 "Netwrix keeps our compliance costs down while making it easier to follow strict federal and industry regulations. Netwrix Auditor saves us about 8 hours on preparing for the IT security audit, and approximately 4 hours weekly on gathering audit data as reference for future audits."
Benjamin Shumaker, Network Information Security Officer / NISO,
Credit Union of Denver
Free guide:
Top 5 Azure AD Incidents You Need Visibility Into
Datasheet:
Complete Visibility into Azure AD with Netwrix Auditor
See how Netwrix Auditor helps organizations of all sizes and from many different industries maintain secure operations
Over 160,000 IT departments worldwide rely on Netwrix to secure IT infrastructure, prove compliance and increase
operational efficiency