Learn how you can earn
with Netwrix
Netwrix Auditor is the solution of choice across a wide range of industries, including healthcare, banking, education, government, pharma, retail, hospitality and energy. It covers the broadest range of on-premises and cloud IT systems and applications, and addresses the needs of the many different levels of the IT organization, from system administrator to CIO.
All this makes Netwrix Auditor an appropriate add-on to nearly every deal, enabling you to expand both incremental and recurring revenue streams by offering higher-value, comprehensive solutions to new and existing customers alike.
Learn more about Netwrix Auditor
Capitalize on the enterprise opportunities emerging in the fast-growing cloud security market. Netwrix Auditor is one-of-a-kind visibility and governance platform that helps solidify the security of on-premises, hybrid cloud and cloud IT environments.
Add Netwrix Auditor to your offering to ensure peace of mind for your customers moving to the cloud.
Learn more about the Netwrix

cloud vision
Drive revenue in lucrative markets like healthcare, finance, energy, legal and government by enabling organizations to meet regulatory requirements and pass compliance audits with far less effort and expense.
If you already have customers subject to HIPAA, SOX, PCI DSS, GLBA, FISMA, FEPRA, NERC CIP, ISO/IEC 27001 or other regulatory standards, just add Netwrix Auditor to your offering to instantly extend its value.
Learn more about IT compliance
Expansion of target markets
Transparent & flexible partnership program
Deal registration program
Sales, marketing and technical support
Marketing Campaign-in-a-box
Leverage our best marketing materials to launch your own Netwrix marketing campaigns and fill your sales pipeline with new leads. Each campaign-in-a-box contains all the assets needed for successful execution.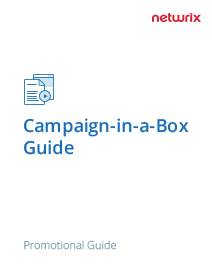 This guide gives insights into how you can launch the campaign and fill your pipeline
with new leads
Download Guide (.pdf)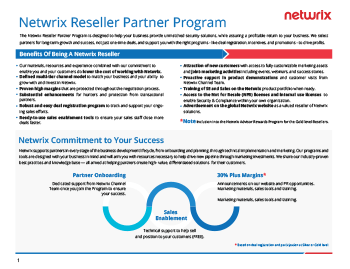 Explore the full list of Netwrix Reseller Partner Program benefits.
Proven high margins that are secured throughout the negotiation process
Robust deal registration program to protect your ongoing sales efforts
Flexible multi-tier channel model to match your business and potential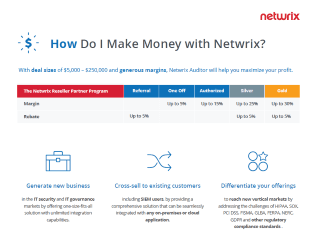 Explore handy tips for selling Netwrix Auditor.
Why customers care about visibility and governance
Who needs the platform and when you should offer it
How to identify a Netwrix deal and close it faster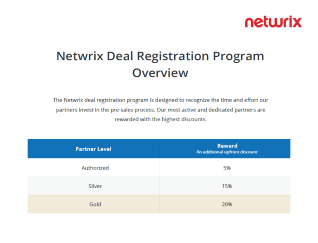 Learn how to increase margins by registering deals with Netwrix.
Become a Netwrix Partner and activate your Partner Portal account
Bring net-new business that meets deal registration eligibility criteria
Close the opportunity at term and get financial rewards
Regulators task our clients with knowing everything that is happening on their network. Netwrix offers tools that provide this insight. The wide range of reports fit the needs of the technical staff, management and the Board of Directors. In summary, the products are robust, they are easy to use and the reporting provides the necessary level of insight to those who play different roles
across the organization.
Cheryl Buntin,
Senior Vice President, Sales & Marketing, AaSys Group, Inc.
Netwrix Partner
Success Story
Resellers like you already partner with Netwrix