Check out which CJIS requirements
you can address
with Netwrix
The Criminal Justice Information Services (CJIS) Security Policy establishes information security best practices to help organizations protect criminal justice information (CJI) throughout its full lifecycle. The policy applies to any organization that submits information to or receives information from FBI CJIS systems or services, by any means. Failure to comply with CJIS Security Policy requirements can result in administrative sanctions including, but not limited to, termination of services and state and federal criminal penalties. Netwrix can help you prepare for CJIS audits and maintain compliance by establishing security controls aligned with the following CJIS requirements:
4.2 Criminal Justice Information and Personally Identifiable Information
4.3 Personally Identifiable Information (PII)
5.3 Policy Area 3: Incident Response
5.3.1, 5.3.2.1, 5.3.2.2, 5.3.4
5.4 Policy Area 4: Auditing and Accountability
5.4.1, 5.4.1.1, 5.4.1.1.1, 5.4.2, 5.4.3, 5.4.5, 5.4.6 
5.5 Policy Area 5: Access Control
5.5.1, 5.5.2, 5.5.2.1, 5.5.2.2, 5.5.2.4, 5.5.3, 5.5.6
5.6 Policy Area 6: Identification and Authentication
5.7 Policy Area 7: Configuration Management
5.12 Policy Area 12: Personnel Security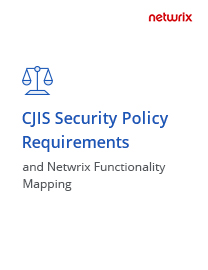 Learn more about how
Netwrix can help you pass
CJIS compliance audits
Depending on the configuration of your IT systems, your internal procedures, the nature of your business and other factors, Netwrix might also facilitate compliance with provisions of the CJIS not listed above.
Discover how Netwrix can help
you ensure and prove
CJIS compliance
Netwrix helps criminal and non-criminal justice agencies exert more vigilance over privilege abuse, unauthorized data access and suspicious user behavior that can affect the security of CJI data. It also provides out-of-the box compliance reports aligned with the requirements of CJIS compliance, reducing the time and effort needed to prepare for audits.
Identify where overexposed
sensitive data is located
Verify that CJI and other FBI related information is appropriately protected in your organization. See what sensitive files are overexposed, promptly take action to secure what is important, and thereby satisfy the CJIS compliance policies.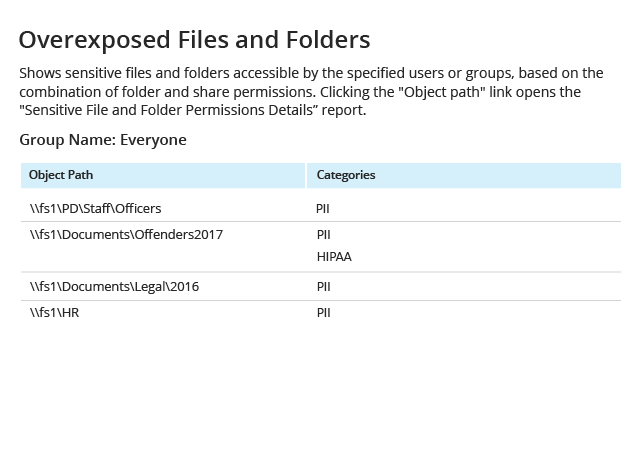 Secure your CJI by establishing
strict control over access rights
Make sure that sensitive files are available exclusively to authorized employees. Identify precisely what sensitive data you store and restrict access to CJI based on each user's need to know. Regularly conduct privilege attestations to make sure compliance requirements continue to be met.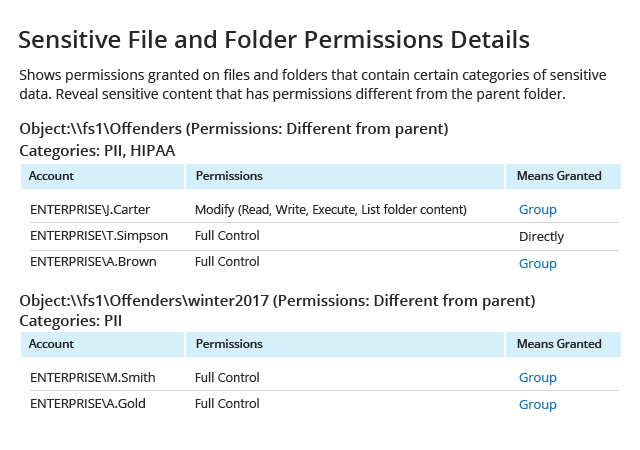 Have full control over access
to your sensitive
data
Verify that no unauthorized users are accessing your CJI, by monitoring successful reads of sensitive data. Ensure your policies are being respected and your sensitive files are secured as mandated by CJIS compliance requirements.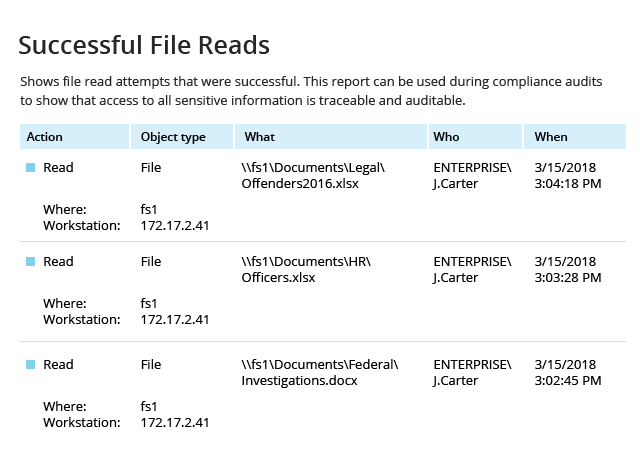 Detect activity that can put the security of CJI at risk
Stay on top of any suspicious activity that might lead to a security incident. Be alerted about suspicious events that could lead to a data breach if not addressed promptly, such as changes made to a privileged group or multiple failed read attempts.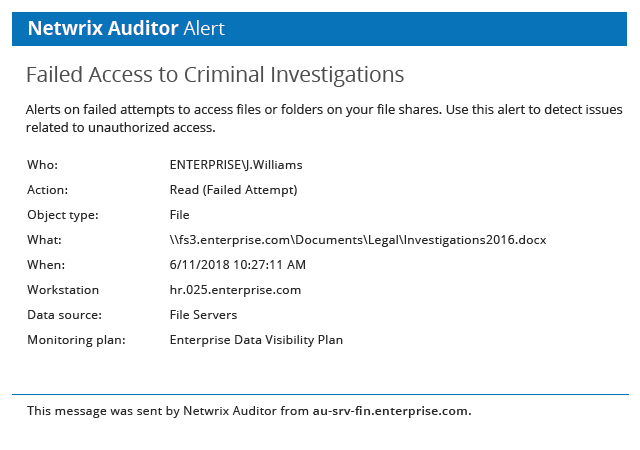 Investigate suspected policy violations and prevent security incidents
Simplify investigations into unauthorized permission changes, identify the cause of an issue and prevent it from happening again. Find the information you need with flexible search filters and save your search as a custom report to review it later.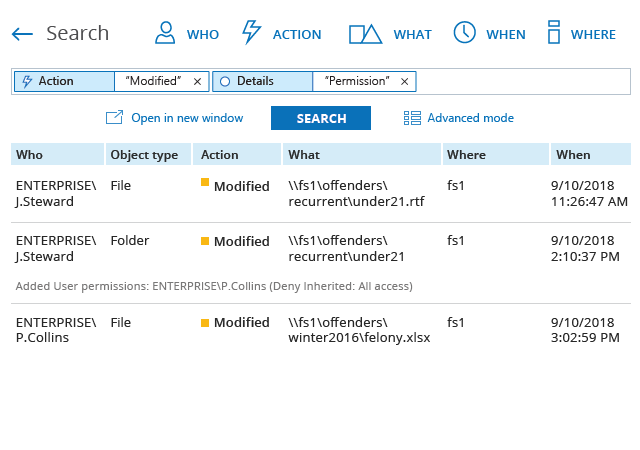 See how governmental organizations use
Netwrix in their compliance programs to ensure the privacy and security of CJI
customer success
Johnson County in Kansas needs two minutes, instead of two hours, to investigate potential threats.
Read the Story
customer success
Clackamas Fire District ensures continuous CJIS compliance and prevents a ransomware attack.
Read the Story