Combat the Insider Threat in the Technology Industry with Netwrix Auditor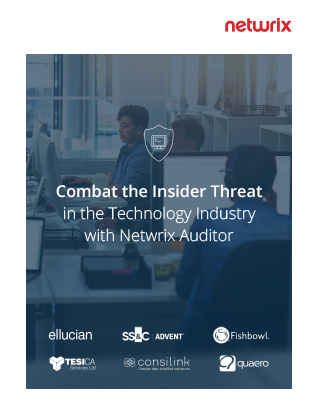 Technology companies deal with a lot of confidential data, including intellectual property and sensitive corporate or customer data. And when it comes to securing that data, they put not only their reputation on the line, but also their entire business. They also have to ensure ongoing system availability to maintain productivity and deliver high-quality service for their customers.
This eBook details how you can use Netwrix Auditor to shield sensitive data from external and internal threats, how to increase your resilience to accidental and malicious misconfigurations that could cause downtime, and how to spend less time on compliance audit preparation.You'll get answers to the following questions:
How can you clean up Active Directory and reduce the risk of account or privilege misuse?
How can you ensure accountability of privileged users in your environment?
How can you identify insider and external threats to sensitive customer information, corporate data and your intellectual property?
How can you cut time and effort required to prepare for and pass various compliance audits?