Netwrix Auditor for
Dell Data Storage
Complete visibility into changes, data access
and data usage on Dell data storage devices
Dell Data Storage Auditing Software
Netwrix Auditor for Dell Data Storage audits Dell VNX and VNXe, Isilon, and Celerra storage devices to help enterprises strengthen data security, streamline compliance and increase operational efficiency. It enables complete visibility into your storage environment by tracking all changes to files, folders, shares and permissions; reporting on data access events; enabling data discovery and classification (in conjunction with Netwrix Data Classification); and revealing data usage patterns and data ownership.
Provide insight into sensitive data on Dell Isilon and Celerra, VNXe and VNX file servers, including its location, permissions to it and activity around it. The reports work only in conjunction with Netwrix Data Classification.
Unlike native Dell Celerra, VNX, VNXe and Isilon audit logs, delivers information about every change in a human-readable format with clear who-what-when-where details, in both predefined and custom reports.
Enables access management across your Dell file servers by reporting on both successful and failed user access attempts with complete who-what-when-where details.
Control over permissions configuration
Empowers you to keep permissions to sensitive data in compliance with internal data security policy and external regulations with features like easy comparison of current and past permissions settings.
Notifies you about attempts to access your data, changes to permissions to critical files and more, so you can quickly spot aberrant user file activity and external attacks that threaten your sensitive information.
Provides valuable insight into data usage and data ownership, and identifies duplicate files and stale data on Dell VNX and VNXe devices, Celerra storages, and Isilon clusters.
Easy compliance reporting
Makes it easy to prove your compliance by providing hard data in predefined audit reports aligned to standards such as PCI DSS, HIPAA, SOX, FISMA, GLBA, CJIS, GDPR and more.
Enables you to quickly sift through audit events by fine-tuning your search criteria until you find the root cause of an issue or the answer to a specific question from an auditor.
Provides security intelligence that helps you identify and remediate security gaps that put sensitive data at risk, such as an abundance of directly assigned permissions or potentially harmful files on your Dell data storages.
Streamlines insider threat detection by providing a single view of user accounts and their associated risk scores, and easy access to the complete activity trail of each user.
User Behavior and Blind Spot Analysis
Enables you to spot suspicious spikes in user file activity that might otherwise go unnoticed by providing intelligence about data access trends and data access surges.
Non-intrusive architecture
Operates without agents, which ensures that data collection does not interfere with system processes or performance.
Stay on top of suspicious file audit events that could compromise your data and lead to
compliance failures
To protect sensitive data stored on Dell data storage devices from leaks and comply with industry and government regulations, organizations must audit files and folders on these storage devices. Netwrix Auditor for Dell Data Storage simplifies Dell VNX and VNXe, Celerra, and Isilon auditing and reporting to help organizations keep their sensitive data safe from unauthorized access or changes.
Keep tabs on activity around sensitive data on your
storage devices
Enable continuous Dell VNX and VNXe, Celerra, and Isilon file auditing by combining Netwrix Auditor with Netwrix Data Classification, so you can to ensure that no suspicious activity around regulated data, such as privilege escalations or failed read attempts, slips under your radar.
Streamline data security incident investigation
Ditch manual processing of native Dell Isilon, Celerra, VNXe and VNX audit logs. Quickly investigate suspicious file activity, such as repeated failed access events, privilege elevation or mass deletion of files, using the Interactive Search engine.
Enforce the least-privilege principle across
your environment
See who has access rights to critical data that they rarely use. Get data owners and department managers involved in privilege attestation so you can revoke all access rights that are not required for users to perform their jobs, and thereby minimize your attack surface.
Understand your unstructured data to enable better information
management decisions
Identify which data is no longer in use and can be safely deleted or archived. Easily spot files that have multiple copies, determine which files occupy the most storage, and identify redundant or empty folders. Use this intelligence to clean up your storage environment and increase user productivity.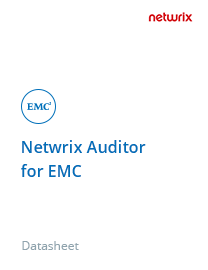 Read how Netwrix Auditor for Dell Data Storage can help you improve data governance, prove compliance, and ensure security of data across your Dell data storage devices.
Download Datasheet (.pdf)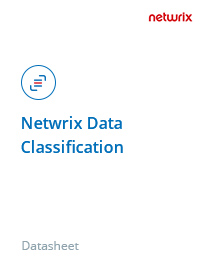 Discover how Netwrix Data Classification empowers you to locate critical data and focus your auditing efforts in accordance with its value or sensitivity.
Download Datasheet (.pdf)
See how different organizations, from SMBs to large enterprises,
prove compliance
use Netwrix Auditor to enhance data security and
"Netwrix Auditor is a great product that helps us secure large amounts of sensitive data, such as students' health records and their parents' financial information. Every day, the software delivers invaluable insights into what's going on across our file servers: We can seamlessly monitor user activity, ensure conformance to security policies and investigate incidents."

Hans Gierens,
IT Manager, Catholic College Sale
Auditing file activity on Dell data storage devices with
Netwrix Auditor for Dell Data Storage
Many organizations rely on Dell network storage devices to keep large volumes of data because of their high performance and scalability. To protect sensitive data from unauthorized access or modifications these organizations must monitor everyday file activity on their data storage. Dell data storage event logs don't make this task easy because of the complete lack of any native reporting capabilities.
Netwrix Auditor for Dell Data Storage overcomes these limitations by tracking every change and data access attempt across the Dell data storage environment and converting the audit data into human-readable reports. For instance, its report on user activity summarizes all file activity by user, including changes, file reads, failed access attempts and file deletions. This report helps pinpoint users with suspicious activity.
Comprehensive solution for Dell
VNX auditing
Netwrix Auditor for Dell Data Storage provides comprehensive auditing capabilities for Dell VNX storage devices. It automatically collects audit data and transforms it into easy-to-understand reports that detail who made file, folder or permission changes, and when and where each change happened. Other reports reveal successful and failed attempts to access protected data across the VNX storage environment.
Thus, Netwrix Auditor for Dell Data Storage enables continuous VNX monitoring and reporting and delivers complete visibility into all access events and changes.
Change and access auditing on Dell Isilon storage
with Netwrix Auditor
The Dell Isilon storage system is well known for its scalability and its ability to handle extremely large volumes of data. These capabilities are especially valuable in industries that generate massive amounts of sensitive data, such as healthcare, financial services and media. These organizations are often required to track activity on their file storage devices so they can detect unauthorized changes or access events that can lead to data breaches.
Netwrix Auditor for Dell Data Storage delivers complete visibility into Dell Isilon storage by tracking and reporting on all changes to sensitive data, permissions and data access attempts. This enables organizations to tighten their data security and comply with industry regulations.
Efficient Software for Dell Data Storage Monitoring and
Reporting on Activity
If your organization stores sensitive data on Dell data storage devices, you need to be sure that nothing can put that data at risk — and be able to prove that to auditors. When it comes to safeguarding your critical assets, having a basic Dell data storage monitoring and reporting tool is simply not enough. You need a reliable software solution that can not only monitor all activity happening on Dell data storage devices, but also report on illicit activity, so you can spot and investigate security incidents faster and thwart attacks in their early stages. Only then can you prevent data breaches, compliance failures, and disruption to file storage usage and operations.