Netwrix Auditor for
Windows File Servers
Complete visibility into changes, data access
and data usage on file servers
File Auditing Software for Windows File Servers
Reduce security risks around sensitive data stored on your Windows file servers with file server auditing software from Netwrix. Focus on your most severe security risks with deep visibility into overprovisioned access to sensitive data, changes to permissions and activity around critical files. Minimize the impact of incidents by detecting and investigating threats faster.
Control over data access rights
Know exactly who has access to which files and folders, and spot data that is overexposed. You can also easily compare the current state of effective permissions to any point in the past.
Identify changes that put your data at risk with visibility into changes to files, folders and permissions, including the crucial who, what, when and where details.
Exercise control over data access attempts by reporting on both successful and failed read attempts across multiple Windows-based file servers and shares.
Insight into sensitive data
Focus your security efforts on confidential information by knowing where it's located and who has access to it. These reports work only in conjunction with Netwrix Data Classification.
Respond quickly to a ransomware attack or suspicious insider activity by being notified whenever there have been too many file modifications or failed attempts to access sensitive data in a short period of time.
NEW
Streamlined user access reviews
Accurately enforce the least-privilege principle by delegating access review to data owners and enabling them to approve current permissions or request changes using a user-friendly interface.
Make compliance less burdensome with out-of-the-box reports mapped to GDPR, PCI DSS, HIPAA, SOX, GLBA, FISMA/NIST, CJIS and other common standards.
Easily zero in on the exact details you need about an incident, whether it's all access events associated with a particular user or all activity related to a certain file or a folder with sensitive data.
Assess and remediate risks related to data security, such as data available to the "Everyone" group and potentially harmful files on your file servers.
Identify user accounts with abnormal activity across your on-premises and cloud-based systems, and identify the top threats at a glance by checking the risk score for each user.
File analysis reports
Improve data management processes with detailed information on data ownership, data usage, and data volumes, and identifying stale and duplicate files.
Non-intrusive architecture
Avoid system downtime and other disruptions to vital business processes by choosing a solution that collects audit data without the use of agents.
Improve security and ensure regulatory compliance with Netwrix Windows file server auditing software
To comply with external regulations and ensure data security, organizations must audit their Windows file servers. Performing Windows file auditing helps detect leaks and unauthorized modifications of sensitive data. Netwrix Auditor for Windows File Servers automates file server auditing and reporting, thereby mitigating the risk of compliance failures and problems with data integrity, availability and confidentiality.
Identify your most significant risks and close those gaps first
By combining Netwrix Auditor with Netwrix Data Classification, you can know exactly what types of sensitive data are stored on your file servers, where that data is located, who has access rights to it and how it's being used. Review this information regularly with the Windows file server auditing tool from Netwrix.
Maintain access to data at the least-privilege level
To reduce the impact of security incidents, you need to regularly right-size user access rights to data shares. But how can IT pros do that, since they don't know who should have what access? With file share auditing software from Netwrix, you can unburden your IT team and delegate this task to data owners.
Detect security incidents and speed response
Reduce the impact of security incidents by detecting and investigating them easily with file access auditing software from Netwrix. Filter out irrelevant noise and get only the details you need with flexible filtering by user, system, object, data category and more. (Data classification context is only available in conjunction with Netwrix Data Classification.)
Gain confidence in your compliance posture
Ease the compliance burden with out-of-the-box reports aligned with GDPR, HIPAA, PCI DSS and many other standards. Impress auditors by answering their specific questions in a flash using the intuitive search.
Read how Netwrix Auditor for Windows File Servers can help you improve data governance, prove compliance, and ensure the integrity, availability and confidentiality of data across your Windows file servers.
Download Datasheet (.pdf)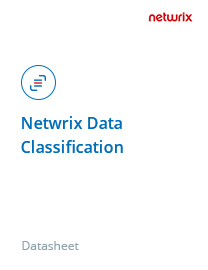 Learn more about how Netwrix Data Classification can empower you to locate critical data across your file servers and focus your auditing efforts in accordance with its value or sensitivity.
Download Datasheet (.pdf)
"Controlling access to sensitive data is one of our priorities, since we must comply with numerous industry standards. Netwrix Auditor helps us to ensure that there is no room for unauthorized actions that could potentially compromise sensitive data and damage our customers."

Mark Patten, Director of Corporate Engineering,
FXCM Inc.