Free community edition
Netwrix Auditor for Azure AD
Free Azure AD tool that keeps you updated on what's going on in your cloud environment
"Just wanted to say thank you for this awesome product and that you had the courage to make it a freebie! My hat goes off to you. Thank you so very much; those are very useful tools and greatly appreciated."

Jeff Martens,
Exchange Administrator
Boost your productivity with this free Microsoft Azure security monitoring tool
The free edition of Netwrix Auditor for Azure AD provides visibility into all changes and logons in your cloud directory. Daily activity summaries provided by this Azure security monitoring tool deliver the necessary details about every event during the last 24 hours, including the before and after values for changes, so you can detect and remediate modifications that threaten application uptime and respond to security incidents faster to ensure your cloud security.
Review Azure AD activity
Reports on successful and failed attempts to log on to Azure AD and cloud applications. Also shows what AD objects were added, modified or removed, with the current and past values.
Automate auditing
Slashes the time spent in Azure Security Center and analyzing native audit data by sending daily email reports on all changes and logons.
Save your IT budget
Relieves you from extra expenses on Microsoft Azure security monitoring, and will never expire or stop working when you need it.
Increase efficiency
Delivers actionable data about changes and logons, making it easier to spot unwanted activity and respond to it.
Gain visibility into Azure AD to improve your cloud security
Lack of visibility into Azure AD increases your vulnerability to multiple security threats. Netwrix Auditor's security intelligence overcomes the drawbacks of native logs, providing clear, noise-free audit data to help you monitor your Azure environment and spot critical issues and suspicious activity, such as user account changes, repeated failed sign-ins and deletions of Azure resources, so you can improve security management of your cloud services.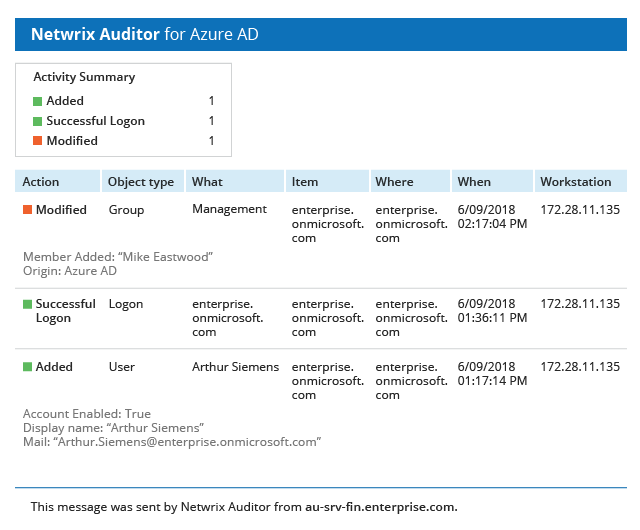 Azure AD holds the keys to many of your organization's critical assets, so you need to establish full control over it. Lack of regular monitoring can lead to system downtime that disrupts essential business processes. This free tool offers comprehensive auditing capabilities so you can discover inappropriate or malicious actions that could threaten your cloud infrastructure, giving you a level of visibility that legacy solutions simply can't provide.
Awareness versus Complete Visibility
Once you start using Netwrix Auditor for Azure Active Directory, you will get full functionality for free for 20 days. After that, you can either activate the Free Community Edition or apply a commercial license. The table below highlights the differences between the Free Community Edition of Netwrix Auditor for Azure AD and the standard edition of the product:
Free

Community

Edition
Standard Edition
Functionality
Netwrix Auditor
Free


Community

Edition
Netwrix Auditor
Standard
Edition
Reporting on Azure AD changes
Monitoring of logon activity in Azure AD and cloud applications
Before and after values for all modifications
Daily activity summary sent automatically to a single recipient
"What," "when" and "where" details for each reported event
"Who" details for each reported event
Predefined reports with filtering, sorting and export options
Email subscriptions to scheduled audit reports with the ability to choose reports, recipients and reporting frequency
Advanced cross-system audit reporting
Behavior anomaly discovery
User behavior and blind spot analysis
Out-of-the-box compliance reports mapped to GDPR, PCI DSS, HIPAA, SOX, FISMA/ NIST800-53, ISO/IEC 27001 and other regulatory standards
Overview dashboards
Google-like search of audit data
Alerts on threat patterns
Long-term storage of audit data
Role-based access control
Single installation that handles multiple tenants
"Netwrix Auditor is a fantastic product and its price doesn't have an effect on my budget. We use it for security and compliance purposes. We chose it based on recommendations and wonderful reviews, and are very happy with it. It helps us save a lot of time — up to 2 weeks of our workload during some audits."

Pietro Addamiano,
IT manager, Zimmer Italy
System Requirements
The free edition of Netwrix Auditor for Azure AD is quick to download, and the step-by-step configuration process is so clear that you won't need a manual. Here are the minimum system requirements.
Hardware
Processor:
Memory:
Disk space:
100 GB – System drive
100 GB – Data drive (Long-Term Archive and SQL Server)
Screen resolution:
Minimum 1280 x 1024
Recommended 1920 x 1080 or higher
Software
Operating System:
Windows Desktop OS (64-bit): Windows 7 SP1, Windows 8.1, and Windows 10
Windows Server OS: Windows Server 2008 R2 SP1, Windows Server 2012/2012 R2, and Windows Server 2016
.NET Framework:
Any .NET Framework that goes with your OS: 3.5 SP1, 4.0, 4.5, or 4.6
Installer:
Windows Installer 3.1 and above