Free community edition
Netwrix Auditor for SharePoint
Free SharePoint monitoring to stay aware of changes and data access events in your SharePoint Online and on-premises SharePoint environment
"Thanks for the use of your free utility. It worked as you said it would."

Ralph Hanahan,
Denmark Technical College
Are you looking for free SharePoint monitoring to track changes and data access?
The free edition of Netwrix Auditor for SharePoint enables you to harden your SharePoint data security by keeping you current on changes to key SharePoint components, including your SharePoint farm, web applications, web pages, site collections, sites and user content, as well as document reads. This SharePoint monitoring tool collects and analyzes information from the event logs produced by your SharePoint systems, and sends daily email reports with all the key details in a human-readable format, saving you time and effort while strengthening your security posture.
See what changed
Provides the before and after values for each modification, so you can quickly formulate the best response to unwanted changes.
Keep track of document reads
Reports on successful attempts to access data in your Microsoft SharePoint Server and SharePoint Online sites.
Automate monitoring
Aggregates audit data from various sources, and sends a daily email summarizing all successful change and read events.
Increase efficiency
Makes it easier to detect critical changes and troubleshoot SharePoint issues.
Save your IT budget
Complements your SharePoint performance and SharePoint health monitoring solutions at no additional cost.
Slash time spent on SharePoint monitoring
Monitoring read access events and changes across your SharePoint farm by both users and administrators using native tools takes a lot of resources and time. The free edition of Netwrix Auditor for SharePoint enables efficient SharePoint monitoring and management by delivering actionable audit data in a timely and convenient manner.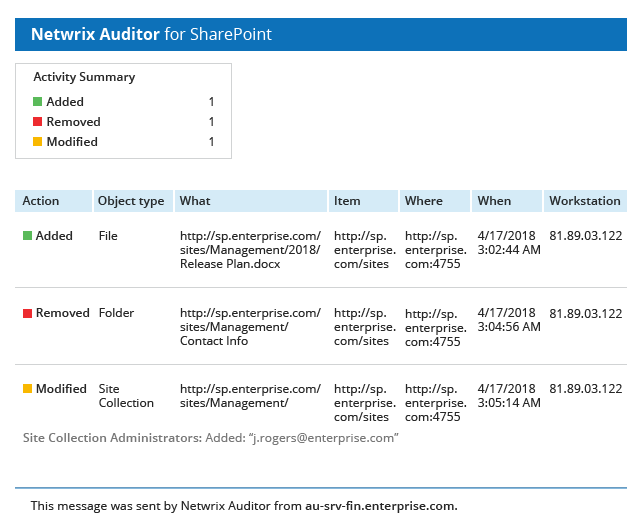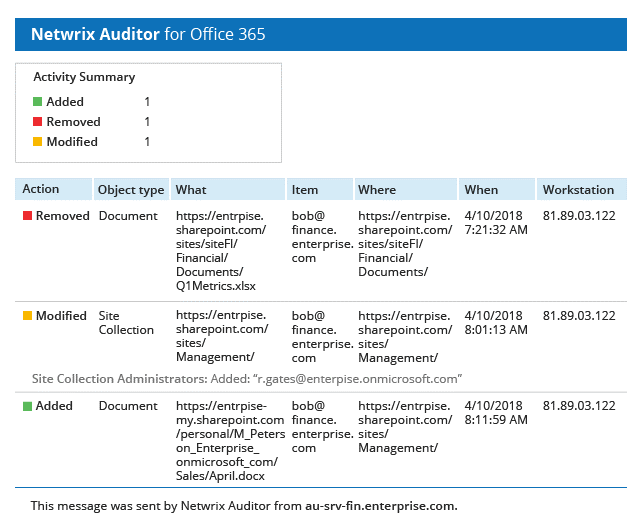 Lack of visibility into activity in SharePoint increases the vulnerability of your critical collaboration services to both external and internal security threats. The free edition of Netwrix Auditor for SharePoint tracks all modifications and read events and sends you a daily summary for both on-premises SharePoint Server and SharePoint Online, so you don't have to switch between different tools. With this continuous SharePoint monitoring, you can detect suspicious activity by users and find the root cause of an incident in time to prevent serious damage — instead of having to manually run PowerShell commands to view cryptic SharePoint reports and logs. Get deep visibility that the Office 365 Security and Compliance Center simply can't provide, right in your inbox.
Awareness versus Complete Visibility
When you start using Netwrix Auditor for SharePoint, you get full functionality for free for 20 days. After that, you can either activate the Free Community Edition or purchase and apply a license that enables you to continue using all of Netwrix Auditor's features. The table below highlights the differences between our free SharePoint monitoring tool and the Standard Edition.
Free

Community

Edition
Standard Edition
Functionality
Netwrix Auditor
Free


Community

Edition
Netwrix Auditor
Standard
Edition
Reporting on changes to farm configuration, permissions, user content
Before and after values for all modifications
Reporting on successful read events
Daily activity summary sent automatically to a single recipient
"What," "when" and "where" details for each reported event
"Who" details for each reported event
Predefined reports with filtering, sorting and export options
Email subscriptions to scheduled audit reports with the ability to choose reports, recipients and reporting frequency
Advanced cross-system audit reporting
State-in-time reports on access permissions
Behavior anomaly discovery
User behavior and blind spot analysis
Out-of-the-box compliance reports mapped to GDPR, PCI DSS, HIPAA, SOX, FISMA/NIST800-53, ISO/IEC 27001 and other regulatory standards
Overview dashboards
Google-like search of audit data
Alerts on threat patterns
Long-term storage of audit data
Role-based access control
Single installation that handles multiple SharePoint environments, each with its own unique settings
"Pretty much anything Netwrix ever put out is an example of a product that truly delights me. Their products just work. Plus, they are simple to get going relative to their value."

Richard Muniz,
Network/Systems Administrator
System Requirements
Netwrix Auditor for SharePoint is easy to deploy and manage. Check out the table below to make sure your IT environment meets the minimum system requirements.
Hardware
Processor:
Memory:
Disk space:
100 GB – System drive
100 GB – Data drive (Long-Term Archive and SQL Server)
Screen resolution:
Minimum 1280 x 1024
Recommended 1920 x 1080 or higher
Software
Operating System:
Windows Desktop OS (64-bit): Windows 7 SP1, Windows 8.1, and Windows 10
Windows Server OS: Windows Server 2008 R2 SP1, Windows Server 2012/2012 R2, and Windows Server 2016
.NET Framework:
Any .NET Framework that goes with your OS: 3.5 SP1, 4.0, 4.5, or 4.6
Installer:
Windows Installer 3.1 and above