Native Solution
Netwrix Auditor for Microsoft Entra ID
Steps
From the Azure portal menu, select Monitoring, or search for and select Monitoring from any page.
Select Audit Logs.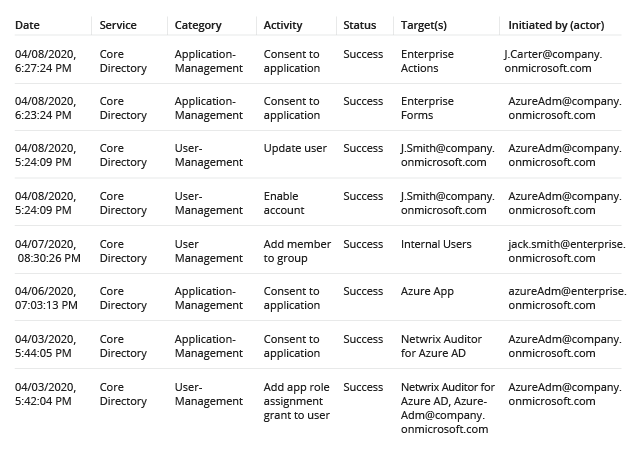 Filter the report to show only application-related events by picking "Application Management" in the Category column's search section. The Target(s) column shows the application name.
Review the event details in the Details tab at the bottom of the page.
Note: If you want to filter out whitelisted applications, you will have to pull the log data into a CSV file and analyze it manually, since the native event log filters don't have an exclude function.
Run Netwrix Auditor → Navigate to "Search" → Click "Advanced mode" if it is not automatically selected → Set up the following filter: "Data source" "Equal" "Azure AD".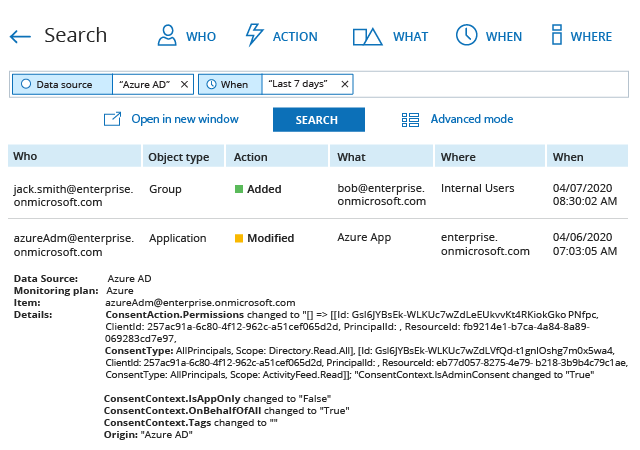 Refine your search results to applications only by adding the filter "Object Type" = "Application", and exclude any whitelisted application by adding the following filter:
Filter = "What"
Operator = " Not Equal"
Value = "App Name"