Insider Threat Monitoring Software
Malicious insiders can cripple
critical systems
, copy and sell
sensitive customer data
, and steal corporate secrets. With Netwrix Auditor, you can ensure that no trusted employee, partner or contractor gets away with damaging your company. Using the
complete visibility
provided by this solution, you can build a comprehensive
insider threat management program
that facilitates detection, investigation and prevention of unauthorized
insider activity.
No need to deploy the product
Simplify insider threat detection
with continuous user activity monitoring and stay alert
to anomalous behavior in
your environment
Get notified about high-risk insider
threat patterns
Certain insider activity is a dead giveaway that insiders are tampering with your sensitive data. Set up alerts on events that you consider high-risk, and know about insider threats in time to
respond effectively.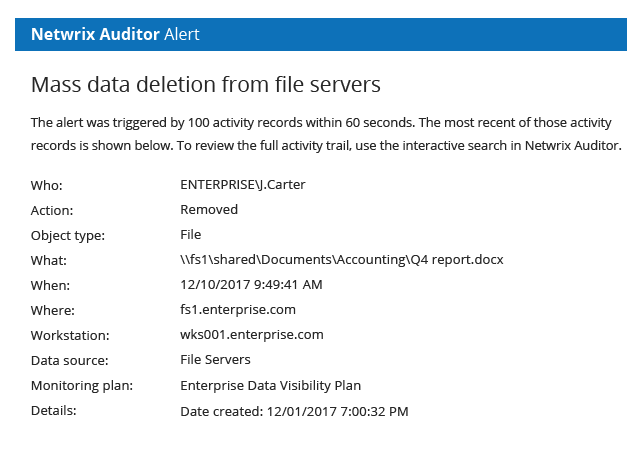 threat patterns">
Enable threat detection with risk-based behavior
anomaly discovery
Insiders tread carefully as they conduct reconnaissance and slowly home in on sensitive data. Make sure no malicious insider slips under your radar with a single view of all anomalous behavior
in your environment.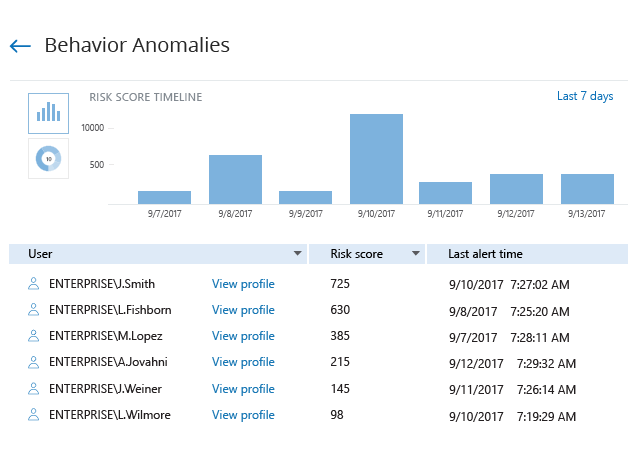 anomaly discovery">
See when users are accessing sensitive data
in unusual ways
Boost your threat detection capabilities with threat intelligence reports. Spot malicious insiders with data theft on their minds by detecting users who are accessing sensitive information they almost never
accessed before.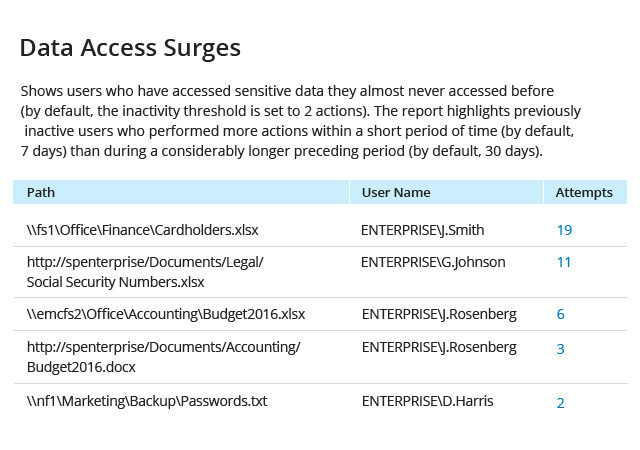 in unusual ways">
Identify who's been active when everyone
else is off
Review analytics on any user activity during non-business hours to detect an insider who's crawling your network before you suffer
a data breach.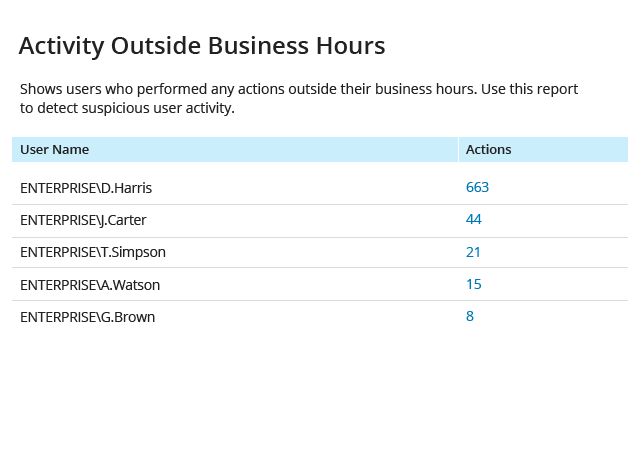 else is off">
Investigate incidents efficiently
with continuous insider threat monitoring to quickly find
the best response
to each attack
Reconstruct insider attacks
step by step
Review the profiles of high-risk users and analyze all anomalous activity triggered by these accounts to fully understand the scope of the attack and the damage
they've done.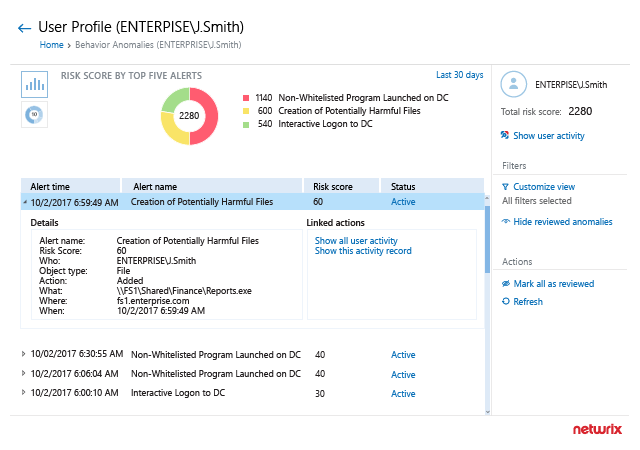 step by step">
Initiate an in-depth, infrastructure-wide investigation
Review the complete user activity trail across all systems using the interactive search. The rich details provide the context of each user action, so you can understand how the attack was carried out and what actions allowed
it to happen.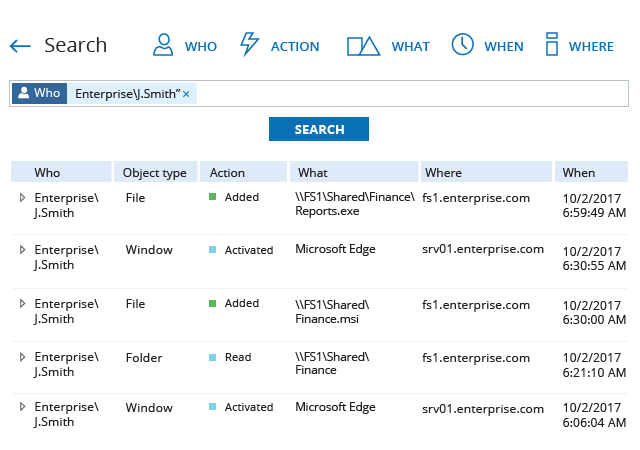 See how the attack unfolded with
your own eyes
Record the screen activity of insiders in critical applications and on high-risk servers in your environment to get explicit evidence of the steps insiders took to
achieve their goals.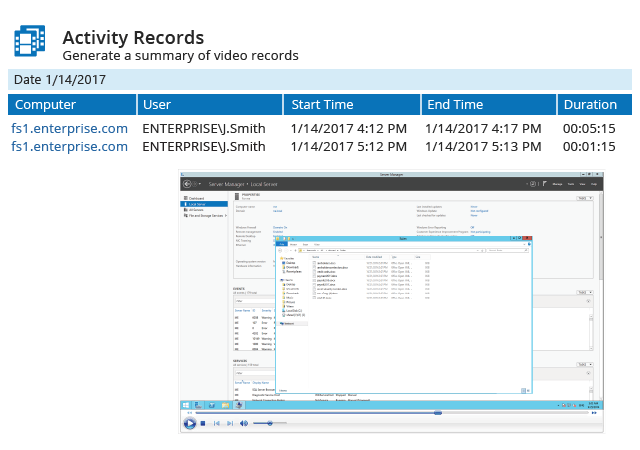 your own eyes">
Facilitate insider threat prevention
by proactively mitigating data security risks and continuously
user access rights
monitoring
Remediate security weak spots before they
are exploited
Make it as hard as possible for malicious insiders to steal your sensitive data by proactively remediating data security gaps in your environment. Netwrix Auditor calculates risk levels automatically, so you can harden the most impactful
controls first.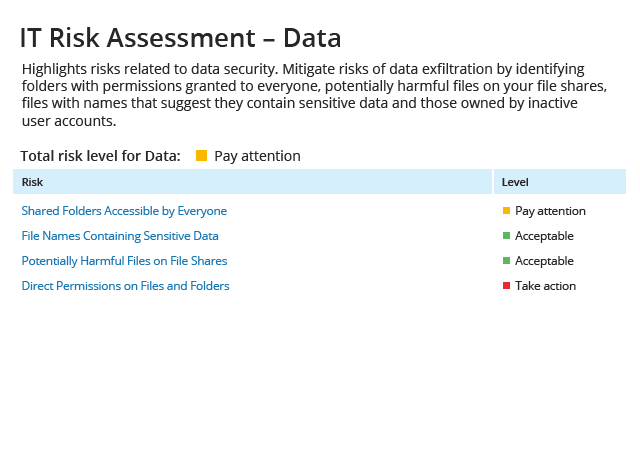 are exploited">
Prevent data exfiltration attempts by detecting unauthorized
permission changes
Ensure that no access rights are assigned to users without a legitimate business need. Quickly identify inappropriate permission changes that give users access to sensitive information that they shouldn't have, and remove them to prevent
a data breach.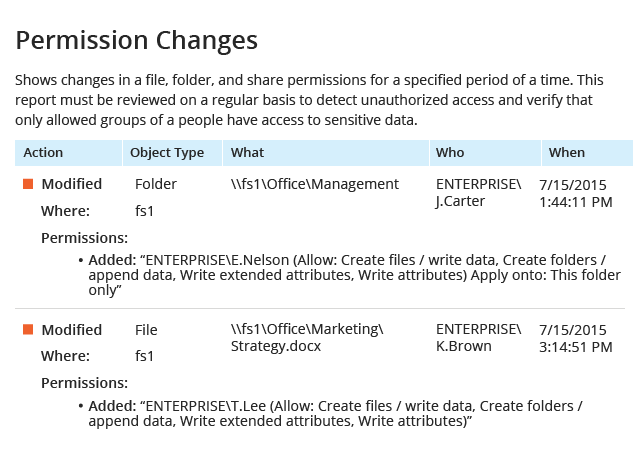 permission changes">
Identify overexposed
sensitive data
Regularly perform privilege attestations to verify that your business users have access to sensitive data only if they need for their jobs. Quickly identify and revoke
excessive permissions.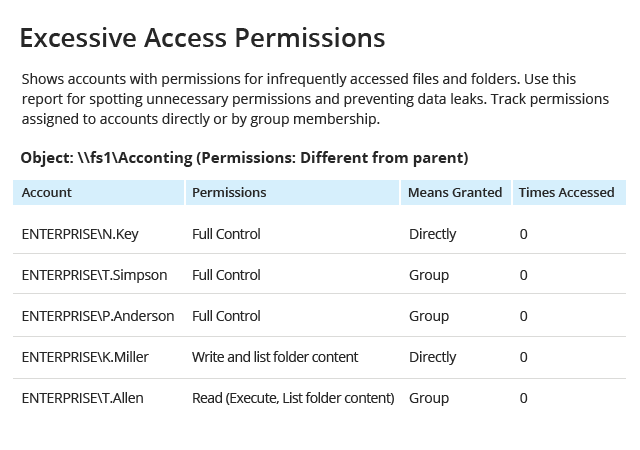 sensitive data">
Perform thorough privileged user monitoring
and pay close attention to the most powerful users
in your environment
Stay on top of privileged
user activity
Subscribe to reports on administrative activity in a particular system or across all of your environment to detect privilege abuse and keep your privileged users in check. Create alerts on critical behavior patterns that put data security at
immediate risk.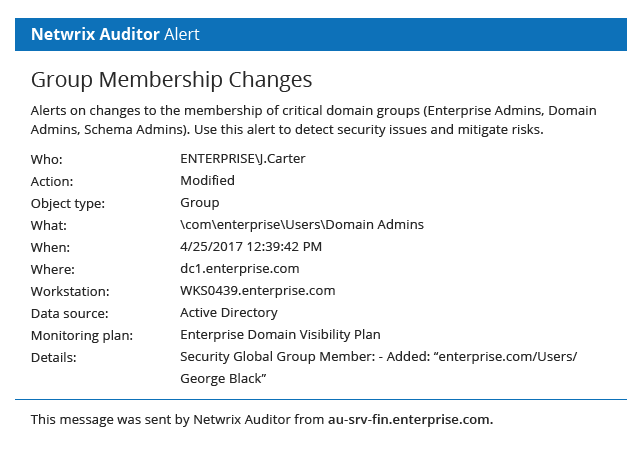 user activity">
Detect admins meddling with systems they are not
responsible for
Use the flexible search to spot activity of administrators in systems they are not responsible for. If the search turns up any results, the listed users are abusing their privileges, putting sensitive data at risk. Create an alert so you can respond to these events even more quickly
in the future.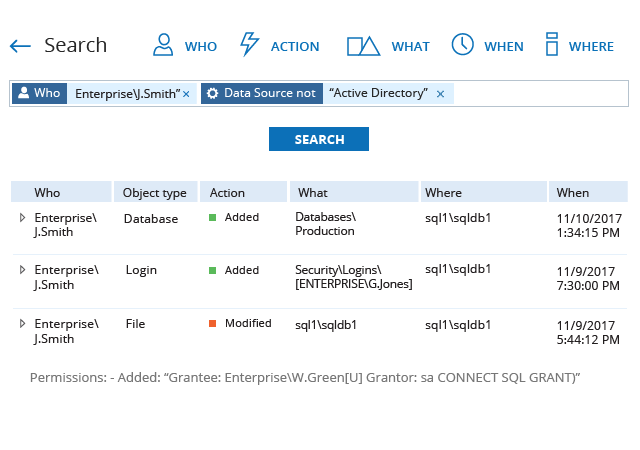 responsible for">
Get concrete evidence of privilege
abuse incidents
Protect your resources by monitoring privileged user activity. If a user works in applications or tools that do not produce any logs, be sure to replay and search through their
screen activity.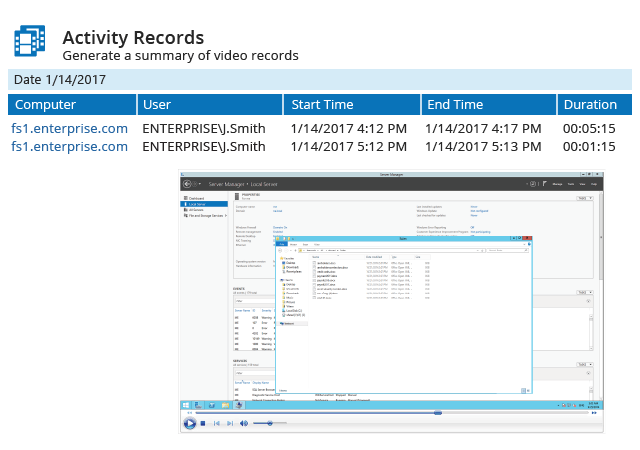 abuse incidents">
Establish compliance with privilege account management
best practices
Tangled administrative rights can leave you not even knowing who your privileged users are. Check your privilege-related risks and ensure that privilege rights assignment is transparent in
your organization.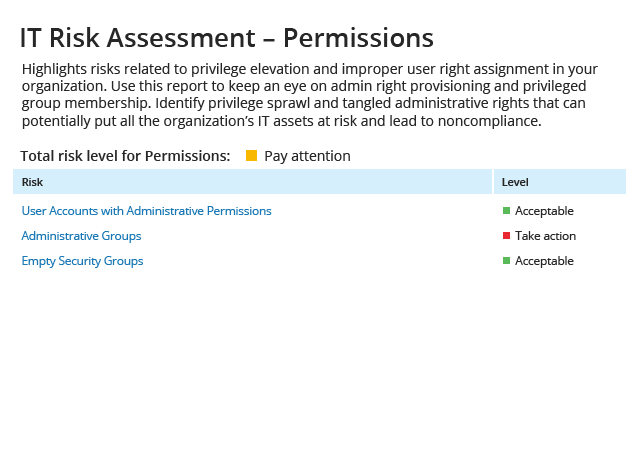 best practices">
Perform privilege attestation for
your administrators
Regularly review what permissions your users have in Active Directory to avoid privilege sprawl. If any permissions were granted directly to privileged users, start
investigating immediately.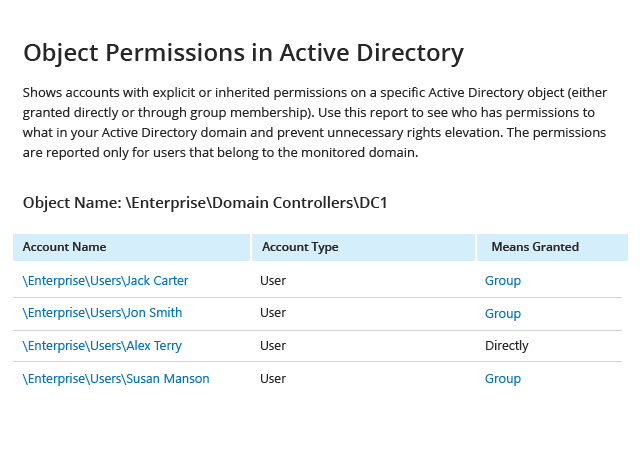 your administrators">