Netwrix Auditor for
Nutanix Files
Nutanix Files Security Monitoring Software
Information on read access to critical data
If you don't regularly monitor who accesses which critical data on your Nutanix file servers, someone might view a confidential document that they are not supposed to see and you won't know about the violation. The file access monitoring provided by Netwrix Auditor enables you to regularly review read access events to confidential data so you can make sure that this data is not touched by unauthorized personnel.
Data classification reports
In order to protect the sensitive data your organization possesses, you need to know where it's located and who has access to it. Netwrix Auditor in combination with Netwrix Data Classification pinpoints the types of sensitive information you store, the locations where it is kept and whether this data is overexposed. Plus, you can quickly check who has access to critical files and folders, and get the full context around activity with them. Regularly review this information to make sure nothing endangers the security of your sensitive data.
Promptly detect unauthorized activity
All too often, critical events go unnoticed until it's too late to take any actions — irreparable reputation damage or huge fines are already around the corner. Netwrix Auditor alerts you about unauthorized Nutanix Files activity so you can respond in time to avoid data breaches, business disruptions and fines for noncompliance.
Streamline incident investigation
Whenever you need to track what steps led to a security incident or figure out why a critical file was deleted, Netwrix Auditor helps you quickly sort through the audit trail and get answers to your specific questions within minutes. Plus, you can create custom reports and alerts based on your search criteria to stay aware of similar incidents in the future.
What else do I get with Netwrix Auditor
for Nutanix Files?
Easy integration with your ecosystem
To provide a unified audit trail for the broadest range of IT systems, Netwrix Auditor enables you to integrate it with any commercial or custom application. Free, pre-built add-ons are available for many common applications, including ServiceNow ITSM and SIEM solutions.
Automated incident response
Responding manually to common incidents — like blocking a user who generated multiple failed access events — can eat up your valuable time. Netwrix Auditor enables you to automate response to such incidents, ensuring prompt action without immediately distracting you from more important tasks.
Cost-effective data storage
Netwrix Auditor can securely retain your Nutanix Files audit trail in a two-tiered (file-based + SQL database), cost-effective storage for more than 10 years, while enabling quick access to archived data for incident investigations and audit checks.
Granular access to the platform resources
To keep the monitoring process secure, it's important to have the ability to granularly assign access rights to the monitoring solution's settings and collected audit data. With Netwrix Auditor, you can control the access granted to each IT administration and business team and make sure that it's aligned with the least-privilege principle.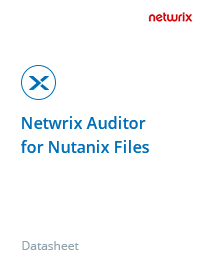 Learn how Netwrix Auditor for Nutanix Files can help you detect data security threats, prove compliance and minimize business disruptions.
Download Datasheet (.pdf)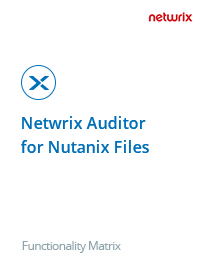 Get a complete list of features of Netwrix Auditor for Nutanix Files in a format convenient for comparing the product to your requirements.  
Download Matrix (.pdf)