Netwrix Auditor for
Oracle Database
Comprehensive Oracle Auditing
Successful and failed access attempts
It is easy to get overwhelmed if you have to read through all Oracle audit entries when trying to validate access controls in your organization. Netwrix Auditor's easy-to-read reports simplify monitoring of successful and failed attempts to log on to Oracle Database, as well as data access attempts, so you can quickly spot an attacker trying to break into your system or someone attempting to access sensitive data without authorization.
Identify high-risk user accounts on the prowl
Even though you can configure basic alerts within your Oracle infrastructure, you are likely to miss a sequence of suspicious database activity that's been going for a while. Netwrix Auditor provides a single view of all anomalous activity alerts triggered by an individual across all audited systems, along with the cumulative risk score, to improve detection of threat actors and help you make more informed remediation decisions.
Investigate suspicious Oracle user behavior faster with a complete audit trail
If you spot malicious activity, such as a system account calling EXECUTE PROCEDURE statements to the main database or modifying its data dictionary, you can't afford to waste time examining endless native audit logs to figure out how it happened. Interactive Search enables you to quickly sort through your audit data and find the answers you need in a few clicks. You can even use your query to easily create custom reports tailored to your specific needs and stay updated on similar incidents in the future.
Simplify compliance checks with advanced Oracle Database auditing
Even if you audit all sessions across databases and maintain an Oracle Database audit trail, you might still face challenges when trying to prove your compliance to auditors. With Netwrix Auditor, you can easily demonstrate your compliance using out-of-the-box compliance reports mapped to specific controls of PCI DSS, HIPAA, GDPR, SOX, GLBA, FISMA/NIST and other regulatory standards, so you can pass compliance audits faster and with less effort.
What else do I get with Netwrix Auditor
for Oracle Database?
Easy integration with your ecosystem
Want to enable auditing of all systems and applications your organization relies on in one place and automate internal business processes and IT workflows? It's easy to integrate Netwrix Auditor with your IT ecosystem using its RESTful API. The Add-on Store offers free add-ons for most common applications, including SIEM solutions.
Automated incident response
Responding manually to day-to-day incidents and anticipated threats requires lots of time and can distract you from your primary duties. Netwrix Auditor enables you automate your response to each type of incident by having alerts trigger custom scripts, so you can save your valuable time and concentrate on the tasks that really matter.
Cost-effective data storage
The default auditing retention period for Oracle Database is just 90 days. To comply with various regulatory standards, you must not only generate audit records but also retain them for a far longer time. Netwrix Auditor securely stores your audit trail in a two-tiered (file-based + SQL database) storage for more than 10 years while ensuring quick and easy access to it.
Granular access to the platform resources
Whenever a new DBA is hired in your organization, you need to ensure they have a proper access to Netwrix Auditor's security intelligence. By granularly assigning the appropriate access rights to everyone who needs them, you can be confident that only authorized personnel can view security reports and configure auditing settings.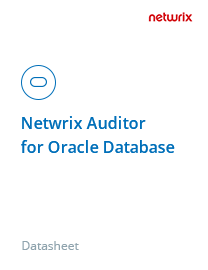 Learn how Netwrix Auditor for Oracle Database can help you streamline Oracle Database audits, detect data threats and pass compliance checks with less effort.
Download Datasheet (.pdf)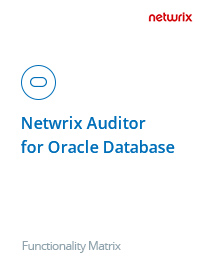 Get a convenient list of the functionality of Netwrix Auditor for Oracle Database in a fill-in-the-blank format that simplifies comparing it with tools from other vendors.
Download Matrix (.pdf)