SharePoint Auditing Software
Netwrix Auditor for SharePoint delivers complete visibility into SharePoint environments to help organizations reduce risk, streamline compliance and optimize operations. It tracks and reports on changes to farm configuration and user content; modifications of permissions and permission inheritance, group membership and security policies; and read access events on your sites.
Notifies you about critical activity that could turn into security incidents, such as changes to farm configuration
or sensitive content.
Complete audit information
Gives you valuable information on all changes across your SharePoint infrastructure: who made each change, when and where it was made, and what exactly was changed, with the before
and after values.
Predefined reports and dashboards
Includes multiple predefined reports and high-level dashboards that are easy to read and easy to use. Filtering, sorting and drill-down options make it easy to find the information you need, and export and email subscription options make it easy to put that information
in the right hands.
Read access auditing
Delivers detailed information on who viewed what documents and lists on your SharePoint sites, and when each read
event occurred.
Out-of-the-box compliance reports
Offers predefined SharePoint compliance reports grouped by standards such as PCI DSS, HIPAA, SOX, GLBA, FISMA/NIST, CJIS,
GDPR and more.
Non-intrusive architecture
Uses lightweight, non-intrusive service that do not degrade SharePoint server performance or increase the
risk of downtime.
Microsoft SharePoint has become a critical service for many organizations. Yet, all too often, changes to farm configurations, sites, applications, permissions and content, whether accidental or malicious, go unnoticed until the organization discovers a security breach, fails a compliance audit or experiences downtime. Netwrix Auditor for SharePoint helps administrators vigilantly monitor critical SharePoint changes and prevent
those negative outcomes.
"Netwrix Auditor is like a loyal dog that guards and monitors my IT system. After the implementation of Netwrix Auditor, I can sleep like a baby as I have everything under control. During every internal or external IT audit, it's enough to present the Netwrix Auditor reports – and more than half of my job is done. I have recommended Netwrix Auditor to all my IT colleagues, so they can sleep
as well as I do!"
Leonard Fezollari,
IT Director, VIG Albania
Get a bird's-eye view of changes across your entire
SharePoint environment
Get a bird's-eye view of changes across your entire
SharePoint environment
Keep a watchful eye on everything happening in your SharePoint farms so you can reduce the risk of server downtime or disclosure of valuable content.
Overview dashboards
provide a consolidated view of change statistics and enable you to drill down into the details of every change.
Multiple predefined reports
come equipped with flexible filtering, convenient exporting and powerful subscription capabilities. And a
scalable two-tiered (file-based + SQL database)
storage system enables you to store your audit trail for more than 10 years and easily access audit information at any
point in time.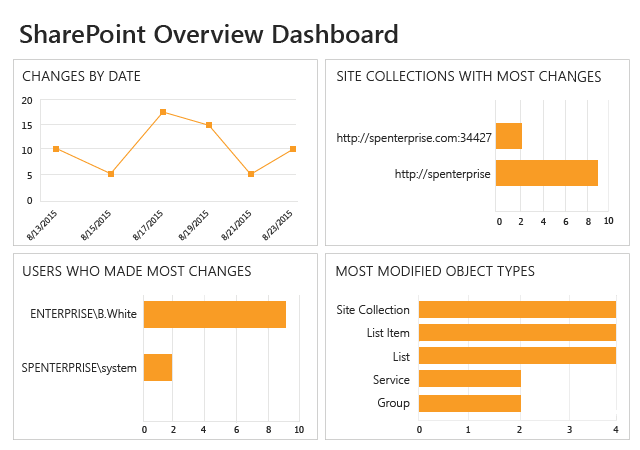 Stay on top of all changes and overcome the limitations of native
auditing tools
Unlike native SharePoint audit tools, Netwrix Auditor for SharePoint can
track and report on changes in central administration
– security changes, system setting changes, general application setting changes and more. You can see which administrators are adding members to restricted security groups, which users are breaking inheritance and who is violating least-privilege policies. By having
key details about all SharePoint activity
, you can closely monitor individuals who may be putting security at risk and be sure that you will never miss
an important change.
Support your investigations and reinforce SharePoint
change management
Do you need to track changes that violate your corporate security policy and investigate why they happened? Are you frustrated by how long it takes to answer complex questions from internal and external auditors? The
Interactive Search feature
in Netwrix Auditor for SharePoint enables you to specify search criteria and quickly
find the exact information
you need in your vast collection
of audit data.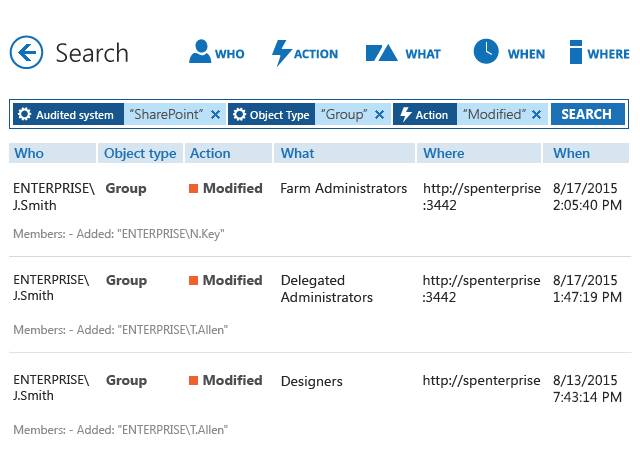 "Netwrix offers a lot of change auditing applications that are useful for administrators. We are happy to have chosen Netwrix, as all the Netwrix Auditor change auditing solutions have made an immensely positive difference
for us."
Savaş Demir,
Infrastructure Manager, Eurobank Tekfen
Free guide:
Keeping Tabs on the Top 3 Critical SharePoint Changes with
Netwrix Auditor
Datasheet:
Complete Visibility of IT Infrastructure with
Netwrix Auditor
See how Netwrix Auditor helps organizations across multiple industries improve security and
streamline operations
Over 160,000 IT departments worldwide rely on Netwrix to secure IT infrastructure, prove compliance and increase
operational efficiency