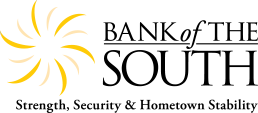 Bank of the South
Bank of the South Leverages Visibility Provided by Netwrix Auditor to Comply with PCI DSS and GLBA
70 users
need to be monitored
40+ hours
Saved on audit preparations annually
I don't think it would be possible to earn the rating we consistently receive from regulatory examiners without Netwrix Auditor. The main result we have achieved is visibility. I know what is going on everywhere at once. I know who can do what and who has done what. The platform makes compliance examinations quicker and easier.

James Brammer, Vice President and CISO, Bank of the South
Protect business-critical data to comply with PCI DSS and GLBA.
Monitor and report on activity across Active Directory, VMware, and Windows Server to prove the bank's due diligence during compliance audits.
It is hard to say how much time Netwrix Auditor saves us. It would be impossible to complete some of the reporting without it. It has been at least 40 hours per year.

James Brammer, Vice President and CISO,

Bank of the South
James Brammer, Vice President and CISO for the Bank of the South, named several reasons in favor of Netwrix Auditor over the competition: ease of use and efficiency; a rich set of features; ability to deliver visibility of all required systems.
Reduced time to prepare for audits. Netwrix Auditor enables James to monitor the activities of 70 users in the bank's own network and an offsite IT team from partner banks that manage certain services. The software tracks all changes and access attempts required by the regulatory standards. Using Interactive Search, James is able to immediately find the information auditors require. As a result, Netwrix Auditor saved him over 40 hours per year on audit reporting.
Improved security of sensitive data. Netwrix Auditor provides James with the reports on changes to configurations or access attempts to critical systems. The software also alerts him to critical Active Directory events, such as changes in domain admin group, and enables him to rollback unwanted changes easily. User activity video recording enables him to ensure accountability privileged users.
Key Benefits
Continuous compliance
Improved visibility
Time savings on audit preparations
Bank of the South is an independent bank that has been serving its customers since 1964. It is one of the last true community banks in its area. Two offices located in Pensacola, Florida offer a full range of banking services.