Improve Your IT Security Posture by Reducing Your
IT Risks
Gain a bird's-eye view
of your
security posture
Understand your security posture in key areas at a glance. Automated monitoring and scoring enables you to easily prioritize your risk mitigation efforts. In addition to enabling cleanup prior to launching a security monitoring program, this dashboard also enables continual assessment and improvement in each of three key areas: permissions, data, and user and computer accounts. Start with the area where the risk is highest and dive into the specific risk factors that require your immediate attention.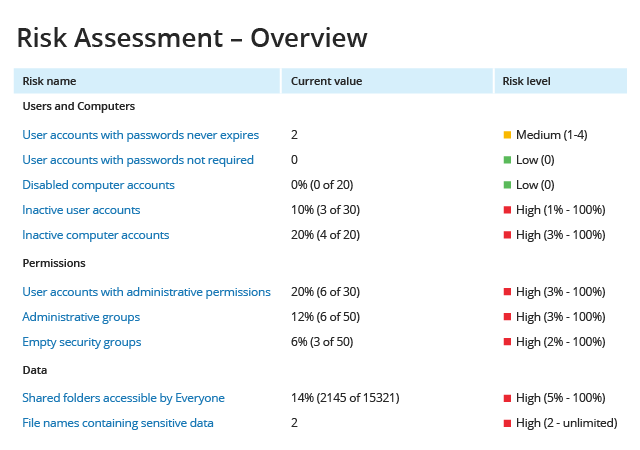 Get actionable data about how to reduce the identified risks
Drill down into detailed reports to determine which policy settings, configurations, permissions or security practices you need to adjust to reduce each risk to an acceptable level. For example, the reports will identify which shared folders are accessible by "Everyone", which user accounts are inactive but not disabled, which files contain sensitive data in their names or which accounts can access your network without authentication.
Tailor risk levels
to your
IT environment
No one knows your organization better than you do. If you find that the current thresholds for the various risk factors do not reflect your organization's priorities and risk tolerance, adjust them to redefine when each risk factor is considered low, moderate or high. This fine-tuning will help you keep a close eye on the risks that are most important to your business and remove other factors from your radar.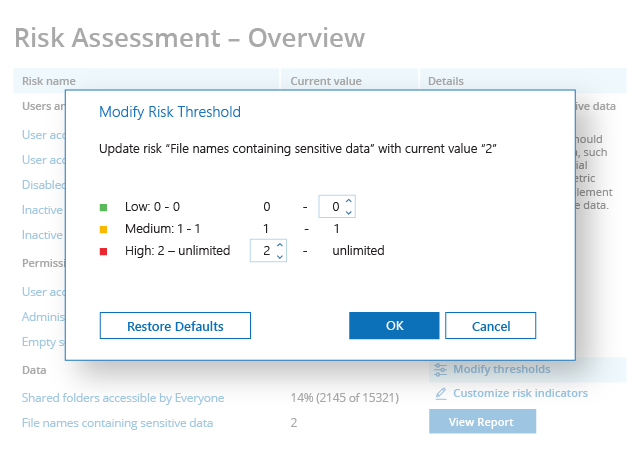 Continuously evaluate
your
security posture
After you have remediated your top risk factors for data, permissions, and user and computer accounts, evaluate whether your security posture has improved, and repeat the risk assessment and mitigation process continuously. Present the IT Risk Assessment report to your management and auditors to prove that you have an effective risk mitigation
program in place.