Find out which FISMA and NIST cybersecurity provisions you can address with Netwrix Auditor
The Federal Information Security Management Act (FISMA) defines a framework for ensuring the effectiveness of security controls over information and information systems that support federal operations. To achieve FISMA compliance, all federal agencies and organizations working on behalf of U.S. federal government agencies must meet the minimum security requirements defined in the security standard called 
FIPS 200.
The National Institute of Standards and Technology (NIST) issues standards, guidelines and other publications to assist these federal agencies and other organizations in achieving and maintaining FISMA compliance. In particular, NIST SP 800-53 provides information security controls that fully support FIPS 200 and enable organizations to meet FISMA information security requirements. FISMA compliance software from Netwrix helps you implement and validate the following NIST SP 800-53 security controls:
Family: Access Control (AC)
AC-2; AC-3; AC-6; AC-7; AC-17; AC-18; AC-20
Family: Audit and Accountability (AU)
AU-3; AU-4; AU-5; AU-6; AU-7; AU-8; AU-9; AU-11; AU-12; AU-14
Family: Configuration Management (CM)
CM-2; CM-3; CM-5; CM-6; CM-11
Family: Identification and Authentication
Family: Incident Response (IR)
Family: Personnel Security (PS)
Family: Risk Assessment (RA)
Family: System and Information Integrity (SI)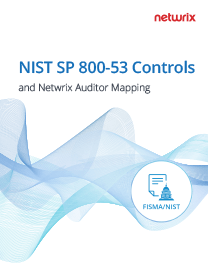 Learn more about how Netwrix Auditor can help you implement NIST SP 800-53 security controls and achieve FISMA compliance.
Depending on the configuration of your IT systems, your internal procedures, the nature of your business and other factors, Netwrix Auditor might also facilitate implementation of NIST SP 800-53 controls not listed above.
See exactly how Netwrix Auditor supports requirements of FISMA compliance
Netwrix Auditor delivers the enterprise-wide visibility into changes, configurations and access events in hybrid IT environments you need to enforce information security controls across your on-premises and cloud-based information systems. Unlike some other FISMA compliance solutions on the market, it provides security intelligence to help you identify security holes, detect anomalies in user behavior and investigate threat patterns before they turn into breaches, and also includes data discovery and classification functionality to further harden your data security management processes.
Identify the security gaps in your information systems that require immediate attention
Security and risk management go hand in hand; uncovering risks and developing a contingency plan help you strengthen your security posture. IT Risk Assessment in Netwrix Auditor helps you secure your valuable assets from cyber threats by identifying security gaps in three key areas: account management, security permissions and data governance.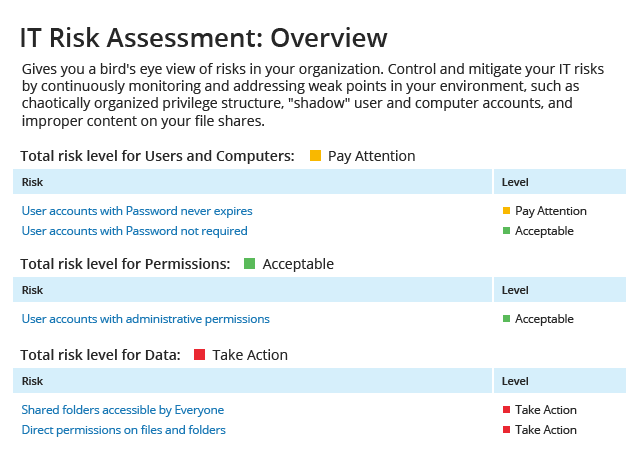 Ensure a secure configuration of information systems in your IT environment
Regularly review the current configuration of your servers to spot any operating systems with an identified vulnerability, and verify that the antivirus software installed is in compliance with your internal policy.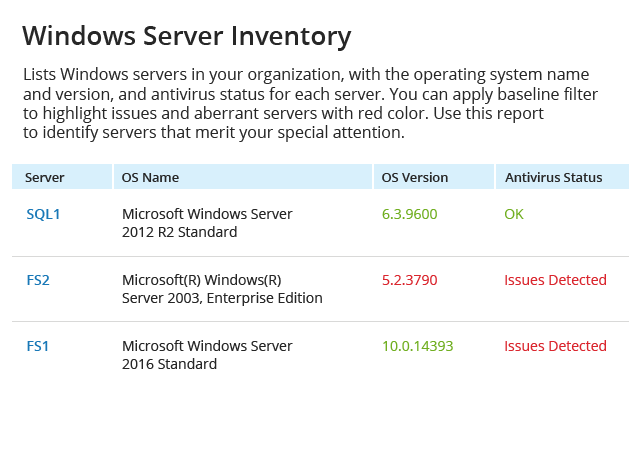 Stay on top of unauthorized access to federal information
With Netwrix Auditor, you can control access attempts to the federal information you store, including personally identifiable information of individuals and trade secrets for your industry. Data Discovery and Classification enables you to identify what types of sensitive information you have, determine where that data resides, and monitor every attempt, successful or not, to
access the data.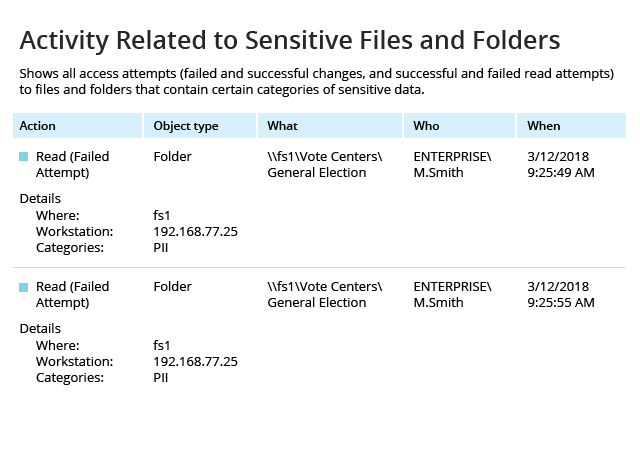 Detect security policy violations before they turn into security breaches
Having a strong identity and access management program on paper is not enough. To ensure that it works as it supposed to, stay in control of all changes to users and groups, especially those who have privileged access to any critical resources in your
IT environment.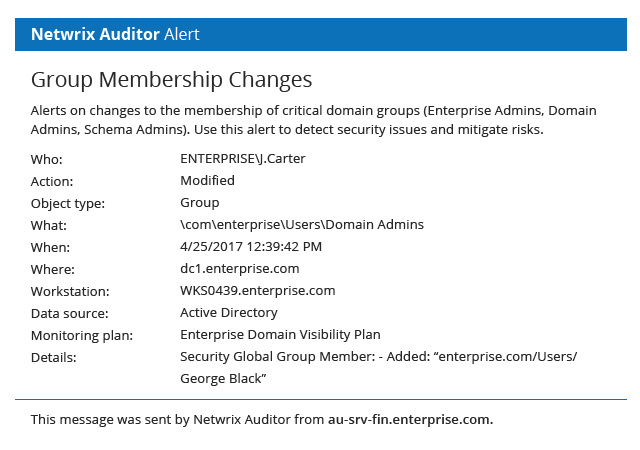 Streamline investigation of information security incidents
When an incident occurs, you need to understand in detail how it's happened, so you can identify weak spots and prevent this sort of incident from happening again. With Netwrix Auditor's Google-like cross-system search, you can easily get to the bottom of an issue in mere minutes; simply fine-tune your search criteria until you find the exact information
you need.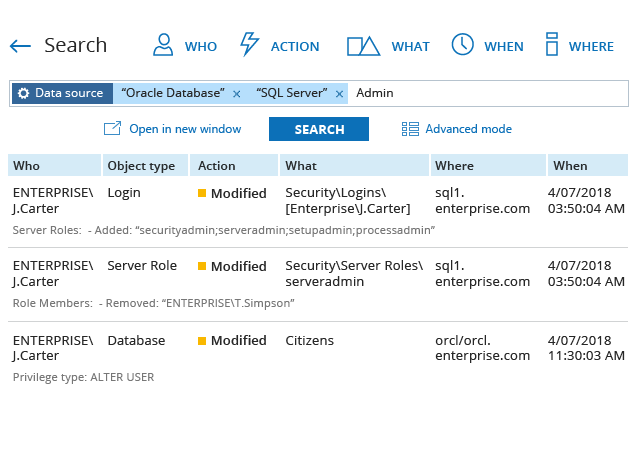 Check out how other federal agencies use Netwrix Auditor to ensure information security
video
The Geneva Foundation finds and fills in security gaps, and
stays compliant with FISMA/NIST and
other standards.
customer success
Washington County ensures compliance with state regulations and
becomes the most progressive county
in Arkansas
for
information security.
Read the Story