About FISMA
What is FISMA?
The Federal Information Security Management Act of 2002 (commonly abbreviated to FISMA) is another name for Title III of the U.S. E-Government Act (public law 107-347). FISMA defines a framework for ensuring the effectiveness of security controls over information and information systems that support federal operations. FISMA compliance is mandatory for federal agencies, their contractors and other organizations working on behalf
of federal agencies.
FISMA 2014 reform
The Federal Information Security
Modernization
Act of 2014, which is also known by the abbreviation FISMA, is the name of the U.S. public law 113–283. Enacted in 2014, this new legislation updates and modernizes the original FISMA law to address current security concerns. It puts special emphasis on continuous compliance, monitoring and mitigation, periodic risk assessment and
evaluation of controls.
Capabilities of Netwrix Auditor
Protect federal information and simplify your next FISMA audit with
Netwrix Auditor
To adequately protect federal information and satisfy FISMA reporting demands, agencies need to establish and validate an appropriate set of security controls and continuously monitor the observation of security principles and policies. Netwrix Auditor helps the federal government and private contractors implement the information security provisions of FISMA to mitigate known or suspected cyber threats and ensure the confidentiality, integrity and availability
of protected information.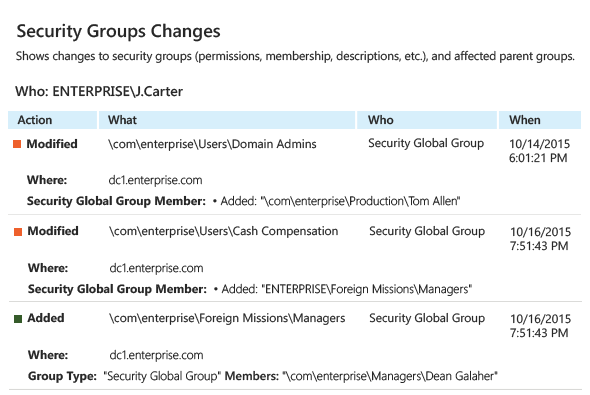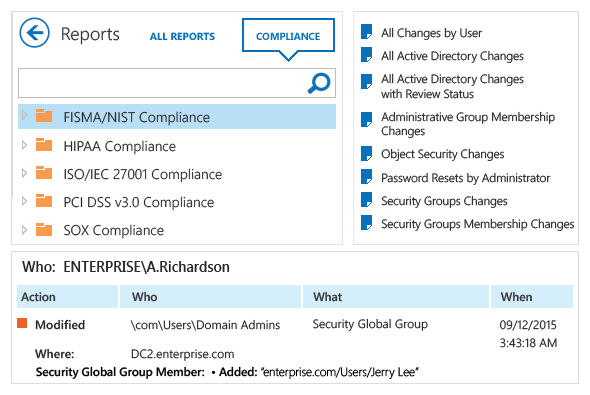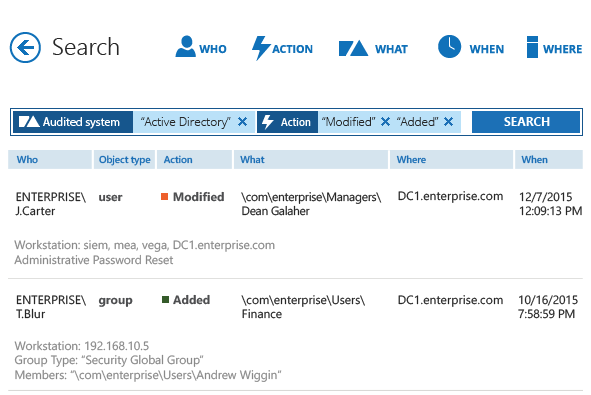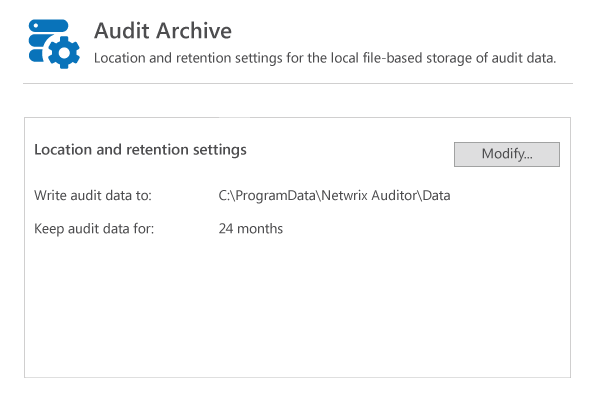 See how Netwrix Auditor can help you meet the FISMA requirements of confidentiality, integrity and
Availability of Data
Under the FISMA regulation, the National Institute of Standards and Technology (NIST) is assigned specific responsibilities, including the development of information security standards and guidelines for federal information systems. NIST special publication 800-53 provides a detailed catalogue of security controls, as well as extremely thorough practical guidelines for the assessment of those security controls once they
are implemented.
The following chart explains how Netwrix Auditor can help you implement and validate selected security and privacy control families contained in FISMA / NIST 800-53
revision 4:
Access control
Netwrix Auditor capabilities:
Enables auditing of user account creation, deletion, enablement, disablement

and modification.

Provides auditing of user access rights and permissions granted on files and folders across the entire

IT infrastructure.

Enables you to audit password changes and resets, group membership changes, and group

policy changes.

Enables auditing of the activities of privileged users, including capturing their

screen activity.

Ensures auditing of logon activities, including unsuccessful attempts; alerts and reports on

account lockouts.

Provides a mechanism for quick rollback of unauthorized and accidental changes to Active Directory objects, including restores of deleted objects without the need to reboot a

domain controller.

Enables you to audit changes of your Active Directory screen saver timeout policy, remote desktop session timeout and

other policies.

Facilitates change management, reviewing and monitoring of all user activities across the entire IT infrastructure via a change review history

reporting mechanism.

Enables auditing of access to and modifications of the data stored in Microsoft SQL, file servers, SharePoint and other

IT systems.
Audit and accountability
Netwrix Auditor capabilities:
Reports current and historic configuration states; captures and reports on changes and access events with who, what, when and where details and the before and after values; provides a complete audit trail preserved in a reliable two-tiered (file-based and SQL database) storage system which holds data for 10 years or longer and enables reporting, analysis

and investigations.

Delivers daily summary reports indicating whether there were any failures of audit data collection, processing and other

critical processes.

Facilitates auditing and improves internal control by providing multiple predefined reports with filtering sorting, exporting and subscription options; reduces the burden of systematic reviews of audit trails by offering reports with a change review history mechanism; offers real-time alerts for Active Directory and Windows Server that can be configured to provide timely notifications; provides the ability to search specific audit data with

custom queries.
Netwrix Auditor capabilities:
Offers multiple predefined audit reports that deliver relevant context to tracked activities and enough details to assist with determining the effectiveness of security controls; enables easy creation of custom

audit reports.

Enables you to compare the current state of an IT system to its historic states or the

baseline configuration.
Configuration management
Netwrix Auditor capabilities:
Enables you to compare your organization's defined baselines to current and historic states

of IT systems.

Tracks and reports on all changes in Active Directory, file servers and other systems so you can control deviations and violations; enables quick and easy rollback of certain unauthorized changes, returning the configuration to the

original state.

Facilitates control over system configuration violations by reporting on changes to group and local policies, access permissions, the registry, and other configuration assets that can be critical for maintaining

FISMA compliance.
Contingency planning
Netwrix Auditor capabilities:
Provides quick and easy access to audit trails for investigating security incidents and other problems and validating the effectiveness of the

corresponding controls.

Enables you to roll back unwanted changes to Active Directory using a built-in object-level and attribute-level

recovery wizard.
Identification and authentication
Netwrix Auditor capabilities:
Enables auditing of user accounts and user account creation, deletion and modification in Active Directory, Microsoft SQL Server and Windows Server; allows organizations to validate their compliance with NIST SP 800-53 guidelines and achieve

FISMA compliance.

Detects and reports on changes to password policies; provides automatic password expiration notifications; simplifies password management with a challenge-

response system.
Maintenance
Netwrix Auditor capabilities:
Captures all user activities during maintenance and preserves the records in a secure audit trail; provides the ability to compare the current system configuration with the one in the past or with the baseline state to validate proper system functionality

after maintenance.

Enables auditing of remote access sessions

and activities.
Personnel security
Netwrix Auditor capabilities:
Reports on user account creation, deletion, modification, activation

and deactivation.

Detects and reports on user logons

and logoffs.
Risk assessment
Netwrix Auditor capabilities:
Enables auditing of unauthorized access to resources with

sensitive data.

Ensures consolidation and archiving of all audit trails; keeps audit data securely preserved in a reliable two-tiered storage for as long as required, while enabling continued quick access to

audit records.
System and communications protection
Netwrix Auditor capabilities:
Enables auditing of privileged user activity across various IT systems in the IT infrastructure; facilitates access control with reporting on successful and failed access attempts, logons

and logoffs.

Detects and reports on the granting of permissions and changes to user

access rights.
System and information integrity
Netwrix Auditor capabilities:
Enables auditing of IT changes, access events, and historic and current system configurations across the broadest variety of

IT systems.

Delivers actionable audit information that allows organizations to verify the correctness of system functioning by looking for

deviations from baselines.

Makes audit data easily available with predefined, on-demand and scheduled reports, report subscriptions, real-time alerts, dashboards, interactive data search, filtering, sorting and exporting options,

and more.
Please note that NIST SP 800-53 is a widely recognized and comprehensive code of practice for the security and privacy of sensitive information. Organizations subject to other compliance regulations, such as ISO27001 or COBIT, can adopt the NIST SP 800-53 security framework and use it to achieve continuous compliance with the other regulations as well.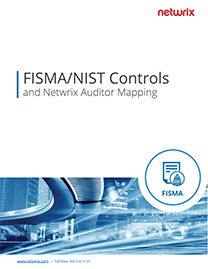 Federal agencies and their contractors rely on Netwrix Auditor to protect information assets and pass
FISMA audits
"We needed a way to audit data and files related to police evidence. Netwrix Auditor for File Servers gives us the ability to provide an audit trail of any file activity and ensures sensitive data is protected. Storing evidence is critical when investigating crimes, and ensuring data security was a goal of the highest priority for the IT department. We have chosen software we can rely on, and consider it a strong internal control system that delivers complete visibility and continuous compliance across our entire
IT infrastructure."
Barry Goldstrom,
IT Supervisor, The City of Artesia, New Mexico
XenoBiotic Laboratories, Inc.