NETWRIX GROUPID PASSWORD MANAGEMENT
DRIVE PRODUCTIVITY with SELF-SERVICE
PASSWORD reset
Boost IT productivity and security with self-service password reset
Strong passwords are vital for securing your data and infrastructure. But users are more likely to forget passwords that are long and complex — leading to business disruptions and a surge in helpdesk tickets. With Netwrix GroupID, you can empower users to reset their own passwords in Microsoft Entra ID (formerly Azure AD) and Active Directory, so they can get right back to work and IT teams can focus on more strategic tasks. For additional security, seamlessly require MFA or manager approval before allowing password resets.
Save time and money with self-service password resets
Slash helpdesk workload and reduce business disruptions by empowering users to reset their own passwords
Mitigate security risks with multi-factor authentication
Secure the self-service password reset process by requiring users to verify their identity using MFA as authentication method, before being permitted to proceed.
Set stringent password rules to ensure compliance
Define rules for user-generated passwords, including exceptions
preventing specific words and disallow passwords from external sources like 'Have I Been Pawned.
Automatically secure new user accounts with strong passwords
Easily protect newly provisioned accounts by automatically assigning them strong passwords that comply with your password policy.
Enable self-service password resets
Enhance user productivity and satisfaction while reducing helpdesk tickets by enabling users to reset their own passwords.
Secure password resets with MFA
Increase security by requiring users to prove their identity with MFA before they are allowed to reset their passwords.
Establish approval workflows
For even more security, use an automated workflow to require approval from a user's manager before allowing a self-service password reset.
Protect new user accounts
Automatically assign each new user account a strong password that complies with the complexity, length and other requirements of your password policy
Require strong passwords
Control the passwords used in your environment with length and complexity requirements, regular expressions, and options like disallowing passwords from the "have i been pawned" database.
Enable Single Sign-on (SSO)
Enable secure single sign-on using okta, ping, duo, onelogin and other third-party solutions.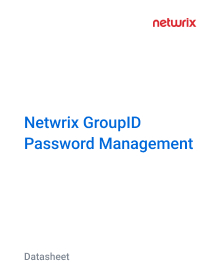 Netwrix GroupID Password Management
Learn more about how Netwrix GroupID can help you to enhance productivity and security while reducing costs.