NETWRIX ENTERPRISE AUDITOR (FORMERLY NETWRIX STEALTHAUDIT®) FOR ACTIVE DIRECTORY
Keep your Active Directory and Microsoft ENTRA ID orderly and secure
Active Directory Security Reporting Tool from Netwrix
Netwrix Enterprise Auditor for Active Directory gives you the actionable insight you need to clean up your on-premises or hybrid Microsoft Active Directory (AD), no matter how complex and cluttered it has grown over the years. Moreover, this advanced Active Directory security reporting tool provides a wealth of features that help you to govern your environment effectively moving forward to ensure security and compliance and improve productivity for users and IT teams alike.
VISIBILITY INTO SECURITY GAPS
Pinpoint and remediate critical security threats like weak passwords, vulnerable service and computer accounts, and configuration issues.
STRONG GOVERNANCE
Keep your AD orderly by automating the ongoing cleanup of stale, duplicate or otherwise risky AD objects, such as disabled or inactive user and computer accounts.
USER MANAGEMENT
Make it easy for data owners to regularly perform access reviews for their content, as well as to approve or deny access requests from AD users.
GROUP POLICY MANAGEMENT
Audit your Group Policy objects (GPOs) and their settings: Analyze where they're linked, spot misconfigurations that could cause security or operational issues, and identify redundant GPOs that can be consolidated.
CONTROL OVER PRIVILEGED ACCESS
Analyze permissions for all AD objects to quickly understand exactly who has privileged access — including "shadow admins" with hidden privileges due to nested group membership and other factors.
STREAMLINED COMPLIANCE
Simplify and speed compliance reporting with preconfigured and custom reports aligned to HIPAA, PCI-DSS, GDPR, SOX and other common mandates and standards.
EASY INTEGRATION
Automate processes like account lockout tracking and response by integrating Enterprise Auditor for Active Directory with IT service management (ITSM) software tools such as ServiceNow.
SCALABILITY
Get an Active Directory reporting tool with a lightweight architecture that scales easily to meet the needs of even the largest and most complex IT infrastructures.
FLEXIBILITY
Netwrix Enterprise Auditor for Active Directory is a turnkey solution for common needs, yet highly configurable to give you the flexibility to fulfill your unique requirements.
Strengthen security while reducing IT workload with advanced Active Directory management software
Active Directory is powerful technology that keeps your business running — and that adversaries can misuse to shut everything down in a heartbeat. Therefore, a complex and cluttered AD is not just a huge management burden but an unacceptable security and compliance risk. Netwrix Enterprise Auditor for Active Directory provides the effective Active Directory and Microsoft Entra ID (formerly Azure AD) reporting you need to clean up your IT ecosystem and keep it that way, all with far less cost and effort.
Reduce the risk of breaches and downtime
Pinpoint vulnerabilities in your Windows network before attackers can exploit them. Know what security groups you have and exactly who the group members are — and which user accounts are "shadow admins" that could gain privileged group membership with just a few actions. Use clear AD reports to ensure that your GPOs are linked to the right organizational units and have no improper attributes, such as a setting that allows unlimited login attempts.
Accurately enforce least privilege while reducing IT workload
IT teams typically lack the information required to assess AD permissions, so delegate access management to data owners! An automated workflow empowers domain users to request access directly from data owners, and straightforward AD reporting, including logon reports, enables data owners to easily confirm or make changes to rights to their resources.
Streamline compliance
Speed audit preparation with pre-built reports, and easily create custom auditing and security reports to meet your unique reporting needs. Quickly satisfy DSAR requests from specific users with simple search.
Maintain Active Directory security with automated cleanup and built-in reports
Track user activity and last logon time so you can disable or delete inactive accounts before they can be misused to access protected data — without the hassle of rooting through the cryptic details buried in logs on domain controllers or writing a single PowerShell query. find out whether your password policy allows user passwords with no expiry date.
Export reports to csv files or other formats for further review and analysis by stakeholders.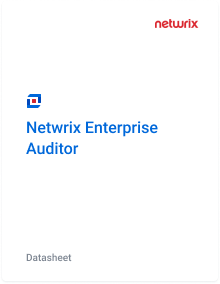 Netwrix Enterprise Auditor for Active Directory
Read now.