Netwrix Auditor for
Active Directory
Active Directory Reporting Software
Information on successful and failed logon activity
If you don't audit user logons, sooner or later you'll miss unauthorized attempts to log into your domain or into business-critical applications that use ADFS authentication. With the Active Directory reports in Netwrix Auditor, you get easy, continuous auditing and reporting on both failed and successful logon attempts, including the ones using ADFS. This will help you validate your access controls and detect even subtle intrusion attempts that don't cause account lockouts.
Be alerted on the most critical events
AD reports are useful for regular review, but you also need alerts to catch security events as they happen. Netwrix Auditor provides ready-to-use alerts and makes it easy to create custom ones so you can promptly respond to critical AD changes, multiple failed logons and other threats that put the security of your organization at risk.
Stay current on subtle indicators of compromise and security blind spots
To protect your environment, it's crucial to know about every unusual event that took place in your Active Directory. Netwrix Auditor's reports on user behavior and blind spot analysis enable you to quickly identify subtle indicators of threats and investigate what's happening before serious damage is caused. For example, you can see when someone is active outside business hours or tries to log in a domain from several endpoints at the same time.
Get a high-level view of changes in your Active Directory
To spot unusual surges in user activity, you need a single-pane-of-glass view of changes. Netwrix Auditor's overview dashboard makes it easy to identify the users who have made the most changes, the domain controllers that are most frequently changed, the object types that are most modified, and spikes in changes by date.
Quickly roll back unwanted changes
When an unwanted change occurs, it's not simple to recover Active Directory objects and attributes with native tools. With Netwrix Auditor, you can revert incorrect changes to a previous state without any downtime or having to restore from a backup.
What else do I get with Netwrix Auditor
for Active Directory?
Easy integration with your ecosystem
Unlike many other Active Directory reporting tools, Netwrix Auditor can be integrated with any commercial or custom application. This enables you to expand visibility into other systems and have your entire audit trail available from a single place. Free, ready-to-use add-ons are available for many common applications, including SIEM solutions and ServiceNow ITSM.
Automated incident response
If handled manually, routine tasks like dealing with AD user account lockouts and creating helpdesk tickets can eat up a lot of time. With Netwrix Auditor, you can automatically handle tasks like these by embedding scripts in alerts, which ensures a prompt response and lets you stay focused on more important tasks.
Cost-effective data storage
Native Active Directory tools don't provide an easy way to compress and retain historic audit data. Netwrix Auditor can store your audit trail in a two-tiered (file-based + SQL database), cost-effective storage for more than 10 years, and enables you to easily access the archived data for historic reviews and inquiries.
Granular access to the platform resources
It's important to keep the AD reporting and auditing process secure. You can make sure that only authorized members of your IT administration and business teams can view AD reports and configure auditing in Netwrix Auditor by granularly assigning the appropriate access rights to everyone who needs them.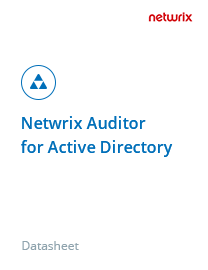 Learn how Netwrix Auditor for Active Directory can help you detect data insider threats, pass compliance audits with less effort and increase the productivity of your IT team.
Download Datasheet (.pdf)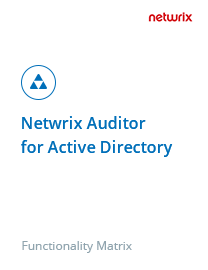 Get a convenient list of features of Netwrix Auditor for Active Directory in a fill-in-the-blank format that facilitates comparing it with other vendors' products.
Download Matrix (.pdf)