Add-on for CyberArk Privileged

Access Security
Gain visibility into what's going on in your CyberArk Privileged Access Security environment. Detect and investigate suspicious activity to prevent data breaches and system disruptions. Integrate CyberArk Privileged Access Security with Netwrix Auditor using this free add-on built with
our RESTful API.
Keep a close eye on privileged users
Enforce individual accountability by knowing who is doing what. Detect unusual activity to avoid
security incidents.
Resolve user issues faster
Prevent user complaints and business disruptions by timely spotting changes in Central
Policy Manager.
Investigate insider threats
Spot even sophisticated privilege abuse schemes by tracking and correlating all events
in the environment.
Find out how Netwrix Auditor Add-on for CyberArk Privileged Access Security helps ensure IT security and business continuity
Track the activity of
privileged users
See what actions each administrator is performing so you can enforce individual accountability and prevent data breaches and
system downtime.
Streamline changes generated in Central
Policy Manager
Stay informed about events in Central Policy Manager, such as password changes, so you can help users before they start complaining that they cannot access critical resources and the
business suffers.
Get complete
activity information
Get a complete, correlated picture of what's happening across your systems to quickly spot even very complicated instances of
privilege abuse.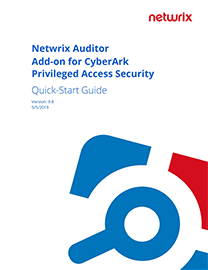 Read the Quick-Start Guide for detailed instructions on how to install the add-on and configure
it properly.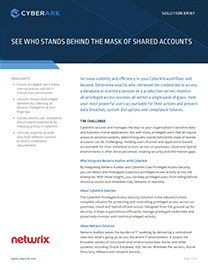 See what benefits you can get from the integration between Netwrix Auditor and CyberArk Privileged
Access Security.