Add-on for Nutanix AHV
Easily integrate Nutanix AHV with Netwrix Auditor using this free add-on built with our RESTful API so you can keep a close eye on your Nutanix AHV infrastructure. Promptly catch activity that can threaten the security of your virtual environment or put the availability of your services at risk, so you can fix issues before your business is affected.
Establish strict accountability over
privileged users
Know who is responsible for critical changes made to Nutanix AHV, Prism or Element, and make sure admins are not misusing
their permissions.
Respond to security incidents in
a timely manner
Promptly spot activity that could threaten the security of your virtual environment and respond before you suffer
a data breach.
Promptly resolve operational incidents
Ensure uninterrupted business processes by tracking critical changes in your Nutanix AHV environment and promptly spotting and fixing
operational issues.
Learn how Netwrix Auditor Add-on for Nutanix AHV helps harden IT security and ensure
uninterrupted services
Watch privileged
users closely
Make sure your admins are doing only what they are supposed to. Easily detect suspicious activity in time to prevent security or performance issues, and know exactly who to hold accountable for
those actions.
Quickly detect abnormal activity
Promptly detect suspicious activity in your Nutanix AHV environment, like unusual logons to Prism, changes to user roles and configuration modifications. Take action before someone steals sensitive data from a VM and the data breach lands your organization
in the headlines.
Troubleshoot faster to ensure
business continuity
Be the first to know about a VM status change or host removals, so you can fix the issue before it leads to downtime or other business disruptions, and easily
meet your SLAs.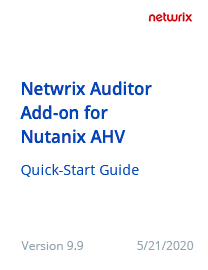 Get detailed instructions for installing the Add-on for

Nutanix AHV.

Learn how to configure the

add-on properly.