Add-on for RADIUS Server
Get complete visibility into logon activity on your RADIUS Server. Simply integrate RADIUS Server with Netwrix Auditor via the RESTful API with
this free add-on.
Maximize Visibility into Logon
Activity across
RADIUS Server
Gain complete visibility into all logon activity on your RADIUS Server, both successful and failed, with actionable audit data that contains who-what-when-where details. Use this insight to spot suspicious access attempts and address
auditors' requests.
Investigate Security Threats
and Prevent Breaches
Stay on top of failed logons on your RADIUS Server with the Google-like, interactive data search. It helps you detect and investigate illicit attempts to access your network so you can better protect your critical assets against unauthorized access
in the future.
Document and Securely Store
All Logons
for Later Review
Keep your audit data safe and at your fingertips in the two-tiered storage for years. You can instantly access it the next time you need to perform a security investigation or undergo a periodic audit check to prove
your compliance.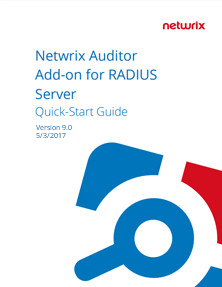 Review detailed instructions for installing

the Add-on

for RADIUS Server.

Learn how to configure

it properly.

Start getting complete visibility into all logon activity on

your RADIUS Server.