Introducing Netwrix Auditor 9.96
Level up your database and virtual security
See through the complex set of SQL Server permissions so you can mitigate the risk of insider misuse and limit the damage a compromised
account can do.
Enforce the least-privilege model and respond to the most critical security incidents first to increase the resilience of your virtual environment.
Harden the security posture of your entire virtual infrastructure by quickly detecting and responding to suspicious activity in your Nutanix AHV.
Play an interactive game that walks you through the main features of Netwrix Auditor 9.96 and see how good you are at securing your IT environment.
Gain visibility into sql
server permissions
Close security gaps across
your databases
Securing databases is hard because the complicated server-level and database-level permissions leave you unable to tell whether data is at risk and who has excessive permissions to sensitive data, which could result in data leaks and compliance nightmares. With Netwrix Auditor, you can find your way to staying out of the security breach spotlight
Achieve more scrutiny
over vmware
Don't let attackers through your first line of defense
IT systems that run business-critical services or store valuable information are often virtualized. Unfortunately, organizations often fail to pay as much attention to the security of their virtualized environment as they do to their physical servers. Malicious actors are eager to exploit loose permissions or make critical changes in order to gain access to your virtualized systems and steal your sensitive data.
Expand netwrix auditor
to nutanix ahv
Increase the resilience of your virtual environment
It's important to

stay on top of any suspicious activity

in your virtual environment, regardless of which virtualization vendors you rely on. With Netwrix Auditor Add-on for Nutanix AHV, you can take advantage of one of the most modern virtual infrastructures while

keeping your

IT auditing

top notch

.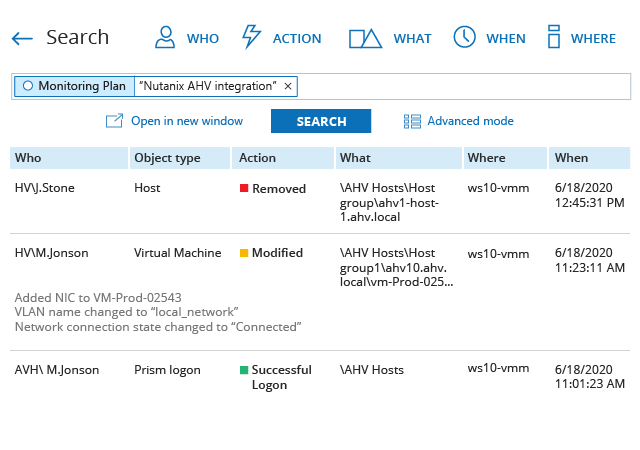 Let's play the game
Don't let attacker breach your company
Choose the action you'd take to stop an attacker
Round 1
You've successfully mitigated the risk of a data breach!
Now make it happen in real life with Netwrix Auditor 9.96
1
Regularly ensure that no one except the HR and management teams has access to the database containing employees' personal records
Exactly! It's important to systematically ensure that employees have access to only what they need. This way, you can limit the damage a malicious insider or compromised account can do.
2
Verify that the QA team's access is limited to specific database tables and does not extend to the entire production database
Nice move! You don't want one of your users to deliberately or accidentally expose your critical database information.
1
Revoke the permissions of all DevOps engineers who no longer use the virtual machine for testing
That's right! Unfortunately, one engineer still had elevated privileges to VMware vCenter and therefore had access to the corporate data stored on your virtualized file server, which put your corporate data at risk!
2
Systematically validate that the access rights of VMware administrators are in line with their job responsibilities
Impressive! You need to constantly review the permissions of privileged users and ensure they are aligned with the least-privilege principle. But don't count on this best practice alone – one of your administrator accounts just got hacked!
1
Check what information Attacker had access to in your

critical databases
Good job! Unfortunately, Attacker found his way to your sensitive data by exploiting the loose permissions on the virtual machine that runs your database.
2
See whether Attacker had permissions to the virtual machine your database runs on
Great idea! Even though the database permissions are correct, VM access rights may have blind spots that Attacker could use to gain access to your
sensitive data.
1
Monitor changes to the Account Unlock Time setting in

VMware vCenter
Good call! VMware recommends unlocking accounts automatically in 15 minutes. Changes that will unlock them sooner increase the risk of a successful
brute-force attack.
2
Receive notifications whenever the Managed Object Browser

(MOB) is enabled
Well done! The MOB should be disabled by default and used only for debugging when a corresponding ticket has been opened. Otherwise, attackers can use this weak spot to perform malicious configuration actions and get access to critical systems that store your sensitive data.
1
Keep an eye on what a departing administrator is doing in the Nutanix AHV environment
Smooth! Monitoring the activity of privileged users can help you ensure they are following internal policies and don't misuse their elevated permissions.
2
Set up alerts on critical Nutanix AHV activity, like hardware configuration changes and logons to Prism outside of business hours
Correct! By quickly detecting suspicious activity, you can respond to security incidents before a critical virtual machine gets compromised.
What's New in Netwrix Auditor 9.96
Join Our Live Webinar
September 16
10 AM PT / 1 PM ET
Meet the new Netwrix Auditor! In this webinar, our expert demonstrates how the
new capabilities in Netwrix Auditor 9.96
can help you
strengthen the security
of your databases, virtual environments
and more.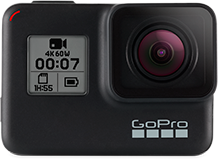 Attend for a Chance to Win GoPro HERO7 Black
Ready to get started?
Next Steps