Netwrix data classification for
Dropbox
Keep data in Dropbox organized and secure

Automatically discover and tag files stored in Dropbox
Businesses around the world use cloud collaboration platforms like Dropbox to enable content sharing and employee collaboration. Unfortunately, the convenience vanishes as soon as users start turning shared folders into unorderly piles of documents, and it becomes nearly impossible to organize files stored in the cloud and keep sensitive information secure. Netwrix Data Classification helps you prevent your organization's Dropbox from turning into file dump and keep your sensitive information in the cloud safe.
NEW
Automate data classification to eliminate errors
Eliminate inconsistencies and errors while saving valuable time by automating the data tagging and classification process.
NEW
Ensure accurate classification of Dropbox files
Make sure files with sensitive information don't get overexposed because they were not classified correctly. Don't let falsely classified documents interrupt your business processes.
NEW
Secure your data with out-of-the-box rules
Jump-start your data security and compliance projects with predefined classification rules. Save all the time you would have spent developing and testing your own rules.
NEW
Save time and cost on adjusting classification rules
Modify classification rules to meet your specific needs without professional services or exhaustive training, thanks to an intuitive rule-editing interface.
NEW
Tag Dropbox files to ensure data security
Protect data stored in Dropbox and increase the efficiency of your data loss prevention tools by adding accurate classification tags right into each file's metadata.
NEW
Automate data remediation processes
Eliminate annoying manual routines by creating automated workflows that will move sensitive files from overexposed locations to secure ones and alert the appropriate team.
Keep Dropbox content organized and secure
Cloud platforms make it easy to share content and collaborate with others. But as time goes by, cloud storage often ends up in disarray and flooded with unneeded files — dragging down user productivity and increasing the risk of sensitive information becoming overexposed. Make sure you know exactly what data is stored in your organization's Dropbox with Netwrix Data Classification.
Secure data on premises and in the cloud and prove compliance more easily
Automatically find files that contain sensitive and regulated data across your IT environment, both on premises and in the cloud. Prove to auditors that you know exactly what types of data are stored in Dropbox folders and spaces.
Ensure ongoing security by automatically quarantining sensitive data
Don't wait until an auditor — or an attacker — discovers a sensitive file on a public share. Instead, automatically check for such vulnerabilities and mitigate them before you suffer a beach or get slapped with a stiff fine.
Improve the productivity of both IT teams and business users
Keep corporate content organized and discoverable so business users can stay productive and IT teams aren't constantly interrupted by urgent requests to find files.
Save time and effort by eliminating unneeded data
Your time is too valuable to waste on managing redundant or outdated data. Purge data that has no business value and focus your efforts on more strategic initiatives.
Take the pressure of legal requests off your shoulders
Enable your legal team to easily find the documents they need and preserve their integrity during litigation. Improve the precision of data discovery to avoid the prolonged litigation and other high costs of overcollection.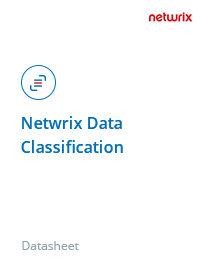 Read how Netwrix Data Classification can help you secure and organize corporate content both on premises and in the cloud.