Insider Threat Detection
Complete visibility into insider activity across all your
on-premises, hybrid and cloud-based IT systems
Because insiders by definition have legitimate access to the corporate network, they pose a serious risk to cyber security. Insider threat mitigation programs built to control this risk can prove to be insufficient if they do not leverage specialized information security software designed to effectively counter data leakage incidents and equipment and software sabotage.
Netwrix Auditor simplifies the task of deterring, detecting, investigating and halting insider attacks before they result in significant damage to your business.
Gain enterprise-wide granular visibility into
insider activity
Validate that your information security policies
are being followed
Identify suspicious insider activity patterns early
in the attack cycle
Establish or improve user accountability
Prevent data exfiltration
Investigate anomalous insider behavior and irregular access to key IT systems and data
Simplifying insider threat detection in an ever-evolving data
threat landscape
Detecting and thwarting information threats today can feel like a daunting challenge. Internal attacks are a common attack vector that can have significant impact on your business, in both cost of data loss and disrupted operations. To effectively guard against cyber threats from malicious insiders, organizations need to be aware of insider threat indicators and utilize the right combination of information security technologies that enable timely detection and investigation.
Netwrix Auditor is a visibility platform for user behavior analysis and risk mitigation that enables information security teams to efficiently look for technical indicators of insider threats, and report on and investigate incidents. The platform facilitates insider threat detection and expands your organization's resilience to insider fraud, data exfiltration, espionage and other types of information threats.
Improve user accountability by enabling
video recording
Notify insiders that their activity can be monitored and recorded at any time
Record the screen activity of any user in any IT system or application, including those that do not produce logs and sessions established through remote connections
Quickly search through the recorded materials, and later jump to and replay the exact video fragment

you need
Reveal policy violations and insider activity patterns indicative of a potential cyber threat
Scrutinize a suspicious insider's actions in sequence and establish user accountability with full accuracy
Enable alerting to quickly react on
threat patterns
Customizable threshold-based alerts flag suspicious user actions as they occur so you stay aware of potentially malicious behavior patterns. You can specify which events are high-risk, such as too many file modifications at a time, changes in a sensitive production database or a spike in failed activity. The alerts include full details, so you can respond to the threat in
a timely fashion.
Stay aware of actions that represent a threat to your systems and data with a list of predefined alerts
Create custom alerts and tailor them to your specific needs by specifying exactly what events should trigger an alert and setting up thresholds
Ensure that timely warnings about potentially risky behavior patterns are sent to the appropriate recipients
Review detailed information about the possible insider threat, including who changed what, when and where the change occurred, and the "before" and

"after" values
Effectively investigate incidents using Interactive Search
Simplify investigations and quickly get a complete picture of insider activity by looking for relevant IT changes, data access, user logons and video recordings of user actions across multiple systems simultaneously
Resolve problems faster by honing in on any data you need using predefined filters in drop-down menus or by specifying specific search criteria at the most

granular level
Improve collaboration by enabling security investigators to save their custom searches for later use and share them with the team
Enterprise-wide visibility and control
Netwrix Auditor bridges the visibility gap by delivering actionable intelligence about critical changes, configurations and data access in your on-prem, hybrid or cloud IT environment.
Control privileged access
Netwrix Auditor's State-in-Time™ reports enable you to quickly check your user accounts against HR listings to detect bogus accounts and verify account privileges for accessing sensitive data.
Review and compare the current configuration of your groups, group membership, computer and user accounts, effective account permissions, and object permissions against corporate baselines or a previous known good state to detect improper access rights.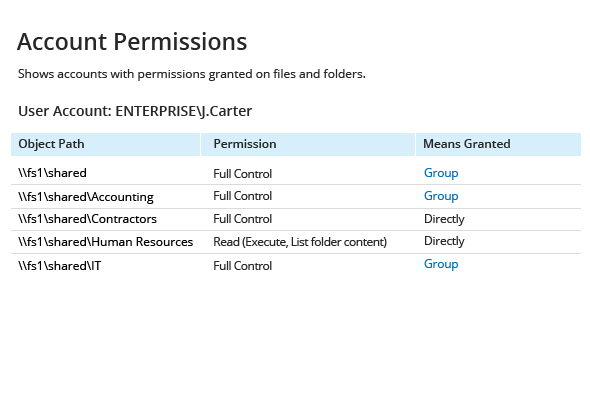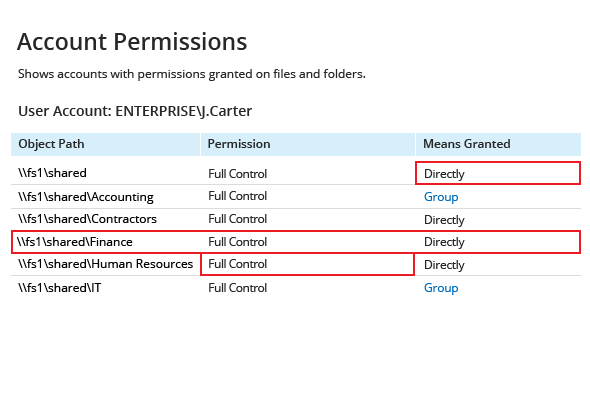 Track changes to access rights
Netwrix Auditor's change reports deliver rich context around changes to access rights while minimizing the noise. Detect and analyze suspicious attempts to elevate account privileges, and see who's changing security groups, user accounts, object security settings, user rights assignment policy settings, user configuration and more.
Schedule delivery of refined threat intelligence reports to threat response teams so they can quickly identify violations and limit user privileges.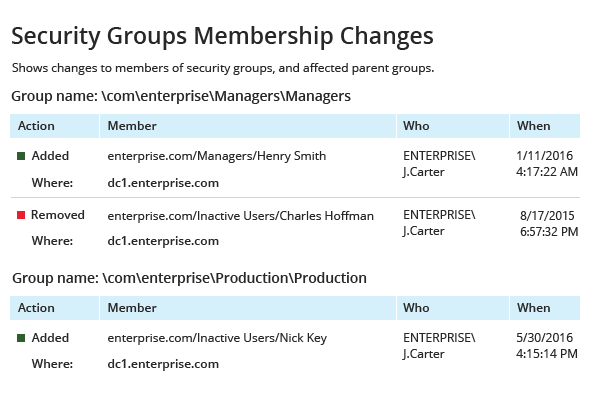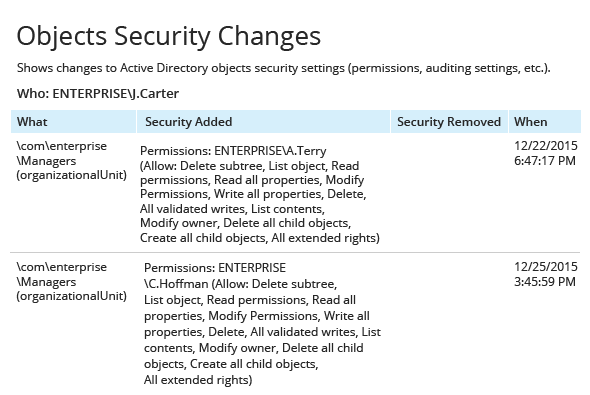 Monitor access to sensitive data
Netwrix Auditor provides meaningful insights into user access to unstructured data, delivering visibility into network security threats.
Detect high numbers of failed read attempts, unsuccessful delete operations, successful modifications that occurred at unusual business hours and other file activity. Analyze graphical dashboards and easily detect changes in user behavior patterns indicative of malicious intent.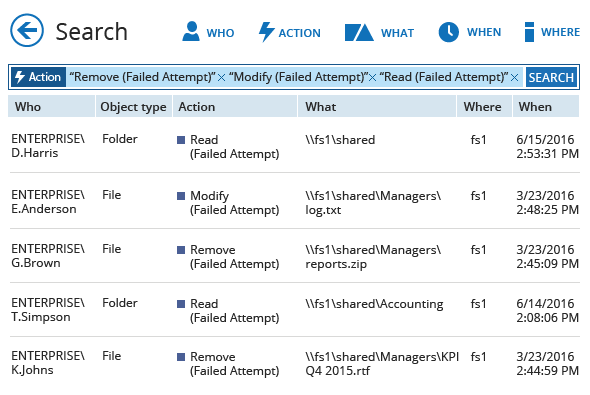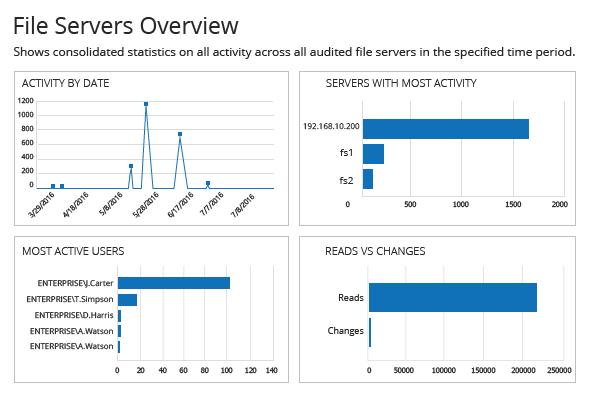 Review account logon activity
Netwrix Auditor provides visibility into all account logon activity, enabling you to identify potential identity theft. Logon activity reports show interactive and non-interactive logons (both successful and failed) with complete details, such as the DC and workstation where the event occurred, the type of logon, the time, and the cause for a logon failure.
You can also review accounts that performed too many logons during a short time period, which are an indication of a possible malware attack and impersonation.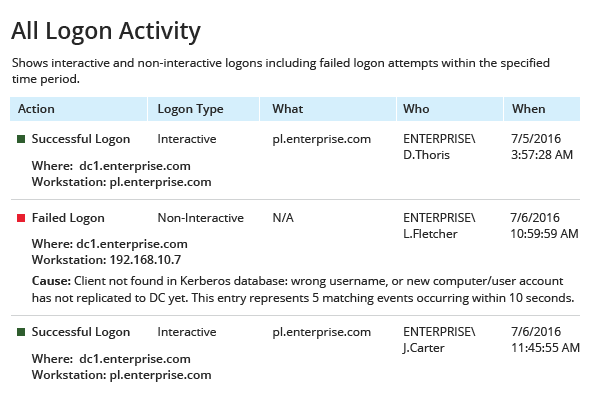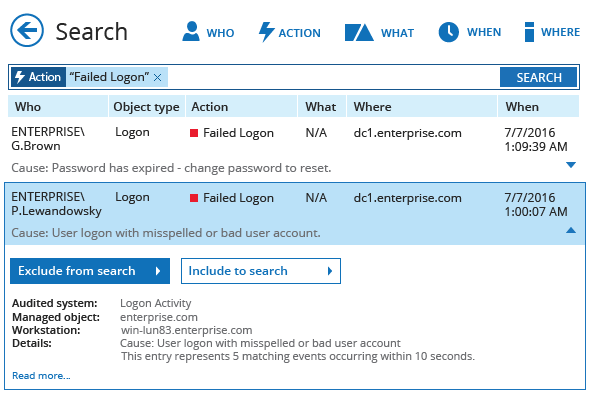 Detect exposed data
File analysis reports identify excessive access permissions, enabling you to revoke excessive access rights before data exfiltration occurs.
Data usage statistics help you understand how are insiders interacting with data. Other reports help you verify that your most sensitive files are accessed only by users with a legitimate business need.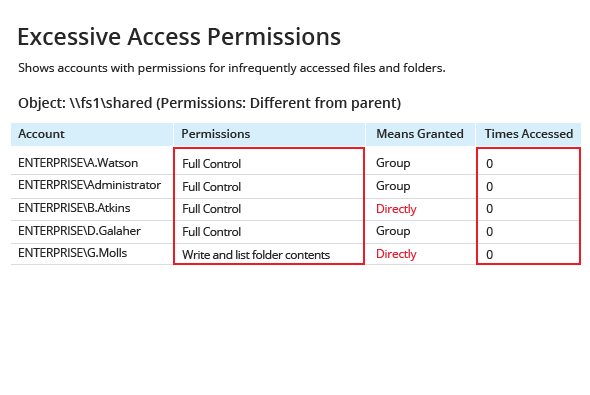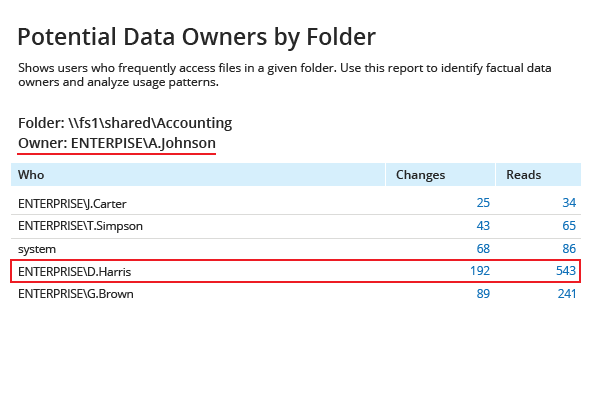 Review valuable best practices for mitigating insider threats and improving the security of your IT ecosystem.
View Best Practices