Maintain High-Quality Public Service and Data Integrity with Netwrix Auditor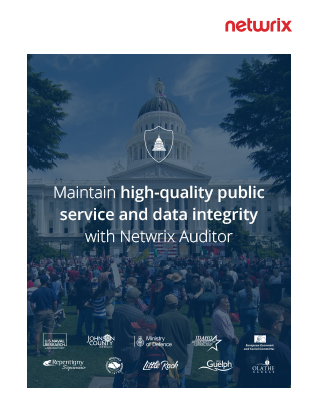 Because public sector organizations process and store highly sensitive information, they need to safeguard that data against both internal and external threats. They also need to regularly prove their compliance with a variety of complex laws and regulations.
This eBook details how Netwrix Auditor can harden your federal or local government organization's resilience to cyber threats and enable you to better prepare for and more easily pass regulatory compliance audit checks. You'll get answers to the following questions:
How can you minimize the risk of privilege misuse when you must deal with multiple contractors, temporary projects and numerous employees?
How can you honor your commitments and obligations to citizens by quickly identifying malicious attacks that threaten data integrity?
How can you reduce the time and effort required to prepare for and pass regulatory audits?
How can you deliver better services to citizens and your own employees by making your IT processes more efficient?