Free community edition
Netwrix Auditor for Network Devices
Free network audit software that keeps you current of what's happening on your network devices
"Netwrix Auditor is the excellent tool all IT personnel and IT auditors need in order to better maintain their network infrastructure and get quick and accurate insight into device configuration and changes."

George Kazan Technical Manager & Partner,
Active Networks SAL
Streamline network security monitoring with this free network audit software
The free edition of Netwrix Auditor for Network Devices monitors network devices for configuration changes and logon attempts; catches scanning threats before attackers can take control of the network; and simplifies detection of hardware failures so you can quickly troubleshot network traffic issues. Unlike other free network audit tools, Netwrix Auditor sends daily reports detailing the critical events that happened during the last 24 hours to help you streamline network device security auditing.
See what changed
Delivers meaningful data about changes, including when and where each change occurred and exactly what was changed.
Track access events
Monitors remote and direct user access and provides clear information about both successful and failed attempt to log on to network devices or gain VPN access to the network.
Spot hardware malfunctions
Makes continuous hardware audit easy by reporting on hardware issues in network devices in an easy-to-understand format.
Automate network auditing
Collects and aggregates data about user activity from multiple network devices and automatically reports on it by email on a daily basis.
Increase efficiency
Eliminates the need to analyze noisy native logs by providing information in a human-readable format.
Save your IT budget
Relieves you from extra expenses or painful budget approvals and will never expire or stop working when you need it.
Without proper network security tools, the analysis of native logs takes a great deal of time and effort to spot activity that could lead to connectivity issues or make the entire network unreachable. This edition of Netwrix Auditor, unlike other network security audit software, is free of charge and provides actionable audit data on critical events, such as firewall configuration changes, network scanning threats, and failed logon attempts by database or server administrators and other users, enabling organizations to respond to these events before they can damage network security, performance or availability.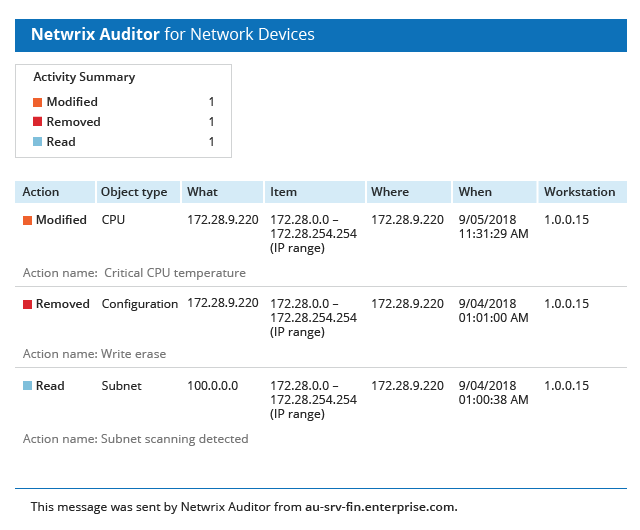 This free network auditing tool makes it easy to establish continuous security monitoring of your network and ensure that the activity of users is in line with established processes and controls. It is essential to track user actions because any improper change, whether deliberate or accidental, can create network vulnerabilities that could lead to a wide range of security incidents, from loss of internet connectivity or application downtime to a successful cyberattack.
Awareness versus Complete Visibility
Once you start using Netwrix Auditor for Network Devices, you will get its full functionality free for 20 days. After that, you can either activate the Free Community Edition or apply a commercial license. The table below highlights the differences between the Free Community Edition of Netwrix Auditor and the standard version of the product:
Free

Community

Edition
Standard Edition
Functionality
Netwrix Auditor
Free


Community

Edition
Netwrix Auditor
Standard
Edition
Reporting on changes to the configuration of network devices
Monitoring of user logon activity, including VPN logons
Tracking of hardware malfunctions
Scanning threat auditing
Daily activity summary sent automatically to a single recipient
"What," "when" and "where" details for each reported event
"Who" details for each reported event
Predefined reports with filtering, sorting and export options
Email subscriptions to scheduled audit reports with the ability to choose reports, recipients and reporting frequency
Advanced cross-system audit reporting
Behavior anomaly discovery
Google-like search of audit data
Alerts on threat patterns
Long-term storage of audit data
Role-based access control
Single installation that handles multiple network devices
"Netwrix Auditor allowed us to gain a better view of what is going on in our constantly growing IT infrastructure. It also enabled us to increase accountability within the department. Finally, Netwrix Auditor is great at the operational side of things — it saves the company hundreds of hours a year on resolving user issues."

Jon G. Bolland II
Systems and Network Administrator, LeChase Construction
System Requirements
Netwrix Auditor for Network Devices is quick to download and has a smooth deployment process. Check out the table below to find out whether your IT infrastructure meets the minimum technical requirements.
Hardware
Processor:
Memory:
Disk space:
100GB for the system drive
100GB for the data drive (long-term archive and SQL Server)
Screen resolution:
Minimum: 1280 x 1024
Recommended: 1920 x 1080 or higher
Software
Operating System:
Windows Desktop OS (64-bit): Windows 7 SP1, Windows 8.1 or Windows 10
Windows Server: Windows Server 2008 R2 SP1, Windows Server 2012/2012 R2 or Windows Server 2016
.NET Framework:
Any .NET Framework that goes with your OS: 3.5 SP1, 4.0, 4.5 or 4.6
Installer:
Microsoft Windows Installer 3.1 or above