Looking for Change Notifier for VMware? You're in the right place. Netwrix Auditor Free Community Edition includes VMware change notifications — plus a whole lot more.
Free community edition
Netwrix Auditor for VMware
Free VMware monitoring tool that keeps you up to date on all changes in your virtual environments
"Excellent product and service! Netwrix is a company we definitely like to work with and recommend to others."

Jack Johnston,
VP of Technical Operations, North Island Credit Union
How long have you been yearning for a free VMware monitoring tool to maintain control over changes in your virtual environment?
The free edition of Netwrix Auditor for VMware provides visibility into what's happening with VMware by tracking changes to the configuration of your virtual environments, including changes to data center instances, VMware vCenter, VMware ESX and ESXi servers, resource pools, clusters, folders, virtual machines, and other objects. Daily activity summaries sent by this free VMware reporting tool detail every change during the last 24 hours, including the before and after values for modified objects and object attributes. Using this VMware utility will eliminate the need to analyze mountains of cryptic logs and enable your IT administrators to maintain full control over VMware environment in an efficient manner.
See what changed
Enables you to view all changes to resource pools with before and after values so you can quickly troubleshoot any drop in VMware performance.
Automate auditing
Simplifies VMware reporting by emailing daily activity summaries detailing all changes to VMware ESX and ESXi servers.
Increase efficiency
Simplifies VMware management procedures. Easy-to-read reports on VMware snapshot creation enable you to save storage by deleting unneeded snapshots.
Save your IT budget
Enables you to avoid the expense of VMware auditing; free VMware monitoring software from Netwrix will never expire or stop working.
Better than other free VMware reporting tools
Continuous auditing of your VMware infrastructure is absolutely necessary to ensure that VMware components are performing properly, all business-critical services are available and servers do not run out of resources. But the native VMware event console and the majority of free VMware monitoring software tools do not provide a simple and efficient way of auditing VMware configuration changes. The free edition of Netwrix Auditor for VMware outperforms these free VMware tools by delivering meaningful audit data in a convenient and timely manner.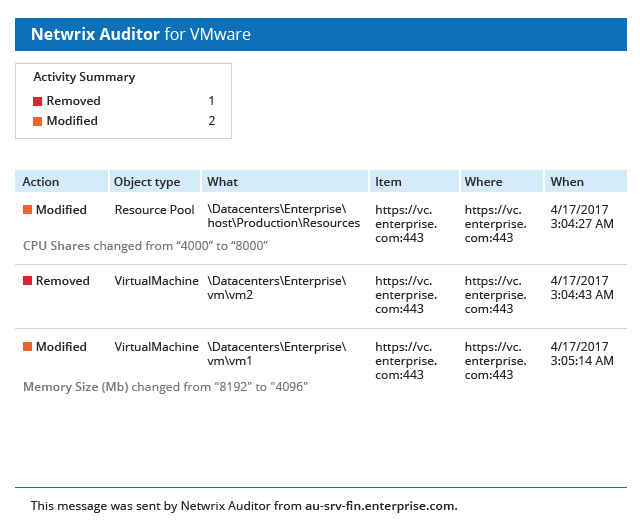 Keeping an eye on changes made to the objects in your virtual environment is essential for timely detection of suspicious activity that might violate your security policies. Free edition of Netwrix Auditor for VMware continuously tracks and automatically reports on security changes in your VSphere virtualization platform. Daily reports enable you to identify unwanted modifications and prevent virtual machine sprawl — things that most other free VMware tools simply don't provide with the same level of efficiency and convenience.
Awareness versus Complete Visibility
Once you start using Netwrix Auditor for VMware, you will get full functionality for free for 20 days. After that, you can either activate the Free Community Edition or apply a commercial license. If you choose the Community Edition, it will still provide VM monitoring, but like all free VMware software, it has some feature limitations, as detailed below.
Free

Community

Edition
Standard Edition
Functionality
Netwrix Auditor
Free


Community

Edition
Netwrix Auditor
Standard
Edition
Reporting on changes in VMware
Before and after values for all modifications
Daily activity summary sent automatically to a single recipient
"What," "when" and "where" details for each reported event
"Who" details for each reported event
Predefined reports with filtering, sorting and exporting options
Email subscriptions to scheduled reports with the ability to choose reports, recipients and reporting frequency
Advanced cross-system auditing and reporting
User behavior and blind spot analysis
Out-of-the-box compliance reports mapped to specific regulatory standards (PCI DSS, HIPAA, SOX, FISMA/NIST800-53 and ISO/IEC 27001)
Overview dashboards
Google-like search of audit data
Alerts on threat patterns
Long-term storage of audit data
Role-based access control
Optional lightweight, non-intrusive mode of data collection used for traffic compression
Single installation that handles multiple VMware vSphere instances, each with its own unique settings
"I am very happy with my decision to go with Netwrix, and I would recommend them to anyone. Their software does exactly what it says on the tin."

Tim Stainthorpe,
Technical Services Manager, Eclipse Group Solutions Ltd.
System Requirements
Installation of Netwrix Auditor for VMware is very quick and perfectly easy. Below are the minimum system requirements.
Hardware
Processor:
Memory:
Disk space:
100 GB – System drive
100 GB – Data drive (Long-Term Archive and SQL Server)
Screen resolution:
Minimum 1280 x 1024
Recommended 1920 x 1080 or higher
Software
Operating System:
Windows Desktop OS (64-bit): Windows 7 SP1, Windows 8.1, and Windows 10
Windows Server OS: Windows Server 2008 R2 SP1, Windows Server 2012/2012 R2, and Windows Server 2016
.NET Framework:
Any .NET Framework that goes with your OS: 3.5 SP1, 4.0, 4.5, or 4.6
Installer:
Windows Installer 3.1 and above