Looking for Change Notifier for Windows Server? You're in the right place. Netwrix Auditor Free Community Edition includes Windows Server change notifications — plus a whole lot more.
Free community edition
Netwrix Auditor for Windows Server
Free Windows Server reporting tool that keeps you posted on all changes made to your Windows Server configuration
"It's been a pleasure working with Netwrix, and you have great products and support. Your development and QA teams provide top-notch work. I highly recommend Netwrix."

Glen Schebece,
IT Manager, WebMD
How long have you been yearning for free Windows Server monitoring software to bring visibility into activity on your Windows-based servers?
The free edition of Netwrix Auditor for Windows Server provides visibility into what's happening in your Windows-based server infrastructure. It tracks changes to your Windows Server configuration, such as the installation of software and hardware, and changes to services, network settings and scheduled tasks. Daily activity summaries sent by this free Windows Server monitoring tool detail every change during the last 24 hours, including the before and after values for each modification.
See what changed
Details all changes made to server configuration, including hardware and software, DNS and network changes and more, with the before and after values for all modifications.
Automate auditing
Tracks application changes and other modifications of Windows Server configuration and automatically delivers activity summaries by email on a daily basis.
Increase efficiency
Eliminates time-consuming manual analysis of mountains of cryptic log data by delivering change details in human-readable reports.
Save your IT budget
Eliminates the expense of Windows Server monitoring and reporting. The free edition of Netwrix Auditor for Windows Server will never require extra investment or stop functioning.
The free Windows Server monitoring solution you've been looking for
The free edition of Netwrix Auditor for Windows Server complements native network monitoring and Windows performance analysis solutions. It has many advantages over the built-in audit tools available in Windows Server. In particular, it improves security and offers more convenient audit data retrieval, consolidation and representation. And you can enable continuous IT auditing with far less time and effort and control IT changes more efficiently.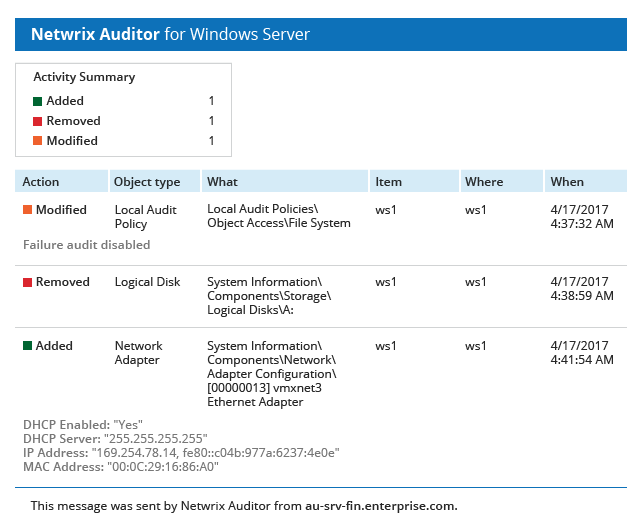 Any Windows Server that performs a business-critical role needs to be appropriately configured and then continuously monitored to ensure its availability and security. This free Windows Server monitoring tool enables IT administrators to establish continuous and effective auditing of Windows Server by providing daily reports on all critical Windows Server changes.
Awareness versus Complete Visibility
Once you start using Netwrix Auditor for Windows Server, you will get full functionality for free for 20 days. After that, you can either activate the Free Community Edition or apply a commercial license. The table below highlights the differences between the Netwrix Auditor Community Edition free server monitoring tool for Windows-based servers and the standard edition of the product.
Free

Community

Edition
Standard Edition
Functionality
Netwrix Auditor
Free


Community

Edition
Netwrix Auditor
Standard
Edition
Reporting on Windows Server changes
Before and after values for all modifications
Daily Activity Summary sent automatically to a single recipient
"What," "when" and "where" details for each reported event
"Who" details for each reported event
Predefined reports based with filtering, sorting and exporting options
State-in-time and baseline reports on Windows Server configuration
Email subscriptions to scheduled reports with the ability to choose reports, recipients and reporting frequency
Advanced cross-system auditing and reporting
Risk Assessment
Behavior anomaly discovery
User behavior and blind spot analysis
Privileged user activity monitoring, with the ability to search and replay video recordings
Out-of-the-box compliance reports mapped to specific regulatory standards (PCI DSS, HIPAA, SOX, FISMA/NIST800-53 and ISO/IEC 27001)
Overview dashboards
Google-like search of audit data
Alerts on threat patterns
Long-term storage of audit data
Role-based access control
Optional lightweight, non-intrusive mode of data collection used for traffic compression and reducing bandwidth usage
Single installation that handles multiple servers running on Microsoft Windows Server, each with its own unique settings
"Incredible freeware! Indispensable software for anyone who considers himself a competent Windows sysadmin."

Nedeljko Visnjic,
Spiceworks Community
System Requirements
Deployment of Netwrix Auditor for Windows Server is quick and painless. The following are the minimum system requirements.
Hardware
Processor:
Memory:
Disk space:
100 GB – System drive
100 GB – Data drive (Long-Term Archive and SQL Server)
Screen resolution:
Minimum 1280 x 1024
Recommended 1920 x 1080 or higher
Software
Operating System:
Windows Desktop OS (64-bit): Windows 7 SP1, Windows 8.1, and Windows 10
Windows Server OS: Windows Server 2008 R2 SP1, Windows Server 2012/2012 R2, and Windows Server 2016
.NET Framework:
Any .NET Framework that goes with your OS: 3.5 SP1, 4.0, 4.5, or 4.6
Installer:
Windows Installer 3.1 and above