Netwrix Effective Permissions
Reporting Tool
Freeware tool that delivers actionable insight into who has
permissions to what in Active Directory
and file shares
"Because of the nature of our business, where a lot of people get access to sensitive data, security has always been a number one priority. We can always depend on Netwrix to ensure that our networks
are in a safe state."
Tej Singh, Senior Systems Analyst,
Enterprise Inns
Stay on top of who has access
to what
The Netwrix Effective Permissions Reporting Tool helps you make sure that employees' permissions align with their roles in the organization. The freeware tool delivers a file share and Active Directory permissions report that details who has access to what and how that access
was gained.
Gain control over who has access
to what
Enables you see users' AD group membership and file share permissions in a single report, along with whether those file share permissions were assigned explicitly
or inherited.
Lock down excessive permissions
Provides actionable information you can use to rescind unneeded access rights and thereby ensure users have only the permissions they need to do
their jobs.
Minimize the risk of a breach
Helps you reduce security gaps by making sure your valuable data can be accessed only
by eligible employees.
Simplify your IT team's life
Enables you to quickly track down any user's permissions across both AD and file servers and get ready-to-use reports
in a few clicks.
Ensure compliance
Assists you with collecting proof that all permissions are aligned with HR job descriptions and employee roles
in the organization.
Get it free of charge
Never expires, so you can be sure it'll be there for you when you need
it most.
Streamline your next audit by quickly pulling out an effective
permissions report
Managers and compliance auditors often ask IT admins to furnish a list of all effective group membership and file share permissions granted to a group or a particular user. With native tools, responding to these requests requires manually pulling together multiple scripts, which can be both tedious and time-consuming. But with the Netwrix Effective Permissions Reporting Tool, you can satisfy such requests in minutes, validating the effective permissions and group memberships for a specific user or a group across AD
and file shares.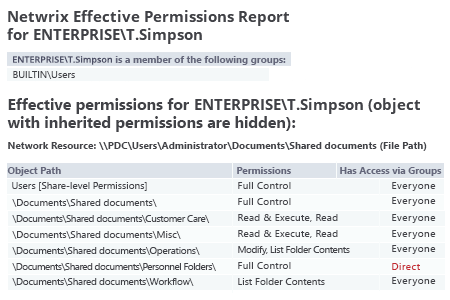 "Netwrix helps us identify which users have access to protected folders or payroll or accounting folders that contain business-critical information and require special protection, so we can be proactive in terms of defense against
insider misuse."
Mark Patten,
Director of Corporate Engineering, FXCM Inc.
System Requirements
Netwrix Effective Permissions Reporting Tool is easy to deploy. Make sure to meet the following basic
system requirements:
Software
Operating System:
Desktop OS: Windows 7 (32-bit or 64-bit) or higher
Server OS: Windows Server 2008 R2 or higher
Framework:
Hardware
Processor:
Intel or AMD 32 bit, 2 GHz
Memory:
Disk: