Netwrix and Stealthbits Merge
to Address the Growing Demand
for Sensitive Data Protection
Two companies join forces to offer data security and privacy solutions for organizations
ranging from five users to 5,000,000.
Steve Dickson,
CEO at Netwrix
We couldn't be more thrilled to be merging with the people and products of Stealthbits. Our combined organization can now offer data security solutions for any organization anywhere in the world.
Read Press Release
Steve Cochran,
Founder and Chairman at Stealthbits
Combining our breadth of products and depth of expertise with that of Netwrix means our customers can quickly strengthen their security posture and address multiple projects and requirements through a single provider.
Read Press Release
White Paper
Powerful Data Security Made Easy
And Now for Everyone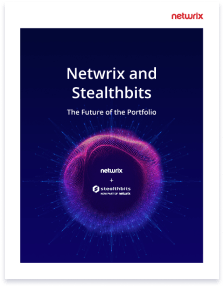 This white paper, jointly authored by the security and product experts from both companies, lays out the short-term and long-term plans for the combined portfolio of products.
Download White Paper
FAQ
Frequently Asked Questions
What is occurring between Netwrix and Stealthbits?
Netwrix and Stealthbits are merging. While the deal has officially closed, it is being announced publicly on January 4, 2021. The combined company is owned by leading private equity firm TA Associates.
Who is Stealthbits?
Stealthbits Technologies, Inc. is a customer-driven cybersecurity software company focused on protecting an organization's sensitive data and the credentials attackers use to steal that data. By removing inappropriate data access, enforcing security policy, and detecting advanced threats, this highly innovative and infinitely flexible platform delivers real protection that reduces security risk, fulfills compliance requirements, and decreases operational expense.
Who are TA Associates?
TA Associates is a leading global growth private equity firm. Focused on targeted sectors within five industries – technology, healthcare, financial services, consumer and business services – TA invests in profitable, growing companies with opportunities for sustained growth, and has invested in more than 500 companies around the world. Investing as either a majority or minority investor, TA employs a long-term approach, utilizing its strategic resources to help management teams build lasting value in high quality growth companies. TA has raised $33.5 billion in capital since its founding in 1968 and is committing to new investments at the pace of over $2 billion per year. The firm's more than 90 investment professionals are based in Boston, Menlo Park, London, Mumbai and Hong Kong.
Why are Netwrix and Stealthbits merging?
By combining our depth of expertise and our breadth of product offerings we accelerate our commitment to solving customer data security challenges. This is an exciting shift for both companies as it accelerates our ability to scale to meet the increased privacy, security and governance demands on our organizations worldwide.
What are the financial details of the merger?
Financial details of the merger are not being disclosed.
What will happen to company and product brands?
In the near term, both companies will continue to operate as separate, standalone brands with the exception that Stealthbits will be known as "Stealthbits, now part of Netwrix." Beyond that, the combined leadership teams will determine the long-term business brand, vision and strategy. This information will be communicated in a transparent and timely manner.
Who will lead the company going forward?
The new combined company will be led by Netwrix CEO Steve Dickson.
What are the benefits to Netwrix customers?
Through Stealthbits' portfolio of Data Access Governance, Active Directory Management & Security, and Privileged Access Management products, we're going to bring enterprise features and an expanded solution set to Netwrix customers.
What are the benefits to Stealthbits customers?
Through Netwrix's portfolio of data security offerings, we are going to bring a whole new level of usability and unmatched experience to the large enterprise. All the products and capabilities you have grown to love are here to stay. The plan is to make them even better.
How does this affect the product roadmaps?
For more information about the product integration roadmap, please be sure to check out the product integration white paper on this webpage.
What is the strategy with partners in the combined company?
Partners and the channel are critical to our success and the success of our customers. We will be increasing our focus and the commitment to the channel going forward.
What will the partner program for the combined company look like?
The Netwrix and Stealthbits leadership teams are working together on a 60-day integration plan. More details on channel programs for the combined company will be provided at this time.
What products can I sell?
Until notified, your business can sell, request quotes, and earn margin on the solution set that you are currently enabled to sell. Should you be in a situation where proposing a broader solution would increase your chances of winning or the customer requirements necessitate it, please contact your current channel manager.
When can I sell all products?
Over the next few months, the leadership teams will determine our combined channel strategy including the details surrounding our channel program. Once determined, we will be transparent and timely with respect to communicating the new plan.
How do I register deals with the combined company?
If you are working with both Netwrix and Stealthbits, please register deals for their respective products directly on the corresponding partner portals. If you are working with one vendor only and are interested in learning more about selling other vendor's products, please stay tuned for further updates.
What happens to my existing opportunities and deals?
We will honor all existing quotes for both vendors' solution sets.
What should I do if there is an opportunity where the prospect is considering solutions from both Netwrix and Stealthbits?
There may be instances where prospects are evaluating solutions from both vendors. The customer should make the determination as to which solution best meets their needs. Where there is not an overlap in pipeline and you feel you can improve your chances of winning by including the combined story, other resources or solutions, please contact your current channel manager.
Whom should I contact if there is a channel conflict?
If issues or questions arise, please contact your current channel manager.
How will this impact customer service and support?
Our commitment to servicing and supporting our customers does not change. Netwrix and Stealthbits customers will continue to receive the high-quality customer service they receive today through the systems and resources they currently use. Netwrix customers will continue to contact Netwrix support and the same for Stealthbits.