NETWRIX PRIVILEGE SECURE FOR DISCOVERY (formerly SecureONE)
end administrative privilege sprawl
Thwart Cyberattacks by Removing Unmanaged Privileged Accounts
Real-time privileged account visibility
Discover the privileged access blind spots in your environment
Agentless real-time visibility into standing 24x7 administrative access (see 10k endpoints in less than 25 minutes)
Easily remediate unmanaged accounts
One-click removal of unnecessary, always-on, always available privileged accounts (remediate in milliseconds)
Gain insights into your privileged account risk
Dynamic privilege access risk executive and practitioner dashboards
Privileged Access Risk Dashboards for Executives and Security Practitioners
Visualize, analyze, and reduce your privileged attack surface and stop lateral movement attacks
Privileged Users Access Dashboard
Offers executives a snapshot of users with privileged access via groups or direct access. Helps security practitioners prioritize efforts to reduce excessive access in high-risk groups and users, setting time-based goals for removing accounts and tracking progress.
Segregation Access Dashboard
Enables executives to visualize privileged access by tier, prioritizing riskiest users and groups. Helps security practitioners reduce attack surface by removing excessive admin access, replacing it with JIT access where needed, and stopping lateral movement between tiers.
Cumulative Access Dashboard
Executives get a visual of privileged users across workstations and servers. Security practitioners prioritize riskiest systems for removal of privileged access, using Netwrix Privilege Secure for Discovery to enable JIT admin access. E.g., prioritizing sensitive data servers over workstations.
Stop Lateral Movement and Credential Theft
with Zero Standing Privilege
Netwrix Privilege Secure for Discovery thwarts attackers and malware by replacing privileged accounts
with just-in-time privileged access.
Zero Standing Privilege for all Endpoints
Remove unnecessary administrative accounts from all endpoints in a single click, slashing the risk of malware being installed or critical security settings being altered.
Just-in-Time Access
Grant admins exactly the access they need to specific endpoints, exactly when they need it and for only as long as required to complete the task.
Intelligent Session Capture
Access data about privilege user sessions through your EDR solution to enjoy context and alerts on suspicious activity such as downloading malware and accessing C&C sites.
Multi-factor Authentication
Netwrix Privilege Secure for Discovery is a single control point for all just-in-time access, making it simple to require multiple authentication factors before privileged access is granted.
Low friction Admin experience
Administrators use their own accounts, with no need for auxiliary accounts.
Attack Surface Visibility
Visualize, analyze and manage your attack surface with dashboards tailored to executives and IT pros.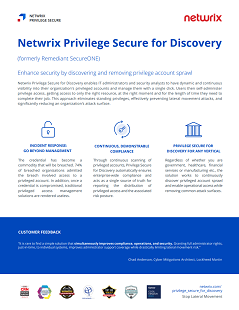 Netwrix Privilege Secure for Discovery (formerly SecureONE)
Find out more about how Netwrix Privilege Secure for Discovery can help you
stop privilege sprawl to slash security risks.
Learn How Attackers Use Lateral Movement
Attacks don't begin at their destination. Attackers exploit weak points then use lateral movement to gain access to target systems and data.