Netwrix New Releases and News – June 2011
Check out Don Jone's newest white paper on the Top 5 Audit Horror Stories, read Netwrix's most recent product review, learn more about Netwrix's regional expansion and new awards, have a laugh with the Comic Cartoon of the Month, and much more.
Did you know that Netwrix is on Twitter? Follow Netwrix to receive real-time updates and engage in discussions.
Netwrix Continues Growth with Regional Expansion
Two new divisions in Boston and Southern California
Netwrix recently announced its plans for regional expansion with two new branches located in the United States. The new divisions represent our commitment to better serving customer needs, and will further localize Netwrix's presence throughout the world.
Activedirectorytools.net Reviews Netwrix Password Manager
"Password Manager reduces help desk calls and optimizes productivity."
"Netwrix Password Manager is a simple solution that gives end users the ability to reset their forgotten passwords, troubleshoot account lockouts and unlock accounts manually," said Matt Roberts of Activedirectorytools.net .
Redmond Magazine: Netwrix CEO Michael Fimin Among Top 19 Execs to Watch For
Netwrix CEO named alongside execs from Amazon and Citrix
In a recent article naming the industry's top 19 third-party execs to keep an eye on, Redmond Magazine listed Netwrix President and CEO Michael Fimin among the select few. Alongside of Fimin are executives from Amazon, Citrix, LogMeIn and Quest Software.
Group Policy Change Reporter Nominated for Reader's Choice Award
Vote for Netwrix at WindowSecurity.com
Netwrix Group Policy Change Reporter has been named a finalist for WindowSecurity.com's Reader's Choice Award as Preferred Group Policy Management Product for the second consecutive year. To show your support, please visit WindowSecurity.com and vote by selecting Netwrix in the Reader's Choice panel on the left-hand side of the page (between "Featured Products" and "Techgenix Sites"). We appreciate your continued support!
Comic Cartoon of the Month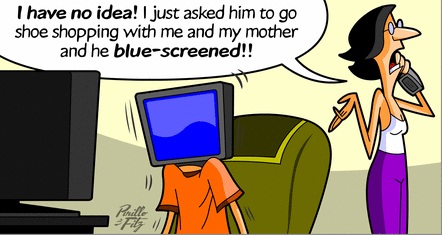 To get updates and engage in conversations, please connect with Netwrix on Facebook, Twitter, LinkedIn, Youtube and Blog at our Social Communities page.