Netwrix New Releases and News - March 2011
Netwrix has recently unveiled new products and enhancements that further promote systems management and compliance. Read Don Jones' educational blog discussing the Top 5 Things Event Auditors Look For, learn more about Netwrix's improvements to Change Reporter Suite, see why Netwrix just took home a handful of industry awards, and have a laugh with the Netwrix Comic Cartoon of the Month.
Contents
New Releases
SCOM Management Pack for Netwrix Change Reporter Suite
IT infrastructure change reporting integrated with System Center Operations Manager
Netwrix recently released the SCOM Management Pack for Change Reporter Suite, the SCOM-integrated solution for automated auditing of the entire IT infrastructure. This SCOM management pack captures all changes made to Active Directory, Group Policy, Microsoft Exchange and other systems, and feeds the audit data to Microsoft System Center Operations Manager, which generates automatic reports and alerts regarding all changes.
Powered by AuditAssurance™ technology, the SCOM Management Pack for Change Reporter Suite streamlines change auditing and compliance to HIPAA, SOX, PCI, GLBA, FISMA and many other regulations by providing fully automated auditing of who changed what, when, and where in the IT infrastructure, right within your familiar systems management framework (Microsoft System Center).
Netwrix Exchange Mail Archiver
Version 1.6 released with PST file discovery and import functionality
Netwrix Exchange Mail Archiver, the e-mail archiving software solution for Microsoft Exchange that automates e-Discovery and compliance processes, and improves data storage efficiency, server performance, and end-user productivity, is now available in a new-and-improved version.
Exchange Mail Archiver, which archives all e-mail messages in a central location and makes them available for e-Discovery, now includes automated discovery and archiving of PST files. The product can automatically scan your entire network for PST files and import all messages into the message archive so they can be accessed and searched as if they were in user's mailboxes on Exchange servers.
Netwrix Event Log Manager
Version 3.1 released with new advanced features and enterprise-ready scalablity
Netwrix Event Log Manager, the event log consolidation, reporting, alerting and archiving solution is now available in a new-and-improved version that now provides filters to determine what events must be saved to the Audit Archive (highly compressed file-based storage holding data for years), SQL database (for reports and analisys), or both. It also includes numerous bugfixes and scalability improvements reported by customers using this product in large production environments.
Don Jones: Top 5 Active Directory Events Auditors Look For
See what Don Jones calls the keys to successful audits
The key to a successful – or at least less-stressful – audit is preparedness. What are the auditors looking for? The quicker you can get it to them, the quicker you can get back to your job. Of course, auditors come in asking for a wide variety of reports, such as lists of disabled security principals, locked-out accounts and accounts that haven't been used in a few months. Good auditors, however, will be looking for a select few events within Active Directory. You can save yourself time – and make your environment more secure – by routinely looking for these same activities yourself.
1) Changes to Groups
Not just any group, but those key groups--Domain Admins, Enterprise Admins, and any other group with a great deal of delegated privileges. Any group that can change other groups' memberships or perform other highly-sensitive operations are always worthy of close attention.
2) Use of Privilege
This can include enabling disabled user accounts, or modifying permissions in the directory. Most auditors simply want to see corresponding documentation that explains why the change was made, who approved it, and so forth. It's changes without that documentation that are a problem.
Visit the Netwrix facebook page and "like" us to read more.
Vote for Netwrix USB Blocker as Reader's Choice Winner
Netwrix solution nominated for Best End Point Security Solution on WindowSecurity.com
Netwrix USB Blocker has recently been named a finalist in the WindowSecurity.com Reader's Choice Awards for Preferred Endpoint Security solution. The Netwrix solution hardens endpoint security by preventing illicit use of removable media via USB ports, thereby protecting against data theft and harmful malware spread.
Netwrix is proud to be considered a favorite by the readers of WindowSecurity.com, and we ask those who support USB Blocker to cast their votes for Netwrix. To cast your vote, simply follow the link below or visit WindowSecurity.com, scroll down, and on the left, you will see the "Reader's Choice" panel (just between the "TechGenix Sites" and "Featured Products" boxes). To vote for Netwrix, just select Netwrix USB Blocker and click "vote."
Thank you for your support and continued interest in Netwrix USB Blocker!
Netwrix Wins 6 Info Security Awards
Network Products Guide Awards Netwrix for Auditing, Green IT and more
Info Security Network Products Guide, the IT industry's leading technology research and advisory guide, has recently presented Netwrix with six different honors. After crowning Netwrix Change Reporter Suite winner of the 2011 Tomorrow's Technology Today Award in recognition of the product's innovative and ground-breaking technology, Info Security announced that Netwrix is up as a finalist for five other prestigious awards as well.
More specifically, Netwrix has been named a finalist for the 6th Annual 2011 Hot Companies and Best Products Awards in five separate categories, including Hot Company of the Year, Hot Technology of the Year, Best New IT Software Company of the year, Best Green IT Product of the Year, and Best Compliance Products and Services of the year.
Netwrix at TechEd North America 2011
Meet the Netwrix team in Atlanta this May
Netwrix will be exhibiting at Microsoft TechEd North America 2011 in Atlanta, GA from May 16-19. We will be showing version 7.0 of Active Directory Change Reporter (scheduled for release right before TechEd) and recently introduced SCOM Management Pack for Change Reporter Suite. Don't forget to visit Netwrix booth #1047 to see a demo and don't forget take a spin on a NeWrix roulette wheel to win something cool, such as X-Box 360, Amazon Kindle or T-shirt. Everyone wins!
To set up a meeting with a Netwrix representative, please respond to this e-mail or call Netwrix at 888-638-9740.
Comic Cartoon of the Month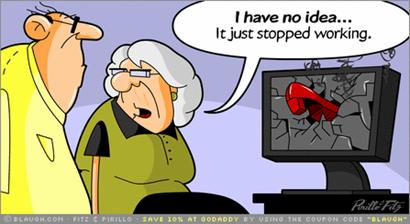 To get updates and engage in conversations, please connect with Netwrix on Facebook, Twitter, LinkedIn and Netwrix blog at our Social Communities page.