Netwrix data classification for
SQL Server
Reveal the true value of data on your SQL Server

Uncover what your structured data is hiding with Data Classification for SQL Server
Developers, support engineers, DBAs and other users are constantly working with databases. The stress on you is high — what if sensitive data ends up in the wrong place, leading to fines for non-compliance or even a serious data breach? Reclaim your calm by gaining control over SQL Server, as well as outdated or proprietary CMS and DNS systems that rely on it. Learn how we can help you identify valuable data, apply security controls to it, and make the most out of it.
NEW
Automate data classification
Avoid the headaches and workload caused by inconsistent manual classification. Automatically find and classify all the records in your database in a logical and consistent manner.
NEW
Enjoy accurate results with semantic analysis
Know exactly what sensitive information is stored in your database — without sifting through tons of false positives. Get accurate classification results right from the start with semantic analysis that goes far beyond basic RegEx and keyword matching.
NEW
Get a running start with predefined taxonomies
Get value right off with predefined classification rules that identify data protected by GDPR, PCI DSS, HIPAA and other regulatory standards, so you can apply risk-appropriate controls and eliminate the stress of your next audit.
NEW
Empower employees to manage taxonomies
Enable subject matter experts to adjust taxonomies to suit your business needs. Avoid the need to involve costly professional services every time you want to add a new taxonomy or update an existing one.
NEW
Have your database records precisely tagged
Empower users to easily find the information they need across multiple systems relying on databases embedded tags. The tags can also improve the effectiveness of your database security solutions.
NEW
Get latest results ASAP with incremental indexing
Enable business users to make decisions based on the most current information. Be sure your classification results are updated quickly when a new file appears or a classification rule is changed.
Enhance the security of your structured data and use it to the fullest
Employees quit, servers are decommissioned, DBA's change; but databases stay. Organizations store vast amounts of high value data in databases, and this fact alone sounds stressful enough. Do you know exactly what types of sensitive data are stored in all the systems running on your databases, including CMS and DMS systems, and whether it is properly protected? Make sure you do before auditors — or hackers — come to call. Good news – we know what can help.
Find and secure the sensitive data you store
Learn what types of sensitive information are stored in your databases and where it's located so you can put the right level of security in place around it. Make sure no critical information is overexposed and that corporate policies and compliance requirements are being satisfied.
Fuel informed decision-making and employee productivity
Get the most out of the information you store. Classify and manage data across all your systems that run on SQL Server databases so knowledge workers can quickly find the information they need to make more informed business decisions.
Deliver valuable insights to your legal department
Facilitate eDiscovery and litigation processes by finding specific pieces of information stored across multiple databases without the need to switch between numerous tables and applications, and have all the information you need at your fingertips. Reduce your stress by easily handling such requests.
Meet privacy and compliance requirements with less effort and expense
Spot sensitive data that appears in the wrong place and take action quickly, before an auditor or threat actor finds it. Discover what data protected by GDPR, PCIS DSS, HIPAA and other regulatory standards is stored in your databases. Breeze through data subjects' requests by finding their personal information in minutes.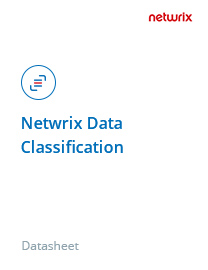 Learn how we can help you with information protection, content optimization, and compliance, no matter where you store your data.