SysAdmin Magazine
SharePoint Online Administration Hacks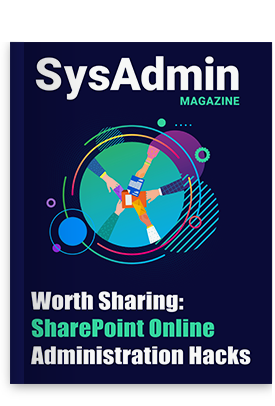 SharePoint Online is the Swiss army knife of the cloud — it can help you produce content and announcements, locate resources, and even manage workflows. If your organization is thinking about moving to the cloud or is already halfway there, you should definitely dig a bit deeper into what SharePoint Online has to offer.
This edition of SysAdmin Magazine clearly explains the most important facets of SharePoint Online administration so you can create a secure and effective cloud environment. You'll also find the most useful PowerShell commands for automating boring daily tasks. Welcome to the SharePoint Online world!
Content in this issue
SharePoint Online administration, step by step
Managing SharePoint Online using PowerShell
Easy and secure file sharing for business
SysAdmin Magazine is and will always be free. Download your copy and we'll subscribe you to receive all future editions!