What's new in Netwrix Auditor 9.8
About this webinar
Recorded: June 18, 2019
See the new Netwrix Auditor in action! In this webinar, we'll demonstrate how the new features and enhancements in Netwrix Auditor 9.8 can help you further strengthen the security of your Windows infrastructure and SharePoint data.
Join us to learn how to:
Uncover and mitigate data security holes across your Windows servers and SharePoint sites
Protect your critical SharePoint assets, even if you have a tangled permissions layout and tons of SharePoint data objects
Get notified about actions outside expected hours and unauthorized access to confidential data
Enforce stricter control over privileged user activity to catch admins misusing their permissions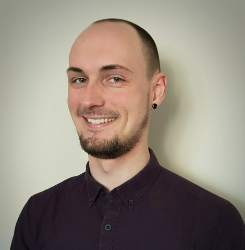 Daniel Goater,
Solutions Engineer
Netwrix Data Classification Demonstration
We are excited to showcase the functionality of our newest product — Netwrix Data Classification! This software reveals the true value of information you store and cures both your information security and governance headaches.
Join us for a live demo and learn how to:
Accurately identify sensitive information and reduce its exposure
Slash expenses on data storage by cleaning up obsolete or trivial information
Respond to legal requests without putting your business on hold
Streamline data management tasks by retaining, archiving or migrating only specific types of data